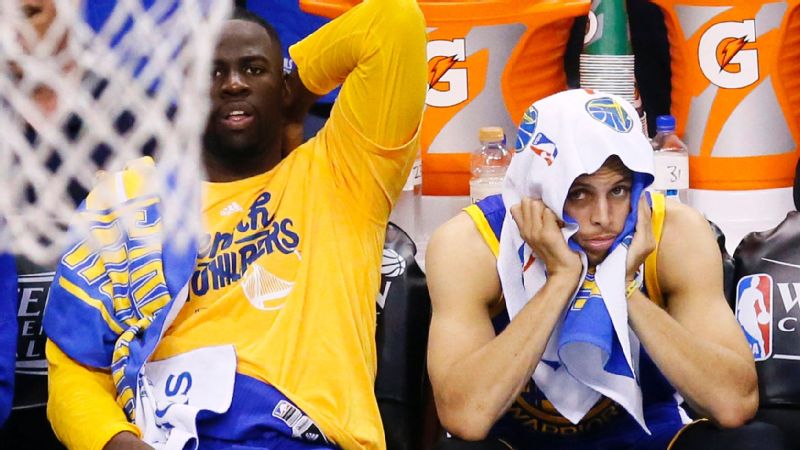 Need to catch up with what's happening in the world of sports and pop culture? Don't worry, I got you.
1. What is going on with the Golden State Warriors? I still believe they're going to win the Western Conference finals, but I'm not above admitting that this series has taken a very unexpected turn.
2. And Draymond Green kicking Oklahoma City Thunder's Steven Adams below the belt two games in a row seems doesn't seem all that accidental, but I wonder how the league views it. If the Warriors lose Green to suspension for a game during this series, do they have any shot at defeating the Thunder in seven games? That kick could cost them a lot.
3. And over in the Cleveland Cavaliers-Toronto Raptors Eastern Conference finals, we saw the Cavs suffer their first loss of the playoffs, as well as some testy moments between players that led to Dahntay Jones' suspension. How will Cleveland respond to being tested for the first time during the playoffs?
4. Cavs coach Tyronn Lue has an answer: Give the ball to LeBron. Anyone dare argue that game plan?
5. As usual, athletes are using the NBA playoffs as their own personal fashion week, but no one is making a greater fashion statement than the Oklahoma City Thunder's Russell Westbrook. espnW's Sarah Spain paid homage to his daring style, but not everyone respects his bold choices. Are you an admirer of his wardrobe, or do you think he goes too far?
6. Last week, Dikembe Mutombo prematurely congratulated the Philadelphia 76ers on winning the No. 1 draft pick at Wednesday's lottery, and NBA conspiracy theorists went into overdrive. Of course Mutombo denied information was leaked beforehand, but are you buying it?
7. The frantic NBA coaching carousel is slowing down. Were you able to keep track of all of the NBA coaching moves during this unprecedented month of new hires? I don't know about you, but my head is kind of still spinning from the frenzy!
8. Back to Green for a second. He might be developing a reputation as a dirty player, but there's no chance he learned his tactics by watching WNBA games, right?
9.How is it possible for anyone to be cockier than Floyd "Money" Mayweather? Say hello to Conor McGregor. If you missed it, read about this week's headline-grabbing interview.
10. Would you object to a Marshawn Lynch return, as suggested by his former Seahawks teammate Richard Sherman? Typically, athletes waffling about retirement is a personal pet peeve, but I'd totally make an exception for Beast Mode. Please be on to something, Sherman.
11. Could Patriots tight end Rob Gronkowski have been the next great ballerina? No, but it's still fun to watch him pretend.
12. After experiencing another ratings decline for the Pro Bowl, the NFL is reportedly relocating the game from Hawaii to Orlando, Florida. Will this change entice you to watch, or must additional modifications to the game be made to gauge your interest? My answers are no and yes.
13. With the French Open beginning, Roger Federer announced he was withdrawing. He has been dealing with back pain. He'll definitely be missed, but is it time for fans to prepare for tennis without Federer? I don't want to, but you know the saying: "Father Time remains undefeated." 
14. Who's to blame at Baylor? The women of The Trifecta weigh in on what went wrong and who's responsible.
15. Our intriguing election season just took another interesting twist. How does Mark Cuban, vice president of the United States of America, sound to you? It's not quite a thing (yet), but Cuban's let it be known he's available.
16. Beyonce is known as many things — singer, dancer, icon, superhero — but should athlete be added to the multihyphenate's bio? Let Joy Priest convince you that the only correct answer is yes. 
17. Cynthia Erivo, star of "The Color Purple" on Broadway, ran the Brooklyn Half Marathon on Saturday morning, then performed in two shows later that day. From which planet did she descend? Because that feat is otherworldly. 
18. The Undefeated, a site from ESPN devoted to the intersection of sports, race and culture, launched last week. If you haven't clicked your way over yet, treat yourself and do it now.
19. Did you ever think you'd live to see the day a woman pitched in MLB? Well, it's happening this fall in a new Fox series, "Pitch." Watch the exciting trailer. 
20. In a new and inspiring Nike ad, the Phoenix Mercury's Diana Taurasi shared a great reminder as we head into a fresh week: "The only person that can motivate you is yourself." Need she say more? 
Shana Renee is the founder and editor-in-chief of All Sports Everything and a passionate New York Jets, Knicks and Yankees fan. Follow her sports talk on Twitter at @ItsShanaRenee.