2016 NFL Draft: Jaguars win with big D additions, Eagles empty-handed – CBSSports.com
6 months ago Comments Off

on 2016 NFL Draft: Jaguars win with big D additions, Eagles empty-handed – CBSSports.com
Day 2 of the 2016 NFL Draft is in the books and it saw a ton of interesting talent cross the board. Lots of quarterbacks — questionable ones, too — were taken in the third round, while high-quality defensive and offensive lineman were out there for the taking.
As is the tradition, we'll break down some winners and losers from the day. Remember, these are from just today. We might mention the first-round picks in here but it's not factoring in. You pick eight guys in the first round and none today? You could be a loser. Just how the system works. Tomorrow we'll wrap it all up but for now here's the guys who won and lost the second day of the draft, perhaps the most crucial considering how strong the level of talent was in this day.
Winners
Jaguars: Another year, another Jaguars win in the draft. How can they not be here? After getting Jalen Ramsey in the first round, the Jaguars scored a top-five talent in Myles Jack early in the second round (double kudos for the trade up and selection). The real beauty of the Jack pick for the Jags? They're getting Dante Fowler back this year as well. Not that the two play the same position, but if Jack needs some time to ease in there will be additional top talent coming back.
.@jalenramsey or @MylesJack?

How about BOTH?!?! #JAXDraft16pic.twitter.com/FXYsULcjjn

— #JAXDraft16 (@Jaguars) April 30, 2016
Then Dave Caldwell circled back and landed Yannick Ngakoue out of Maryland, who had 21 sacks in three seasons with the Terps including 13 his final year, to give the Jags a third key piece on defense. Blake Bortles and company get all the hype, but this defense has a lot to like. They are going to be the hottest team on the planet when people start picking playoff sleepers and/or AFC South division winners for 2016.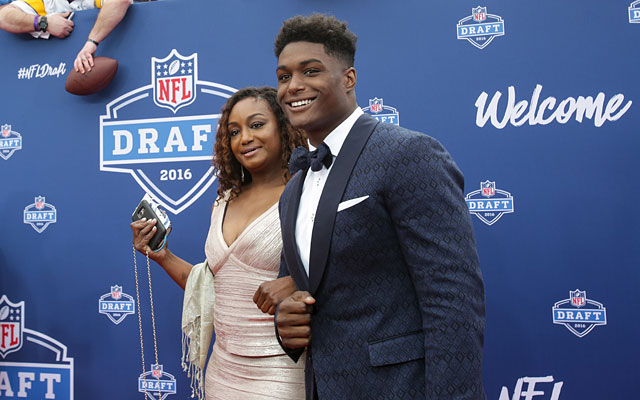 Brock Osweiler: The Texans decided to keep doubling down during their second day of the draft and helping out their new quarterback. After pulling the trigger on Will Fuller in the first round to beef up the receiver corps, they grabbed center Nick Martin (yes, relation: Zach Martin of the Cowboys) to improve the offensive line. Then Rick Smith and Bill O'Brien decided to get a little crazy with it and pick up Ohio State OW (offensive weapon) Braxton Miller.
The additional weapons certainly pleased DeAndre Hopkins:
Ain't no more double teams baby!

— Deandre Hopkins (@Nukdabomb) April 30, 2016
But Osweiler is the huge winner here. The Texans are doing everything possible to make his first full year as a starter an easy transition, loading up the offense with tons of weapons. Miller is a former quarterback with the Buckeyes, but he's the type of dude who would get the ATH designation on a football video game.
O'Brien and company are creative enough to do some damage with him early on.
Urban Meyer: There"s one sure-fire way to make recruiting much easier moving forward. Just have 10 players (TEN!) get drafted in the first two days of the NFL Draft. Ohio State set a record for most players taken within the first three rounds of the draft sending a ridiculous double-digit group into the pros through Saturday. The crew:
More than 10 percent of all players taken in the first three rounds of the draft were from Ohio State. The 2016 NFL Draft was a walking billboard for Meyer's program.
"Come play for me and you'll be rich. Might even get a title out of it. Maybe even a crop-top tuxedo shirt."
Jaylon Smith: Considering Smith's injury is nerve-related and considering he was supposed to miss all of 2016 before the draft even began, it wasn't unreasonable to believe he could fall all the way to the third day of the draft. He didn't come close, and ended up being selected before Jack, with the Cowboys swooping in and grabbing him at No. 34 overall.
It's a fascinating juxtaposition of their first two picks: the running back in the top five who fills an immediate need and feels like such a Jerry Jones pick. And then the injured linebacker who is a long-term, patient play that could provide huge dividends if he hits (Smith was a top-five talent before a devastating Fiesta Bowl injury). Making things interesting/scary is Jones not ruling out Smith playing in 2016.
Jerry Jones says he doesn't want to speak for the doctors, but he wouldn't completely rule out Jaylon Smith's availability for 2016.

— David Helman (@HelmanDC) April 30, 2016
Chicago Bears: After making a bold move to leap above the Giants and snag Leonard Floyd during the first round, the Bears pulled off a pair of quality steals in the next two rounds. First they picked up Kansas State guard Cody Whitehair, a versatile lineman who will make life easier for Jay Cutler.
Then they pulled off one of the best picks in the entire second day by pulling the trigger on Florida defensive end Jonathan Bullard with the 72nd overall pick. Bullard was getting first-round buzz leading up to the draft but fell because he's undersized. He saw a nice spike his senior season with the Gators and could end up being a steal here. Nice second day for Ryan Pace — the Bears are quietly putting together some pieces for a dangerous defense.
Seattle Seahawks: Not many people do work late in the draft like John Schneider and Pete Carroll. They finally picked in the first round (first time since 2012) but they did their real damage on the second day, thanks to four picks from No. 49 through No. 97. Seattle kicked things off by getting a monster steal in Alabama defensive lineman Jarran Reed, a mammoth man who is surprisingly quick on his feet and capable of shoring up the middle of the line.
Picking up C.J. Prosise in the third round gives them a lethal combination with Thomas Rawls out of the backfield. It's not often you see a "raw" running back, but Prosise switched to the position in 2015 and rushed for over 1,000 yards with a 6.6 yards-per-carry average. Throw in Nick Vannett as a tight end addition and Rees Odhiambo for line depth and the Seahawks got another strong second-day haul.
Losers
Philadelphia Eagles: So we're hurtling into the third day of the draft and the Eagles have exactly one player who they hope makes an impact in 2016: Isaac Seumalo (hilarious that he's from Oregon, although with a State on the end of it). The Eagles are not counting on Carson Wentz to play this year. They paid Sam Bradford $22 million in guaranteed money on a BRIDGE CONTRACT (hello, Sam) and decided to make a move for Wentz over the long haul. But there's a problem with giving up a future first-round pick to draft a quarterback you don't plan on playing. Namely, if you don't have any picks the year before and you make the theoretical bridge quarterback mad and you've got to start Chase Daniel all year and you go 4-12 and you give the Browns your top-10 draft pick, well, it can all backfire.
Connor Cook: All the talk of him lacking leadership seemed to be severely overblown, but boy did Cook take a tumble during the second day of the draft. It's not just that he wasn't drafted after 98 total picks, but Cook was passed over in favor of other far more questionable quarterbacks like Christian Hackenberg, Jacoby Brissett and Cody Kessler.
Andrew Billings: Once considered a first-round prospect, Billings is that one prospect who just inexplicably plummeted out of the first two days of the draft. It happens every year and a lot of times it involves some kind of medical issue only teams know about. That's not saying Billings is dealing with an injury. But something is happening to cause the mountain of a man to stay completely off everyone's board after nearly 100 picks.
New York Jets: Kind of dig the pick of Jordan Jenkins out of Georgia in terms of adding a pass rusher, especially considering he had 39 sacks over four years with the Bulldogs. At No. 83 overall he could end up being a nice addition, even if the Jets already added Darron Lee in the first round. But the Christian Hackenberg pick? At No. 51 overall? No thanks. I know Pete Prisco loves it (A+ grade),but is he the only one?
Looks like I am the only one who liked the Hackenberg pick besides the Jets.

— Pete Prisco (@PriscoCBS) April 30, 2016
Maybe! The bottom line here is Hackenberg cost the Jets an early round pick and he's a project. His 2013 tape was impressive for sure, and he looked like a future star. But he regressed in 2014 and 2015, becoming the Benjamin Button of college football.
Some of his throws, man …
That is sub-par footballing. Chan Gailey can do work with quarterbacks but I worry about whether the combination of Geno Smith, Hackenberg and the New York tabloids are going to create issues for the Jets.
There was a ton of talent on the board at this point without needing to pull on a project quarterback.
Los Angeles Rams: Remember, this is based on the second day of the draft. They got Jared Goff to start things off, but the Rams didn't have a single pick on Friday. That's a lot of impact depth lost, even if Les Snead has mainly made his hay in the first round over the past few years. Janoris Jenkins and Trumaine Johnson were big-time picks in the second and third rounds in 2012.
San Francisco 49ers: After moving up to grab Joshua Redmond with a second first-round pick on Thursday, Trent Baalke didn't have a whole lot to work with Friday. And he used his one pick to grab … a cornerback coming off an ACL injury? The 49ers aren't shy about taking on injury risks over the last few years but walking away from the second day of the draft with just Will Redmond is sub-optimal.
2016 NFL Draft: Jaguars win with big D additions, Eagles empty-handed – CBSSports.com