Hedge funds in Asia, which beat counterparts in the U.S. and Europe in 2015, are off to their worst annual start on record this year, as the region's stock markets have plunged amid a dimming outlook for growth.
Asia hedge funds, excluding those that invest in Japan, fell 1.5 percent in February, bringing their loss for the first two months of 2016 to 6.6 percent, according to Singapore-based data provider Eurekahedge Pte. Apart from being the biggest drop ever for the first two months of the year, that's also the worst start among the world's major regions, Eurekahedge said. Hedge funds including those from Greenwoods Asset Management and Zeal Asset Management extended declines they suffered in January.
After successfully navigating turbulent markets in 2015, hedge funds in Asia are seeing a reversal this year as worries about a global slowdown have deepened. The Shanghai Composite Index has tumbled 19 percent this year to rank among the worst-performing equity markets in the world, and most of the region's benchmarks have been whipsawed by volatility amid scant signs of global growth.
"Hedge fund managers in the region, especially those focusing on long-short
strategies, had been stung by volatility in underlying markets," said Mohammad Hassan, a Singapore-based senior analyst at Eurekahedge.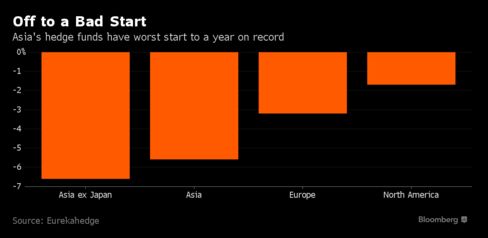 As it becomes more difficult to post consistent returns, investors are increasingly shifting their money to the largest or most promising managers, prompting many smaller-scale firms to exit the business or return money to investors. That's creating a bifurcation in Asia's hedge fund industry.
The losses for hedge funds investing in Asia ex-Japan compares with a decline of 3.2 percent in Europe through the end of February and a decrease of 1.7 percent in North America, according to the Eurekahedge website. Last year, Asia ex-Japan hedge funds rose 7.5 percent, beating rivals in other parts of the world.
Greenwoods Asset's Golden China Fund fell 3.7 percent in February, bringing its losses to 14.4 percent so far this year, according to Joseph Zeng, a Hong Kong-based partner at the hedge fund firm. The fund, which managed $1.7 billion as of January, was one of the top performers last year, posting gains of almost 22 percent.
The Zeal China Fund fell an estimated 0.18 percent in February and is down 1.6 percent so far this year, according to William Shek, head of marketing and investor relations at Hong Kong-based Zeal Asset Management. The $220 million fund has returned an annualized 7.8 percent since it began trading in July 2010.
Some Gains
Some funds managed to generate gains. Wykeham Capital's Asia fund, which focuses on small-cap stocks listed in Hong Kong, rose 8.2 percent in February, a rare outlier among hedge funds in Asia last month. That pared the Wykeham Capital Asia Value Fund's loss to 1.7 percent so far this year, said Howel Thomas, the fund's Hong Kong-based portfolio manager who started the firm in 2010.
Quam Asset Management's China-focused fund gained 2.3 percent in February, recouping some of the losses suffered in January, according to Chris Choy, chief investment officer at the Hong Kong-based hedge fund. Last month's gain brings the fund's losses to 14.8 percent so far this year, Choy said. The fund managed $126 million as of December.