Asian stocks rose to a four-month high, buoyed by oil's recovery to levels last seen in November and a flurry of better-than-expected earnings from U.S. companies.
All 10 industry groups advanced on the MSCI Asia Pacific Index. Futures on the Standard & Poor's 500 Index were little changed, after the measure posted its highest close since Dec. 1. Brent crude traded above $45 a barrel after a report showed U.S. production slipped to the lowest since October 2014 and Iraq said talks to freeze output may occur next month. The euro was little changed before a European Central Bank policy meeting, after almost wiping out this week's advance in the last session. Malaysia's ringgit was the biggest loser among major currencies.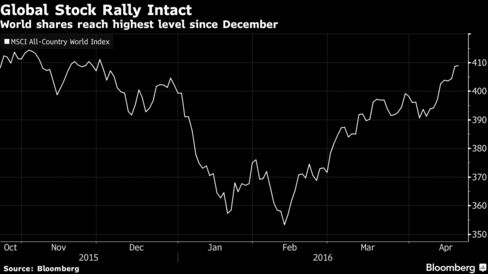 Global shares have surged 16 percent since sinking to a three-year low in February, buoyed by oil's recovery from below $30, signs of stabilization in China's economy and upbeat U.S. corporate earnings. The rally also got a lift as Federal Reserve officials last month cut their forecasts for interest-rate increases in 2016 to two from four, saying global economic and financial developments continue to pose risks.
"Recovering fundamentals and the fact that the Fed is going to hold rates for a while is certainly helping sentiment," Kirk Hartman, who helps oversee about $351 billion as Los Angeles-based chief investment officer of Wells Capital Management, said on Bloomberg TV. "People are becoming much more positive on China. People are realizing that China isn't going to have a hard landing."
General Motors Co., Microsoft Corp. and Visa Inc. are among U.S. companies announcing quarterly earnings on Thursday. Of 83 members of the S&P 500 Index to have reported so far, 78 percent beat analysts' estimates. In Asia, results are due from China Unicom (Hong Kong) Ltd. and Posco, South Korea's biggest steelmaker. The ECB is expected to refrain from easing policy at a review on Thursday, after announcing unprecedented monetary stimulus in March. Indonesia's central bank is also forecast to leave its benchmark interest rate unchanged, after cuts in each of the last three months.
Stocks
Japan's Topix index rose 1.5 percent as of 11:48 a.m. Tokyo time, set for its highest close in more than two months, as the yen held near a two-week low amid speculation that the Bank of Japan will expand stimulus at a monetary policy review next week. The authority is likely to increase asset purchases, Goldman Sachs Group Inc. analysts wrote in a report published Wednesday. Mitsubishi Motors Corp. was set to tumble by the 20 percent daily limit after saying it manipulated fuel-economy tests.
Benchmarks in Hong Kong, Singapore and South Korea advanced to their highest levels this year, while the Shanghai Composite Index held near its low for the month. Billionaire investor George Soros said Wednesday in New York that China's debt-fueled growth resembles the U.S. in 2007-08, before credit markets seized up and spurred a global recession. Futures on the U.K.'s FTSE 100 Index were little changed.
Commodities
Brent crude, the global benchmark, slipped 0.5 percent to $45.57 a barrel following a 6.7 percent jump over the previous two sessions. It surged 4 percent on Wednesday as the Energy Information Administration reported that last week's U.S. output was the lowest since October 2014. OPEC nations and some other major producers will meet in Russia, possibly in May, in an effort to agree on an output freeze, Iraq's Deputy Oil Minister Fayyad Al-Nima said.
Gold rose 0.4 percent, silver rallied 1.4 percent and copper fell 0.2 percent.
Currencies
The euro was little changed at $1.1298, after sliding 0.5 percent on Wednesday. Japan's yen strengthened 0.1 percent to 109.76 per dollar, after weakening 1 percent over the last three days.
"Since the beginning of this week, with the recovery in global sentiment, the yen has tended to depreciate to nearly 110," said Hirofumi Suzuki, an economist at the treasury department of Sumitomo Mitsui Banking Corp. in Singapore. "Today's move is just a slight correction. The trend to depreciate is still there."
Malaysia's ringgit slid 0.6 percent versus the dollar. Last month's inflation rate was lower than economists forecast, data showed Wednesday, and an Abu Dhabi sovereign wealth fund said this week that state-owned investment company 1Malaysia Development Bhd. failed to make a payment of more than $1 billion in connection with a loan it made last year.
"Weakness in the currency is partly due to a stronger dollar overnight, driven by higher U.S. yields," said Khoon Goh, a senior foreign-exchange strategist at Australia & New Zealand Banking Group Ltd. in Singapore. "Yesterday's surprisingly low Malaysian CPI data could also be prompting the market to ponder whether there is a chance that Bank Negara Malaysia may ease later this year."
Bonds
The yield on 10-year U.S. Treasuries was little changed at 1.84 percent, after increasing nine basis points in the last three sessions. Inflows into inflation-indexed exchange-traded bond funds this year have already exceeded flows for all of 2015, suggesting investors are growing more bullish that inflation will climb toward the Federal Reserve's 2 percent target.