Barcelona vs. Atletico Madrid: Score, Reaction from 2016 Champions League, Leg 1 – Bleacher Report
7 months ago Comments Off

on Barcelona vs. Atletico Madrid: Score, Reaction from 2016 Champions League, Leg 1 – Bleacher Report
Barcelona came back from a goal down to beat a belligerent 10-man Atletico Madrid side 2-1 at the Camp Nou in the first leg of their Champions League quarter-final on Tuesday. 
Fernando Torres was involved in a remarkable 10-minute spell in the first half, as he put the visitors ahead before being sent off for a second booking. In the second half, Barca laid siege to the Atletico goal, with Luis Suarez—who was fortunate to stay on the field himself after kicking Juanfran—bagging a vital brace to give his side the edge at the midway point of the tie.
After losing a gruelling Clasico encounter on Saturday, going up against Atletico—arguably the most determined, intense and physical side in European football—just three days later was always going to be a massive test for Barcelona.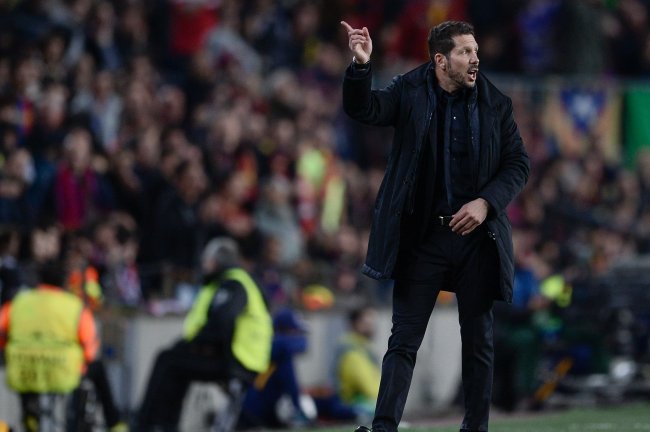 JOSEP LAGO/Getty Images

The game settled into the expected pattern early on, with Diego Simeone's visitors settling into a solid shape and trying to tease Barcelona forward to facilitate dangerous breaks. The home side—who donned their change kit—were happy to take their time, building meticulously.
The first big chance for the Blaugrana came in the 13th minute, as Lionel Messi skied over after Jordi Alba's cutback, then Neymar missed an even better opportunity, heading over after a delicate cross from Dani Alves. 
But aside from those openings, Barcelona struggled to build momentum, and Atleti looked comfortable defensively. Spanish football expert Rafael Hernandez wasn't pleased with Barcelona's setup:
Messi on the midfield will never work with the current gameplan… Literally has two lines to break before getting to the goal…

— Rafael Hernández (@RafaelH117) April 5, 2016
And they paid for a sluggish start, as Atletico sprung with a fine break to take the lead in the 25th minute. Koke did wonderfully to prod the ball into the clear, and Torres latched on to the pass, finishing through Marc-Andre ter Stegen's legs to give the visitors a vital away goal.
Here's a look at the opener, per BT Sport Football:
.@Torres continues his brilliant record against @FCBarcelona with a trademark finish. #UCL https://t.co/yFwRbrynfX

— BT Sport Football (@btsportfootball) April 5, 2016
Torres has found goals tough to come by this term, but he relishes going up against Barca, per Goal's Ben Hayward:
Fernando Torres now has 11 goals in 17 games against Barcelona. Talisman.

— Ben Hayward (@bghayward) April 5, 2016
In the aftermath of that breakthrough, the visitors grew in stature, with Antoine Griezmann forcing a save from Ter Stegen moments later. Torres looked threatening too, though his involvement in the game was sensationally curtailed.
The goalscorer had been booked after 29 minutes for a trip, then, just six minutes later, he clattered into Sergio Busquets on the halfway line. After howls of derision from the Camp Nou, the referee produced a second yellow for Torres—leaving Simeone aghast and his side down to 10 men.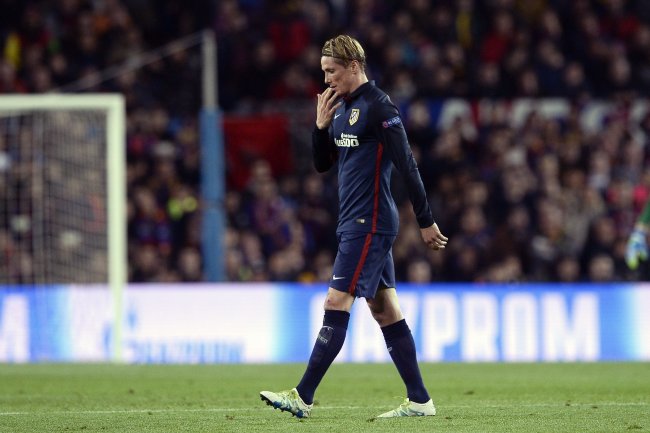 JOSEP LAGO/Getty Images

As noted by Bleacher Report's Karl Matchett, Atletico have struggled to keep their discipline against this opponent lately:
Filipe Luis, Godin and Torres all sent off in the last game and a half for Atletico vs. Barcelona

— Karl Matchett (@karlmatchett) April 5, 2016
Barcelona could have also found themselves down to 10 men, though Suarez escaped punishment when he lashed out at Juanfran.
Atletico scrambled their way through to half-time with their lead intact, but ahead of a second half in which heavy pressure was inevitable, Simeone needed to deliver some inspirational tactical advice in the dressing room.
The same could be said for home boss Luis Enrique, who needed to see more from his side. And in the early stages of the second half, the Camp Nou witnessed a much more familiar performance, with Neymar and Messi beginning to pull the strings.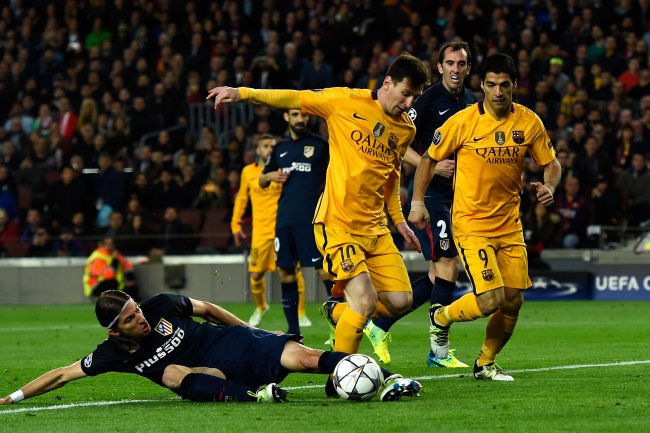 David Ramos/Getty Images

The former struck the woodwork with a rasping shot before missing another great chance with his head. Messi then sprung Jan Oblak into action with a stinging effort, as the size of the task facing Atletico quickly became apparent. World Soccer Talk expected a goal imminently:
At this rate, it seems inevitable that Barcelona will score. Atleti surely can't withstand this much pressure for another 40 mins #FCBAtleti

— World Soccer Talk (@wsoccertalk) April 5, 2016
Atletico made it to the hour mark unscathed, but Barcelona were getting closer and closer to breaching their bunkered back line. And eventually, their quality proved too much, as Suarez bundled in the equaliser in the 63rd minute.
There was a touch of fortune about it, as Alba's shot was shanked across goal. But the Uruguay forward put himself in a brilliant position to level it up and reacted quickly to prod the ball home.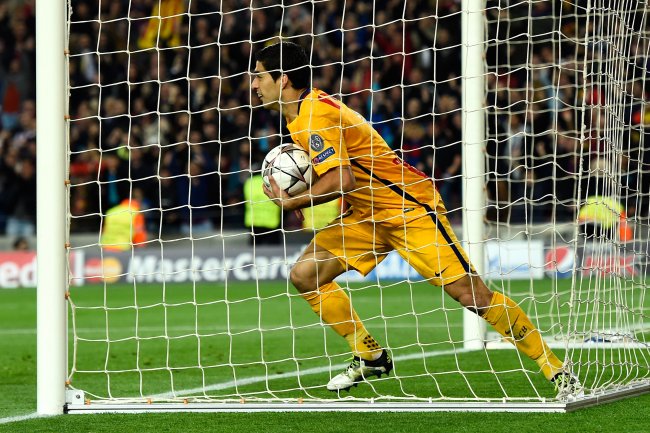 David Ramos/Getty Images

It was a goal that galvanised the Barcelona players and fans, and with Atletico reeling, they smothered their opponents, putting together superb attacking patterns. Following more goalmouth scrambles and fine stops by Oblak, the hosts were in front 11 minutes after levelling.
It was a wonderful move that led to the goal. Alves did superbly to control a bouncing layoff out wide and guided a cross behind the Atletico back line and on to the head of Suarez for his second of the night. Here is the highlight, via BT Sport's Gary Lineker:
Suarez's 2nd goal for you: https://t.co/PuMQ1w8zrZ

— Gary Lineker (@GaryLineker) April 5, 2016
As Breathe Sport noted, Suarez is having an incredible season:
Suarez this season:

45 games
45 goals

The best striker in the world 🔥 pic.twitter.com/qp0RMvgCA6

— BreatheSport (@BreatheSport) April 5, 2016
There was still time to extend the advantage with 16 minutes remaining and the effects of a physical encounter starting to catch up with Atletico. But they dug in to get through the latter stages and keep their chances of qualification alive.
While Simeone was clearly unhappy with the red card, on reflection he can have few complaints. Torres' side were playing superbly prior to his dismissal, and while Barcelona will always come strong late on, you do wonder whether or not they would have been able to do so against a full cast.
Atletico are tenacious and cohesive—even when they are a man down—and Enrique will be delighted with the amount of chances his players conjured in the second half.
Still, they will face a challenge in front of a raucous Vicente Calderon crowd in the second leg.
Post-Match Reaction
Simeone hinted he was unhappy with some of the officiating in the game, per football writer Dermot Corrigan:
Simeone in presser hinting unhappy with ref but not saying much out loud apart from: "I am not annoyed with Torres, for sure."

— Dermot Corrigan (@dermotmcorrigan) April 5, 2016
Simeone: "It is for others to evaluate the decisions, like with Arda Turan last year. I am not saying all that I could say."

— Dermot Corrigan (@dermotmcorrigan) April 5, 2016
Simeone on ref again: "I cannot open my mouth and say what I think. I must be respectful to everyone, and the ref understood it that way."

— Dermot Corrigan (@dermotmcorrigan) April 5, 2016
Enrique praised his players for being composed in what was often a feisty affair:
🔊 Luis Enrique: "I saw my players with passion but also with cool heads and control" #FCBlive #UCL

— FC Barcelona (@FCBarcelona) April 5, 2016
🔊 Luis Enrique: "We will go to the Calderón to win. If there is a team that can do it, then it is us" #FCBlive

— FC Barcelona (@FCBarcelona) April 5, 2016
Suarez said he was a little disappointed the team didn't win by more.
"We could have scored another goal," he said on television, per Corrigan. "The important thing is we won, and they will need to score a goal there [in the second leg]."
Barcelona vs. Atletico Madrid: Score, Reaction from 2016 Champions League, Leg 1 – Bleacher Report