Brussels explosions: UK police step up patrols after attacks – BBC News
7 months ago Comments Off

on Brussels explosions: UK police step up patrols after attacks – BBC News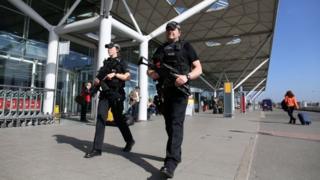 Police numbers have been stepped up at key UK locations after the terror attacks in Brussels, which are feared to have killed at least 28 people.
The blasts hit Brussels Airport and a metro station shortly after 07:00 GMT.
It is understood no UK nationals have been killed, but one Briton has been injured, the BBC's Norman Smith said.
The country's most senior counter-terrorism officer said raising security was a precaution. The Foreign Office is advising UK nationals to avoid crowds.
It has also issued an emergency number – 020 7008 0000.
Belgian Prime Minister Charles Michel told a press conference "scores" of people had been killed or injured in the attacks at the airport and Maelbeek metro station.
The Belgian government has not confirmed casualty numbers. Brussels transport officials said 15 died at Maelbeek and media have reported up to 13 dead at the airport terminal.
The Belgian prosecutor said it was "probably a suicide bomber" who struck the airport.
'Do all we can'
Heathrow and Gatwick airports have stepped up security, while flights between the UK and Brussels are disrupted.
Brussels Airport issued a statement confirming all flights were cancelled, with passengers advised to contact their airlines.
Flights from the UK that were in the air when the attacks happened have been diverted to other Belgian and Dutch airports.
Mr Cameron, who chaired a Cobra meeting on Tuesday, tweeted: "I am shocked and concerned by the events in Brussels. We will do everything we can to help."
Brussels explosions 'leave 20 dead'
Brussels blasts – latest updates
The attacks come four days after Salah Abdeslam, a key suspect in the Paris attacks, was captured in Brussels.
Belgium has raised its terror threat to its highest level.
In the latest developments:
Eurostar says no trains are currently running to or from Brussels Midi station. Passengers are being advised to postpone journeys and services are terminating at Lille in northern France
British Airways says one of its flights from Brussels to Heathrow departed at 07:40 GMT but two later services were cancelled. Two flights making the outbound trip from Heathrow were also cancelled
The airline says it will make a decision later on flights due to depart this afternoon
Newcastle International Airport says flight BM1101 from Newcastle to Brussels diverted to Maastricht in the Netherlands
Flights from Edinburgh Airport to Brussels have been cancelled and passengers are being advised to check with their airline for alternative travel
The Port of Dover says security checks remain heightened since November's attacks, with customers urged to leave extra time before travelling
Northern Ireland's First Minister Arlene Foster expressed her shock at the attacks, while Scotland First Minister Nicola Sturgeon said her thoughts were with the people of Belgium. Welsh First Minister Carwyn Jones tweeted: "Deeply concerned with unfolding events in Brussels – thoughts with everyone involved."
The UK's most senior counter-terrorism officer, Mark Rowley, said the increased police presence was not in response to any specific information or intelligence.
In London, he said the Met were putting more police on duty to carry out patrols at key locations.
"Our thoughts are with the people of Brussels following this morning's horrific attacks," he said.
Greater Manchester Police said it had also increased patrols – but not in response to any specific threat.
The UK terror threat level has stayed at "severe" since August 2014, meaning an attack is highly likely.
Brussels explosions: UK police step up patrols after attacks – BBC News