Cardale Jones' day ends after sustaining injury during 40-yard dash – CBSSports.com
11 months ago Comments Off

on Cardale Jones' day ends after sustaining injury during 40-yard dash – CBSSports.com
Cardale Jones' day is done at the NFL combine. On Saturday, Jones, like every other quarterback, took part in the 40-yard dash. On his first go, the Ohio State quarterback clocked in with an unofficial 4.83 seconds. On his second try, he tried to improve that number.
Instead, he ended his day.
At the tail-end of that run, Jones appeared to pull up with a hamstring injury. According to NFL.com's Kimberly Jones, the quarterback won't take part in any more drills on Saturday. He didn't, however, offer any specifics on the injury.
Cardale Jones just told me he's done for the day. He left the field. I'm unclear on injury.

— Kimberly Jones (@KimJonesSports) February 27, 2016
Immediately after, Jones was spotted icing his right hamstring.
Cardale Jones now on the bench, icing right hamstring. #Combine pic.twitter.com/1EsOSXeqeZ

— Kimberly Jones (@KimJonesSports) February 27, 2016
So, Jones won't be throwing at the combine. And that means Ohio State's pro day becomes that much more important for Jones. It's scheduled for March 11, so Jones will be given just two weeks to heal up.
Jones, who measured in at 6-foot-5 and 253 pounds, was expected to dazzle scouts with his cannon for an arm. That can still happen in a couple of weeks, but he'll be given a limited amount of time to recover from an injury.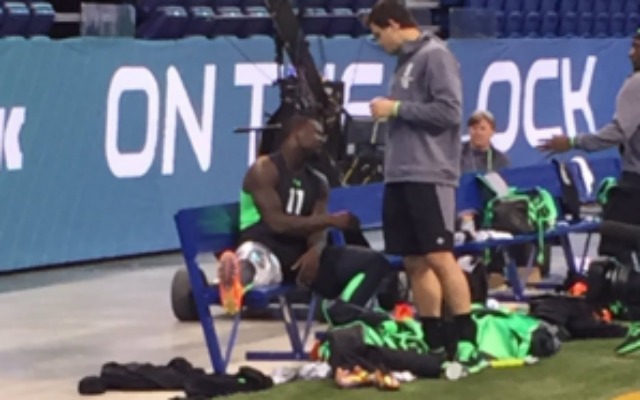 Cardale Jones' day ends after sustaining injury during 40-yard dash – CBSSports.com