College Football Rewind: Auburn's nine lives finally run out – CBSSports.com
2 years ago Comments Off

on College Football Rewind: Auburn's nine lives finally run out – CBSSports.com
Welcome back to College Football Rewind. This is your first look back at what happened each week and what it means moving forward. Every Saturday night, I will analyze the week's games and the always colorful world of college football. Check back later for analysis of the late games.
So this is how Auburn runs out of nine lives: The Fumbles at Jordan-Hare.
It's as if karma caught up to No. 3 Auburn after the Prayer at Jordan-Hare, the Kick Six and the devastating/game-changing goal-line fumble and broken leg at Ole Miss. On its final four snaps Saturday, Auburn committed two of the most stunning fumbles you'll ever see from a team with national championship aspirations.
Don't try to make sense of Texas A&M 41, Auburn 38. Just accept this is how November in college football operates. The sport thumbs its nose at us when we think we've got everything figured out.
With less than two minutes left and down by three, Auburn faced second-and-goal at the Texas A&M 1-yard line. The script was set for another dramatic Auburn win. The only question was how. But then quarterback Nick Marshall and running back Cameron Artis-Payne botched the zone-read exchange — the most devastating play in Gus Malzahn's playbook.
Marshall tried to keep the ball while reading the Texas A&M defense. Artis-Payne thought he was getting the ball. Instead, they coughed it up. Artis-Payne may have recovered the ball, but the officials ruled on the field that Texas A&M's Julien Obioha had possession. After a long review, the SEC replay booth made the correct call: The turnover stood. There wasn't enough evidence to overturn the call on the field.
And yet you still thought Auburn would win after getting the ball back. With 57 seconds left and out of timeouts, the Tigers reached the Texas A&M 28-yard line. They were closing in on field-goal range and had Texas A&M reeling so much that a touchdown seemed inevitable.
Then came the premature snap. Center Reese Dismukes hiked the ball while Marshall was trying to check at the line of scrimmage. Texas A&M's Alonzo Williams recovered the ball.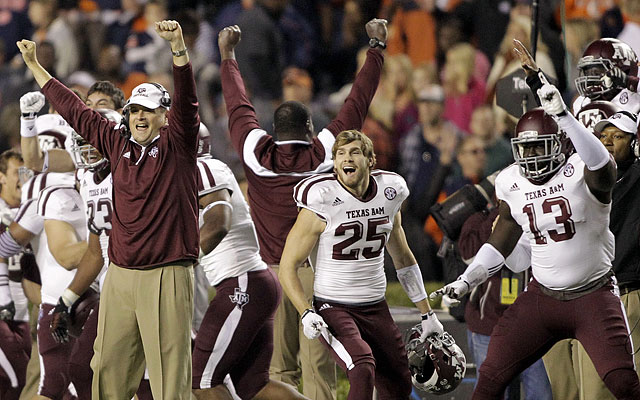 Auburn's playoff hopes are likely done with its second loss due to these mistakes, which were a pattern of mental errors that have been adding up for the Tigers lately. There's no way to dress up a home loss to a Texas A&M team that struggled to beat Louisiana-Monroe last week. The SEC's best playoff hopes appear to be down to undefeated Mississippi State and one-loss Alabama (pending Saturday's game at LSU).
For now. Check back in another week or so.
I'm regularly asked for my top four in the playoff and if I agree with the selection committee rankings. I consistently reply: Who knows and who cares at this point?
Every November we get lulled into thinking we know how the season will play out. And every November we get "shocked" by upsets. Last year from this point in the season and moving forward, the following teams lost: No. 1 Alabama, No. 2 Oregon, No. 2 Ohio State, No. 3 Baylor, No. 5 Stanford, No. 5 Oregon, No. 5 Missouri, and No. 6 Oklahoma State.
What's shocking is if a sport played by 18- to 22-year-olds under intense spotlight with millions of dollars at stake didn't produce upsets in November, when college football goes bat crazy. Pressure mounts. Injuries add up. Some teams improve, others regress.
And sometimes crazy things happen.
Ask Auburn in 2013. Ask Auburn in 2014.
What We Learned in Week 11
1. Alabama stays alive with a drive to remember. In the state of Alabama, famous Crimson Tide moments are documented with paintings by renowned artist Daniel Moore. Alabama quarterback Blake Sims just painted his moment with a game-tying field goal drive at the end of regulation. Alabama's 20-13 overtime victory over LSU wasn't a masterpiece. "That's old fashioned ball," Nick Saban told reporters after a game in which LSU ran 56 times for 183 yards."That's the kind of football when I played you played. There's nothing spread about that."
The Crimson Tide might not have tied the game without LSU kicking the ball out of bounds after a go-ahead field goal with 50 seconds left, or LSU being called for an unsportsmanlike conduct penalty prior to the field goal. Sims led the tying drive for Adam Griffth's 27-yard field goal to force overtime, including picking up two third-and-four conversions — one with his legs and one with his arm. Sims completed 6 of 8 passes for 80 yards in the final drive of regulation and in overtime after starting 16 of 37 for 129 yards. Les Miles once had Nick Saban's number. Not lately.
Alabama's four straight wins against LSU are the Crimson Tide's most in the series since 1989 to 1992. Miles has a four-game losing streak to one team for only the second time in his career. While at Oklahoma State, Miles lost four straight to Texas from 2001-04. Alabama still controls its playoff destiny and can seize control of the SEC West by beating No. 1 Mississippi State next week.
2. Ohio State's offense gains respect. When America last paid attention to the Buckeyes, they dropped a stunning 35-21 loss at home to Virginia Tech. Since then, Ohio State put up 50 points or more in five of six games against weak competition. No one was certain who the Buckeyes are. Now we have a better idea. No. 14 Ohio State used a brilliant performance by quarterback J.T. Barrett to defeat No. 8 Michigan State 49-37. The Buckeyes gained 568 yards and averaged 8.5 yards per play against a Michigan State unit that was ranked fifth nationally in total defense (279.4 yards per game and 4.7 yards per play).
Ohio State improved to 21-0 in regular-season games under Urban Meyer, whose team avenged a loss to the Spartans in the Big Ten Championship Game last year that cost Ohio State a bid in the national title game. Meyer had been starting to become irrelevant. Saturday marked Meyer's first win against a top-10 opponent since he coached Florida past Cincinnati at the 2010 Sugar Bowl. The Virginia Tech loss and the Big Ten's lack of quality wins outside the conference may still keep a ceiling on Ohio State. This much seems clear: The Spartans are out of the playoff conversation and the Buckeyes are at least in the discussion.
3. Baylor has surpassed Oklahoma as the better program. The playoff selection committee has downgraded Baylor so far due to its weak nonconference schedule. Baylor is currently No. 12. Yet TCU, which lost to the Bears last month, is No. 6. A possible looming question for the committee: What if it has to pick between 11-1 TCU and 11-1 Baylor? The Bears would have the edge in head-to-head competition as a co-Big 12 champion. Trailing 14-3 on Saturday, Baylor scored 45 consecutive points to rout Oklahoma 48-14 for the Bears' first win ever in Norman. Baylor ended a 37-game road losing streak against ranked opponents that dated to 1991. Bryce Petty played pitch-and-case with ease against Oklahoma's overmatched secondary, causing boos to rain down on the Sooners' helpless defenders by their fans. Let's be clear: Baylor has surpassed Oklahoma as a better program, having won three of our against the Sooners. The 34-point loss was Oklahoma's worst at home since a 51-7 defeat to Texas A&M in 1997. Bob Stoops lost consecutive games at home for the first time and he has now dropped nine games by 20 points or more in the past 12 seasons, including in each of the past four years. Baylor now ends its season with two games in Waco, where Bears have a 14-game home winning streak, and a neutral-site game in Dallas. It's still Baylor's Big 12 to win or lose — and a possible interesting question for the committee.
4. Arizona State avoids collapse to control playoff destiny. The beauty and the curse of being a college football fan was on display in Temple. Arizona State went from up 34-3 to nearing an epic collapse as Notre Dame pulled within 34-31 to winning going away 55-31. Todd Graham even added some style points by throwing a fourth-and-goal touchdown pass in the final minutes with the Sun Devils up by 17. Hey, when you're trying to impress 12 selection committee members, you do what you've got to do even if loses you friends. The truth is, Arizona State dominated the first half and got conservative, and Everett Golson's mistakes were too much to overcome. Golson has committed 17 turnovers in his last six games after having none in the first three games. Yet still it took the Sun Devils finally getting aggressive on offense again to win. On Arizona State's first five drives of the second half, it ran 22 plays and gained only 76 yards. Nursing a three-point lead, the Sun Devils put together a five-play, 75-yard touchdown drive for the win. Urgency does crazy things in college football. If Arizona State wins out (including a win over Oregon in the Pac-12 Championship Game), the one-loss Sun Devils figure to be in the playoff.
5. TCU could find itself in the top four this week. The sixth-ranked Horned Frogs made a statement with a 41-20 victory over No. 7 Kansas State. TCU ran for 334 yards against a Wildcats defense that entered the game 10th nationally in rush defense at 100.9 yards. TCU did that without its leading rusher, B.J. Catalon, who missed the game with an injury. Aaron Green ran for 171 yards on 9.5 yards per carry, and quarterback Trevone Boykin rushed for 123 yards on 7.2 yards per carry. Boykin ran for three scores and threw for another. TCU ends a grueling six-week stretch by beating Oklahoma, Oklahoma State, Texas Tech, West Virginia and Kansas State and losing by three points to Baylor.
The Horned Frogs' final three opponents — Kansas, Texas and Iowa State — have a combined record of 10-18. The committee may need to make a decision eventually between Baylor and TCU. The Horned Frogs are doing their best to build up their resume.
Score of the Week
Northern Iowa 23, North Dakota State 3. November craziness happens in the FCS, too. Four-loss Northern Iowa upset the three-time defending national champion in the Football Championship Subdivision. No. 1 North Dakota State had won 33 straight games, the longest in FCS history and the third-best streak in Division I football over the past 50 years. How dominant had North Dakota State been? It outscored its previous 33 opponents by an average of 35-11. On Saturday, the Bison went 1-of-14 on third-down conversions and got outscored 13-0 in the fourth quarter.
Stat of the Week
New Mexico and Boise State combined for 1,285 yards and 109 points in the Broncos' wild 60-49 victory. New Mexico ran for more than 400 yards in the first half and finished with 505 rushing (10.3 yards per rush). There were four 100-yard rushers in the game, two for each team.
What Were They Thinking?
Needless to say, it's not every day fans rush the field after beating a 2-7 team. That's what happened after Kansas beat Iowa State 34-14. Jayhawks fans didnt just rush the field. They tore down the goal posts and reveled in beating a Cyclones team that remains winless in the Big 12.
Can you blame Kansas fans? Interim coach Clint Bowen already has matched the number of Big 12 wins by Charlie Weis and Turner Gill during their tenures as Kansas coach. When you're a Jayhawks fan, you embrace the small steps out of the basement.
Week 12 Questions
1. Is Mississippi State the SEC West favorite? That question becomes clearer when the Bulldogs visit Alabama next week. While Alabama had to play a physically and emotionally tough game Saturday at LSU, Mississippi State enjoyed an easy 45-16 win over UT-Martin. Dak Prescott, who has occasionally worn a protective boot in recent weeks, showed he looks reasonably healthy by throwing for two touchdowns and running for another. Mississippi State is in the final stretch to try to win its first SEC title since 1941. But a huge obstacle stands in the way in Tuscaloosa.
2. Can Miami challenge Florida State? The Seminoles' trip to Miami is perceived to be the last shot for Florida State to lose before the College Football Playoff. After the Hurricanes, Florida State finishes with Boston College and Florida at home and then a weak Coastal Division team in the ACC Championship Game. The Hurricanes had Saturday off to rest and prepare. They will need a huge performance from star running back Duke Johnson to have a chance.
3. What will Todd Gurley do in his return? Gurley, Georgia's star running back, returns after a four-game suspension to face Auburn. The last time we saw Gurley, he was the Heisman Trophy frontrunner. Gurley may still be the best player in college football, but he has no shot at winning the award after missing so games. He could still impact the SEC East race and help Georgia reach the SEC Championship Game.
4. Who's going to win the Big Ten West? Nebraska travels to Wisconsin for a key game to help decide the Big Ten West champion. Nebraska and Wisconsin are both 4-1 in the Big Ten, tied with Minnesota for first place in the division. But Minnesota has a tough final stretch: vs. Ohio State, at Nebraska, at Wisconsin. Most likely, the Nebraska-Wisconsin winner will go to Indianapolis for the Big Ten Championship Game.
5. How much longer will Frank Beamer coach? The scrutiny surrounding whether Beamer should return for his 28th season continues to get louder as last-place Virginia Tech visits ACC Coastal leader Duke. Not long ago, those standings were reversed. The Hokies' 21-year streak of being bowl-eligible is in doubt for the second time in three years. But Beamer, who received a two-year contract extension in August through 2018, has stressed he is returning next season. "No doubt," Beamer said. "I've always said as long as I have a good quarterback, a good kicker and my health is good, I'll coach. I still enjoy it, I really do. Right now we're going through some growing pains. But next year we've got a chance to be really good." Offensive coordinator Scot Loeffler's offense is ranked in the 100s in total yards again. The scrutiny isn't going away, although Beamer is a legend in Blacksburg, Va. "I don't think anybody likes to hear you're not very good or you're not coaching very well, but if you're going to get in this business, that's part of it," Beamer said. "The good part of that is they care. They're passionate about your team. But it's hard to win every Saturday."
Quote of the Week
"3 straight 3 & outs. 3 straight possessions w/o a running play. Shall I say it again … RUN THE BALL."
— Injured Alabama running back Kenyan Drake offering advice to his offensive coordinator, Lane Kiffin, on Twitter during the Alabama-LSU game.