Atlas Mara Ltd. co-founder Robert Diamond said a tougher economic climate and lower asset valuations in Africa are a buying opportunity.
Risk appetite for investors "should be, and is greater now than it was" in good times, Diamond, who's been buying stakes in African banks as Chief Executive Officer of Atlas Mara, said Wednesday at the Bloomberg Africa Business and Economic Summit in Cape Town. "We think that the story is the same story. This is just a better entry point."
Weaker demand from China and a slump in commodity prices have damped the outlook for economic growth in most African countries and weighed on currencies in the region. Nedbank Group Ltd. Chief Executive Officer Mike Brown and Black Rhino Group co-founder and CEO Brian Herlihy echoed Diamond's comments that this is an opportune time for investors.
"You've seen certainly some countries battling with the lower commodity prices and so you've got some bumps in the road," Nedbank's Brown said. "What it provides some long-term investors with is a wonderful opportunity to get in. We continue to look to grow our African businesses."
With eight banks in seven African countries, Atlas Mara's "big priority right now" is to turn its 32 percent stake in Union Bank of Nigeria Plc into a majority holding, Diamond said in an interview.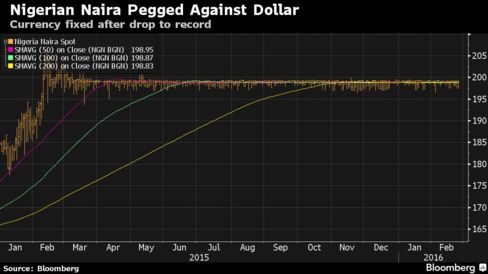 Nigeria has all but fixed the naira at 197-199 per dollar since the currency plunged to a record low in February last year by using a series of restrictions on foreign-exchange trading to counter a drop in oil prices that account for the bulk of government revenue and export income. President Muhammadu Buhari's government is trying to counter the slowest economic expansion since 1999 by increasing spending by about 20 percent in 2016 to $31 billion.
"There's no question that Nigeria has huge potential," Diamond told the conference. "They are facing headwinds. They're really clamping down on corruption. They're really improving their ability to collect taxes. We're seeing in the short-term improvements and corrections under Buhari, which will have a very positive impact in the long term."
After investors chastised the performance of Atlas Mara, Diamond began a $10 million share-buyback program on Nov. 3. The stock has fallen 12 percent this year.
"We felt that it was a good sign of confidence when people were disinvesting in Africa in the third quarter of last year," Diamond said of the buyback.