Donald Trump: Obama will go down as perhaps the worst president in U.S. history – Washington Times
11 months ago Comments Off

on Donald Trump: Obama will go down as perhaps the worst president in U.S. history – Washington Times
Republican presidential front-runner Donald Trump said Wednesday that President Obama will go down as one of the worst presidents in U.S. history — perhaps the worst — and that Mr. Obama's comments about him a day earlier were a "badge of honor" of sorts.
"He's going to go down as one of the worst, perhaps the worst president in the history of the United States," Mr. Trump said on "Fox and Friends." "You know, it's interesting — when they make those statements, that means that, in way, it's a badge of honor, because that's the one that they're looking at."
At a press conference Tuesday, Mr. Obama said he continues to believe Mr. Trump "will not be president."
---
SEE ALSO: Obama blasts Trump, 'unserious' GOP presidential candidates
---
"I have a lot of faith in the American people," Mr. Obama said. "And I think they recognize that being president is a serious job. It's not hosting a talk show or a reality show. It's not promotion. It's not marketing. It's hard."
"It's not being [a] community organizer, which is what he was — that was about it," Mr. Trump responded Wednesday.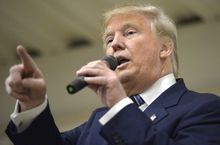 "Let me tell you, I built a great company, one of the great companies, some of the great assets in the world, very little debt, tremendous cash flow — it's the thinking our country needs," Mr. Trump said. "We need a different thinking than guys like we have right now."
Donald Trump: Obama will go down as perhaps the worst president in U.S. history – Washington Times