Ducks lose fourth straight Game 7 at home, waste remarkable turnaround – CBSSports.com
6 months ago Comments Off

on Ducks lose fourth straight Game 7 at home, waste remarkable turnaround – CBSSports.com
In each of the last four seasons, the Anaheim Ducks earned Pacific Division titles. All of that work over 82 games afforded them home-ice advantage through at least the second round of the playoffs. Instead of increasing their chances at advancing, all it did was increase the severity of the heartbreak that awaited.
Four years of division titles led to four years of Game 7 losses on home ice to end Anaheim's season. No team had ever lost three consecutive Game 7s at home before the Ducks did it last season. Now they've extended one of the least desirable records a team can own.
It seems impossible for this to have happened again. Especially since in each of those four seasons, the Ducks would accumulate eight opportunities to progress from the series that ultimately ended in defeat in a Game 7. Each time, they had a 3-2 lead. Each time, they coughed up Game 6. Each time, they faltered in Game 7. A first-round series win over the Dallas Stars in 2014 was the only time during that stretch where they played in and won a Game 6 to clinch.
This time it was the Nashville Predators, the top wild card team in the West that ended the Ducks' season. Until Wednesday night, the Preds had never played in a Game 7 in their franchise's history.
Two first-period goals from Nashville were all they needed. A late rally by the Ducks included a power-play goal early in the third period and multiple legitimate scoring chances in the dying minutes of the game. The best opportunity of them all came off of this strange deflection off of Pekka Rinne:
Oh man SO close to a tie game for the Ducks pic.twitter.com/7EEuMo9JrR

— Pete Blackburn (@PeteBlackburn) April 28, 2016
The puck fluttered off the post and narrowly escaped Corey Perry's swinging stick. Perry's miss would ensure he'd finish the series without a goal. The Predators hung on for the 2-1 victory.
The Ducks had to really battle for this opportunity to get the most favorable first-round matchup and home ice. At one point this season, just getting into the playoffs seemed like it would be an accomplishment.
They could not have started the season any worse. By Christmas break they owned the worst record in the entire NHL. From Dec. 27 on, the Ducks went 34-10-5. That was the best record in the league over that span by six points. Even with that record, it took the Los Angeles Kings slipping late in the season to win a fourth division title. The Ducks clinched the Pacific on the last day of the season with a win over the Washington Capitals.
They even started this series off on the wrong foot, only to battle back. They lost Games 1 and 2 at home as well before winning the next three. If there was ever a year it seemed like they could change the outcome, this was it.
Most of that doesn't matter much now. Wasting that turnaround, in both the season and series, makes the way this whole thing played out all the more agonizing. They were guaranteed home ice through at least the second round and lost three of their four home games in this series.
While the Ducks have lost their fourth consecutive Game 7 on home ice, head coach Bruce Boudreau's Game 7 futility predates his tenure in Anaheim. In fact, his Game 7 record is often mentioned well before the tremendous accomplishments of his coaching career.
With the loss to Nashville, Boudreau is now 1-7 all-time in Game 7s. Every single one of them were played on home ice. Because every single time, the teams Boudreau coached were division champions.
Boudreau-coached teams have won eight division titles, four with the Capitals and four with the Ducks. He's the fastest coach to 400 wins in NHL history and owns a 409-192-80 record. His regular-season points percentage is .659. That kind of record is unrivaled among his peers. Check that, it's unrivaled in history. The next closest coach on the list who was behind an NHL bench in at least 300 games is Scotty Bowman, who checks in at a .657. But still, 1-7.
The reason this one is going to hurt more isn't only because it's the fourth time, it's also because in each of the previous three seasons, the Ducks at least progressed one round. Last year, they were a game away from reaching the Stanley Cup Final. Instead, they lost to eventual champion Chicago in a fairly ugly 5-3 game.
This loss makes it feel as though they're right back at square one. This is also the loss that could end up costing Boudreau his job despite all of the regular-season success. The playoff futility was part of what led to his dismissal in Washington. The Capitals were labeled as playoff chokers and even without Boudreau haven't yet completely shaken that designation.
If the Ducks do oust Boudreau, he should draw considerable interest fairly quickly. That said, there are going to be teams that pause and look at 1-7 before possibly discarding the mountain of evidence that Boudreau is actually a good coach.
His career could very well be defined by these eight games, which is pretty sad and maybe a little unfair. Still, you're remembered best by what you do in the playoffs. Eight games is a small sample, but there can be common denominators in small samples even. Unfortunately for the head coach, he's the big commonality here.
There are a few others, though. In each of Boudreau's last seven trips to a Game 7, the other team scored first. Only one of those games – 2009 in the first round against the New York Rangers – did the Boudreau-led team win. In each of the last four Game 7 losses in Anaheim, the Ducks were behind within the first six-plus minutes of the game. Wednesday night's loss to Nashville was the deepest the Ducks had gone into their last four Game 7s without giving up the lead. Colin Wilson scored at the 6:19 mark.
Historically, the team that scores first in a Game 7 has a better than 74 percent win rate. The Ducks were constantly chasing leads after being put on their heels before they could really even get into the game. Coming back also becomes way tougher when the opposing goaltenders have their best stuff against you. That's been the case regularly against Boudreau's teams.
There have been many times in this stretch where Boudreau's teams ran into a hot goalie. Thirty-nine saves by Martin Biron for the Philadelphia Flyers in a 3-2 OT win over the Caps in 2008. Jaroslav Halak famously made 41 saves in a 2-1 win in 2010 for the Montreal Canadiens. Jimmy Howard made 31 stops for the Detroit Red Wings in 2013. Jonathan Quick had 25 saves in 2015 in a performance that was better than the low save total would indicate. Corey Crawford with 35 saves last year. And then Rinne, who had perhaps two of his better performances of his entire year in the last two games of this series, made 36 saves in Game 7.
These aren't excuses, just facts. While there is definitely an element of randomness to this, it's hard to sell 1-7 as being solely bad luck. That's especially true when you consider the cast of characters Boudreau has had at his disposal over the years. Alex Ovechkin, Nicklas Backstrom, an in-his-prime Mike Green, Ryan Getzlaf, Corey Perry, Ryan Kesler and so many others. It's hard to believe teams with those players couldn't find ways to manufacture some wins in these tight situations.
It's also not like Anaheim hasn't tried to shake things up, either. The Ducks restructured some, even after last season. They changed pieces. They kept building from within like so many of the good teams do. Yet they still couldn't get it done.
More change will come this summer. Their salary cap situation gets much more challenging next year as players start new extensions, like Kesler who will make $1.875 million more against the cap next season than he did this year. As yet unsigned restricted free agents Frederik Andersen, Rickard Rakell, Sami Vatanen and Hampus Lindholm will command hefty raises, unless the team decides to move one or more of them. There are also six players on the roster that are eligible to become unrestricted free agents.
These last four years may have been the team's best shot to win another Stanley Cup. They did so many things right off the ice. GM Bob Murray managed the salary cap well, they drafted decently enough, they didn't overextend themselves often on UFAs or in big trades. Now they have to pay to keep the homegrown guys and there probably isn't going to be enough to go around.
So here they are again, no closer to their goal and probably feeling about as far away from it as one can feel.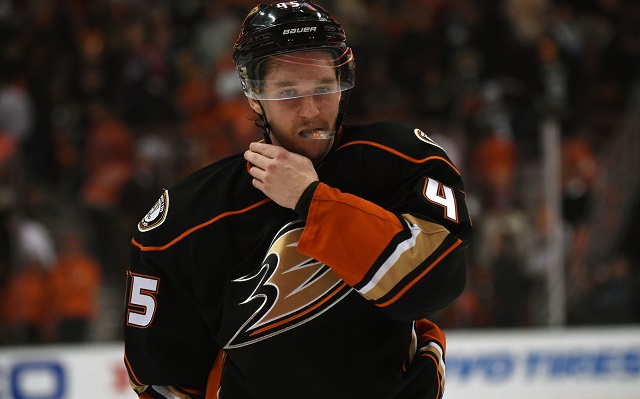 Ducks lose fourth straight Game 7 at home, waste remarkable turnaround – CBSSports.com