Election results pour in from across UK – BBC News
6 months ago Comments Off

on Election results pour in from across UK – BBC News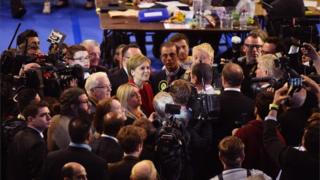 Jeremy Corbyn is not, so far, facing losses on the scale some had predicted in English local elections, with Labour retaining key councils.
But the party could finish third in Scotland amid a Tory revival, with the SNP heading for overall victory.
The Lib Dems have gained ground in Scotland -and UKIP is having a good night in English local polls and is hoping to gain seats in Wales.
The London Mayoral result will not be declared until late Friday.
Labour MP John Mann – one of Jeremy Corbyn's biggest critics – conceded that the party was "doing OK" but he said it should be winning by a landslide against a feuding and weakened Conservative Party.
BBC analysis suggests the Tory vote is down in Southern England, which may have helped Labour to retain control of councils in areas such as Crawley, Southampton, Norwich and Hastings, where its vote was looking vulnerable.
Labour's vote share is down about 6% on average on 2012 – the last time the seats in England were contested – but it BBC analysis suggests its share is up slightly on the general election in key wards.
It is a different story in Scotland, where the party's share is down 11%.
SNP leader Nicola Sturgeon is expected to lead her party to a third successive term in office although BBC analysis suggests that with more than half of seats declared, its share of the vote is simply holding steady with what it achieved in 2011.
The Conservatives have won the Holyrood seat of Eastwood from Labour and Scottish Conservative leader Ruth Davidson won Edinburgh Central from the SNP, taking the Tories to five constituency seats, their strongest showing for some time.
The Lib Dems held Orkney and Shetland and took Fife North East from the SNP. The SNP took Rutherglen from Labour.
In Wales, Labour's vote is down by eight points overall, the Conservative vote is down by three points, while Plaid Cymru is up by two points. At 15%, UKIP is maintaining the level that the party achieved in 2015 which should be enough to enable the party to win its first assembly seats.
Other elections include the high-profile London mayoral contest as well as other mayoral races in Bristol, Liverpool and Salford. The London result is not expected until Friday evening.
Labour has held the Westminster seat of Sheffield Brightside in a by-election, on a 5.8% swing from the Conservatives, with UKIP coming second. The party also held Ogmore in another Parliamentary by-election, in South Wales, with UKIP again in second place.
Police and crime commissioners are also being elected in England and Wales.
UKIP leader Nigel Farage told the BBC his party was "now eating into the old Labour vote" in England and predicted advances in Wales and Northern Ireland – while adding: "In Scotland, it's pretty knife-edge."
But Labour's Shadow Chancellor John McDonnell told the BBC: "We are laying the foundations for a four-year programme."
"If you compare, from when Jeremy took over to now, we are on a clear path of improvement. That's exactly what our strategy is all about."
He said in Scotland the picture was "complex" and Labour was "at the early stages" of rebuilding support having been "wiped out" in 2015.
Burnham considers Manchester mayor bid
Widow wins Sheffield by-election
Lib Dems' Rennie takes seat from SNP
Meanwhile, Shadow Home Secretary Andy Burnham is considering standing to become mayor of Greater Manchester in 2017, it has emerged.
For the Conservatives, Education Secretary Nicky Morgan predicted the London mayoral race would be a "close result" but said the local elections would be a test of "whether the Labour Party is in touch with working people across the country".
BBC Newsnight's political editor Nick Watt has been leaked a copy of the lines Labour MPs have been told to take as the results come out to explain any losses.
In total, 2,747 seats in English councils – spanning metropolitan boroughs, unitary authorities and district councils – were up for grabs. The majority of the seats were last contested in 2012.
Thursday's polls are the single largest test of political opinion before the next general election, which is scheduled for 2020, with 43 million people entitled to take part.
Tap here to search for election results in your area.
---
What to expect when (all timings are estimates)
Friday 6 May
Around 80 English local election results expected overnight
Scottish Parliament – results in all 129 seats expected overnight
Welsh Assembly – results in all 60 seats expected overnight
Liverpool mayoral result also expected overnight.
11:30 First results from around 50 councils in England to declare on Friday
15:00 First results of London Assembly elections
17:00 First preference vote share information for elections to Northern Ireland Assembly
1800 Result of first preference votes for Mayor of London (final result expected early evening)
Results of Police and Crime Commissioner elections in England and Salford mayoral contest are also expected on Friday.
Saturday 7 May
14:00 Results from five remaining councils in England
16:00 Result of Bristol Mayoral contest
Result of elections to Northern Ireland Assembly expected
Sunday 8 May
16:00 Result of elections to Bristol Council (final council in England to declare)
Results of Police and Crime Commissioner elections in Wales
Election results pour in from across UK – BBC News