Asia's emerging-market stocks and currencies advanced while oil rose above $36 a barrel after Friday's U.S. jobs report bolstered prospects for global growth.
The MSCI Asia Pacific excluding Japan Index climbed to a two-month high, while Japan's Topix fell for the first time in a week and U.S. stock index futures declined. Malaysia's ringgit and Indonesia's rupiah strengthened, while the Australian and New Zealand dollars retreated. Crude advanced to a two-month high, after surging by about 10 percent in each of the last two weeks.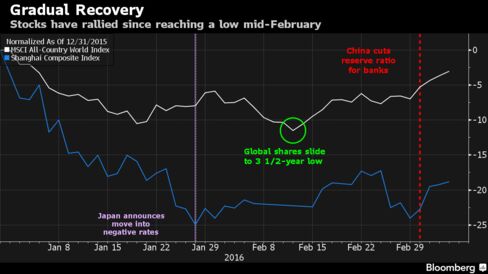 U.S. jobs data on Friday added to a string of reports that have sketched out a picture of relative health in the world's biggest economy. China's leaders set an expansion goal of 6.5 percent to 7 percent for 2016, down from last year's target of around 7 percent, and said they are planning a record-high budget deficit. Central banks for the euro area, the U.S. and Japan meet to review policy over the next two weeks.
"The U.S. recovery remains intact and we have not had a global recession without a U.S. recession in probably 100 years," Matthew Sherwood, head of investment strategy at Perpetual Ltd. in Sydney, which manages about $21 billion, said in an e-mail to clients. "But I still think that despite the solid risk recovery over the past three weeks, returns are likely to be very modest in 2016, at best, and downside protection will be needed."
The National People's Congress continues in China Monday, with data on the country's foreign-currency reserves due. A trade report out of Taiwan is scheduled, while markets in both India and Sri Lanka are closed.
Stocks
The MSCI Asia Pacific excluding Japan Index gained 0.7 percent as of 11:15 a.m. Tokyo time. Hong Kong's Hang Seng Index added 0.6 percent and the Shanghai Composite Index rallied 1 percent. The Topix declined 0.7 percent, after surging 15 percent over the last three weeks.
"We're at a level where we can easily get selling," said Yoshinori Ogawa, senior strategist at Okasan Securities Co. "There are concerns over earnings, and I get the impression that moves to buy back happened in a state of wariness. Long term funds probably haven't come in yet."
Australia's S&P/ASX 200 Index gained 1 percent, climbing for the sixth day in a row. BHP Billiton Ltd., the world's biggest miner, jumped 5 percent after surging 13 percent last week. Iron ore, the country's chief export earner, rose 5 percent on Friday to the highest price since October, according to Metal Bulletin data.
Standard & Poor's 500 Index futures slipped 0.1 percent, after the U.S. benchmark ended Friday up 0.3 percent. Contracts on the U.K.'s FTSE 100 Index fell 0.3 percent.
Currencies
The ringgit gained as much as 1.1 percent to 4.0765 per dollar, the strongest level since August. The increase in crude prices is brightening prospects for Malaysia, Asia's only major net oil exporter. The rupiah strengthened for a 13th day, its best winning streak since 2010.
Australia's dollar fell 0.4 percent, after a 4.4 percent weekly surge that marked its best performance since 2011. New Zealand's currency weakened 0.3 percent, retreating for the first time in a week.
The Bloomberg Dollar Spot Index, a gauge of the currency against 10 major peers, was little changed after falling for a fifth day on Friday. Odds of the Federal Reserve raising interest rates by December ticked up after the payrolls data, with the probability at 68 percent, up from 53 percent a week ago and 49 percent a month ago, according to Fed funds futures tracked by Bloomberg.
"Nonfarm payrolls for February was a perfect mix of better-than-expected payrolls growth but easing wages growth, which suggested that U.S. activity was proving resilient. But this was not placing upward pressure on wages and inflation, which should keep the Fed on hold at their March policy meeting in two weeks time," Sherwood said, referring to the March 16 Fed decision.
Commodities
West Texas Intermediate crude climbed for the fifth time in six days, rising 1.8 percent to $36.57 a barrel in New York. It's headed for the highest close since Jan. 4.
Signs OPEC may act to address the global surplus that has depressed prices for at least the past year is buoying oil, along with a decline in the number of active rigs in the U.S. The number of rigs has plunged 75 percent since September 2014 and hasn't risen a single week since August last year, according to data from Baker Hughes Inc. There were 489 active rigs as of last week, the lowest level since 1999.
The Bloomberg Commodity Index rallied 3.9 percent last week, its best performance since July 2012.
Bonds
Australian bonds led declines among sovereign debt, with yields on notes due in a decade climbing five basis points, or 0.05 percentage point, to 2.60 percent. Rates on similar-maturity Japanese bonds rose by one basis point to negative 0.03 percent.
Yields on 10-year Treasuries climbed by two basis points to 1.89 percent, after adding four basis points on Friday after the jobs data.