EU membership 'protects UK security' say ex-intelligence chiefs – BBC News
6 months ago Comments Off

on EU membership 'protects UK security' say ex-intelligence chiefs – BBC News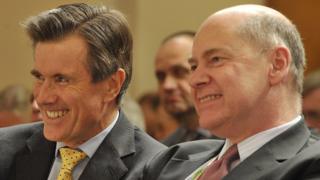 The UK needs to stay in the European Union in order to protect its security, according to two former senior British intelligence officials.
Sir John Sawyers, who stepped down as head of MI6 in 2014, and Lord Evans, who led MI5 until three years ago, make the claim in the Sunday Times.
They say EU membership makes vital information more readily available.
This comes after another former head of MI6 recently said the cost to Britain's security of an EU exit would be low.
In their newspaper article, Sir John and Lord Evans say modern intelligence work relies on gathering large amounts of data on terrorists and cyber-attackers.
They go on to suggest that if Britain were not in the EU, the country's security forces would be unable to shape the terms for sharing that data.
They also fear an agreement on data sharing reached without the UK would be too restrictive.
"If Britain left the EU we would have little say over the terms for data sharing," they wrote.
"An agreement reached without us would probably be too restrictive for our needs and we would have to accept what data we were offered."
They go on to say that "the EU cannot make decisions that override the UK government on matters of national security".
"Nor can the EU institutions interfere with the security and intelligence services of member states. There is no European Intelligence Service and nor is there any good argument for creating one.
"Recent attacks in Paris and Brussels show there is further to go, especially in sharing threat intelligence and monitoring movement of suspects. Counterterrorism is a team game and the EU is the best framework available — no country can succeed on its own."
Sir John, speaking in an interview for the paper, also expressed wider fears.
"If we leave the European Union, we will make it more difficult for our partner countries to hold together the fabric of the European Union, which has kept stability in Europe for the last 60 or 70 years, effectively since the Second World War.
"And so there's a risk of fragmentation, which in turn could lead to instability."
Their opinions come a few weeks after another former intelligence chief – Sir Richard Dearlove who led MI6 from 1999 to 2004 – argued that the cost to Britain's security in the event we do leave the EU would be low.
"Brexit would bring two potentially important security gains – the ability to dump the European Convention on Human Rights… and, more importantly, greater control over immigration from the European Union", Sir Richard wrote.
EU membership 'protects UK security' say ex-intelligence chiefs – BBC News