EU referendum: Cameron deal talks continue through night – BBC News
11 months ago Comments Off

on EU referendum: Cameron deal talks continue through night – BBC News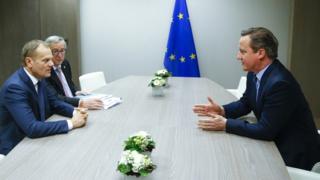 Talks on reform of the UK's place in the EU continued in the early hours after Downing Street said there was "real hard work to do overnight".
European Council President Donald Tusk said there had been "some progress" on the first day of the Brussels summit, but "a lot still remains to be done".
He began a series of meetings with David Cameron and other leaders in the early hours. Formal talks resume later.
Divisions on the proposed deal for the UK are said to be deeper than expected.
Number 10 sources say Mr Cameron and Mr Tusk left talks at 05:30 local time (04:30 GMT) and are due to return at 09:00 with the UK prime minister set to hold a series of one-to-one talks with other leaders and Mr Tusk ahead of an "English lunch".
During the second day of the summit later, Mr Cameron will seek to secure the deal he wants ahead of holding an in/out referendum on the UK's EU membership.
German Chancellor Angela Merkel was reported by the Reuters news agency as saying it had become "clear that agreement will not be easy for many, but that the will is there".
The first EU Council session ended on Thursday with no agreement on several issues, and an EU source said that while it had been "intense and constructive" with all the countries confirming their wish for the UK to stay in the bloc, some also set out specific concerns.
"We expected this," the EU source said: "But honestly we had hoped for some of them to be less critical."
BBC Europe correspondent Chris Morris says: "Day two of this summit dawns with problems aplenty. Diplomats from several countries said divisions on the proposed deal for the UK were deeper than expected."
He added that a deal could still be done but "arguments could drag on through the day".
An EU source spoke of five key areas where agreement had not been reached:
How the EU's binding treaties will be altered to make the changes
How many member states can trigger an "emergency brake" on migrant welfare
For how long a member state can impose restrictions on in-work benefits for migrants
Whether child benefit curbs can be applied retrospectively
Changing treaties to alter the principle of "ever-closer" union
Late on Thursday, a Downing Street source said: "We are only going to do an agreement at this summit if we make some real progress from where we were at 8:30 this evening.
"If we don't, we are not going to have an agreement at this summit. There is some real hard work to do overnight and we have got to see real progress."
BBC political editor Laura Kuenssberg said it was not clear whether the downbeat mood was "summit theatrics or genuine disappointment" at lack of progress.
She added: "Sometimes politicians love nothing more than snatching victory from the jaws of defeat."
Earlier, senior EU officials had talked up the chances of a deal, with European Commission president Jean-Claude Juncker saying he was "quite confident" during the Council meeting and Mr Tusk saying it was a "make-or-break summit".
Speaking as he arrived at the summit on Thursday, Mr Cameron said: "I'll be battling for Britain. If we can get a good deal I'll take that deal. But I will not take a deal that doesn't meet what we need."
The PM's Eurosceptic critics have branded the process a sham, saying that even if the reforms are agreed they will not allow the UK to block unwanted EU laws or affect the scale of EU migration.
The key parts of the UK deal include:
Allowing Britain to opt out of the EU's founding ambition to forge an "ever-closer union" of the peoples of Europe, and greater powers for national parliaments to block EU legislation
Restrictions on other EU nationals getting in-work benefits in the UK for a period after they arrive in the UK; changing child benefit rules so payment reflects cost of living in the country where the child resides
Explicit recognition that the euro is not the only currency of the EU and guarantees to ensure countries outside the eurozone are not disadvantaged or have to join eurozone bailouts
A target for the reduction of the "burden" of excessive regulation and extending the single market
France is thought to be resisting attempts to secure protection for the City of London by giving non-eurozone nations more power to stall financial regulation.
UKIP leader Nigel Farage said he expected Mr Cameron to come back with a deal from Brussels, as the other leaders would recognise how "embarrassing" it would be for him to return empty-handed.
But he added: "He hasn't asked for us to get back supremacy for our Parliament, he hasn't asked for us to control our own borders, he hasn't asked to reduce the vast daily fees we pay.
"We will be allowed – after he has come here like Oliver Twist and begged for concessions – to control migrant benefits for up to four years. I find the whole thing as a British person pretty shameful."
Labour leader Jeremy Corbyn said his party would be campaigning for Britain to remain in the EU – but he branded David Cameron's renegotiations "a theatrical sideshow, designed to appease his opponents within the Conservative Party".
---
What happens next?
Friday:
10:00 GMT (11:00 local): Formal group discussions will continue.
If David Cameron gets a deal, he will return to the UK as quickly as possible to hold an emergency cabinet meeting to reach an agreed position on remaining in the EU. At this point, ministers who want Britain out of the EU will be allowed to speak out.
Mr Cameron may then announce the date of the UK's referendum, although he does not have to do so
17 March:
The next scheduled EU summit – at which Mr Cameron could have another chance to get a deal. There has also been talk of a special summit at the end of February
Thursday 23 June:
Still seen as the most likely date of a UK referendum if Mr Cameron gets a deal in February or March, but he has until the end of 2017 to hold one
---
Read more:
---
What are your views about the UK's place in the EU? Are you from one of the other member states? Tell us if the possibility of the UK leaving the EU will affect you or not? Email haveyoursay@bbc.co.uk
Please include a contact number if you are willing to speak to a BBC journalist. You can also contact us in the following ways:
EU referendum: Cameron deal talks continue through night – BBC News