EU referendum: Cameron warns UK exit could put peace at risk – BBC News
6 months ago Comments Off

on EU referendum: Cameron warns UK exit could put peace at risk – BBC News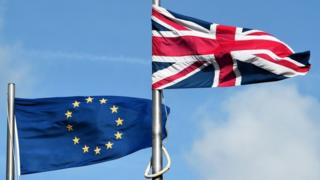 The Prime Minister will today warn that peace in Europe could be at risk if Britain votes to leave the EU.
The UK has regretted "turning its back" on Europe in the past, David Cameron will say as he invokes history to make his case for staying in the EU.
He will say the UK's national story is intertwined with Europe's, citing events such as the battles of Waterloo, Blenheim and the Spanish Armada.
Boris Johnson will make a "cosmopolitan case for Brexit" in a speech later.
The former mayor of London will speak before starting a battle bus tour of the country on behalf of the Leave campaign later this week.
Brexit security impact sparks row
The UK's EU vote: All you need to know
Follow the latest developments on our live page
Mr Cameron will make his most forceful intervention in the European debate to date, arguing that continued co-operation is in keeping with the country's finest traditions and the sweep of its history.
"Proud as we are of our global reach and our global connections, Britain has also always been a European power, and we always will be," he will say. "We know that to be a global power and a European power are not mutually exclusive.
"And the moments of which we are rightly most proud in our national story include pivotal moments in European history.
"Blenheim. Trafalgar. Waterloo. Our country's heroism in the Great War. And most of all our lone stand in 1940, when Britain stood as a bulwark against a new dark age of tyranny and oppression."
Neighbourhood matters
"Whenever we turn our back on Europe, sooner or later we come to regret it," he will say. "We have always had to go back in, and always at much higher cost."
While Europe has largely been at peace since 1945, he will say it is barely two decades since the Bosnian war cast a dark shadow over the continent while, more recently, Russia has been at war with Georgia and Ukraine.
"Can we be so sure that peace and stability on our continent are assured beyond any shadow of doubt? Is that a risk worth taking? I would never be so rash as to make that assumption."
He will argue that the European Union despite its faults has helped reconcile countries that have been at war with each other and "isolationism has never served this country well".
"The truth is this: what happens in our neighbourhood matters to Britain," he will add.
"That was true in 1914, in 1940 and in 1989. Or, you could add 1588, 1704 and 1815… And if things go wrong in Europe, let's not pretend we can be immune from the consequences."
Key Leave figures like Mr Johnson, Michael Gove and Iain Duncan-Smith say the UK needs to be more self-confident and outward-looking, warning that future integration within the eurozone further threatens the UK's autonomy and sovereignty.
They reject claims that the UK's global standing will be undermined by not being in the EU, pointing to its membership of the UN Security Council and Nato – which both pre-date its joining the European Economic Community – and its strong bilateral relationship with the US.
On Sunday, Mr Gove said the UK could pull out of the EU's single market without damaging trade, and clashed with cabinet colleague George Osborne on the issue.
The justice secretary said the UK would not be "punished" for leaving the EU by having tariffs placed on its exports.
He said he could "not imagine" Germany putting up trade barriers which would threaten their own exports into the UK.
EU referendum: Cameron warns UK exit could put peace at risk – BBC News