Fifth of UK couples close to break-up – Relate study – BBC News
8 months ago Comments Off

on Fifth of UK couples close to break-up – Relate study – BBC News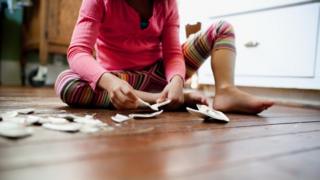 Almost one in five (18%) of couples in the UK argue regularly or consider separating, a study suggests.
The report, carried out by charity Relate and based on a survey of 20,980 people in relationships from 2013-15, suggested 2.87 million people were in "distressed" relationships.
Dr David Marjoribanks, from Relate, said constant bickering could have a "far-reaching" impact on children.
On average, they do worse in school and can even fall into crime, he said.
"It is not just the actual breakdown of the relationship itself, it's specifically the conflict that surrounds that," Dr Marjoribanks said.
"It means that when relationships end, it is not deemed to inevitably harm children, far from it.
"It is the conflict in intact relationships that can be just as damaging, as when relationships end," he added.
"Children who grow up with parents who have highly-conflicted relationships are much more likely to have mental and physical health problems, to not do as well at school and end up in antisocial behaviour and criminality even."
---
Case study: 'At loggerheads'
Mother-of-four Julia Darbyshire, 47, from Surbiton, in south-west London, attended Relate with her husband Andy, also 47, when their relationship reached breaking point.
"We went to Relate when the pressures of work and childcare started to impact on our relationship," said Mrs Darbyshire.
"We were arguing a lot and our eldest son was noticing that we were at loggerheads. We had hit a real rocky patch but with the support of our counsellor, we were able to turn things around.
"Speaking to somebody objective was really helpful. Since attending the counselling sessions, things have really improved and we've gone on to have another two children together.
"We now feel we communicate more effectively and have the tools we need to address any issues that come up."
---
Researchers looked at data from the Understanding Society survey of 20,980 people which asked people how often they argued, how frequently they considered divorce and regretted the relationship, and the extent of their unhappiness.
They said their findings suggested 2.87 million people, which equates to 18% of married or cohabiting couples, were living in relationships which would be described within clinical practice as "distressed".
One in 10 partners reported at least occasionally regretting getting married or living together, while 9% said they at least occasionally considered divorce or separation, according to the survey.
Nearly half (49%) of partners reported at least occasionally quarrelling, with 6.8% reporting severe levels.
Parents of children under 16 were slightly more likely to be in distressed relationships (22%), and becoming a parent for the first time was "one of life's events most likely to reduce relationship quality", the report found.
Dr Marjoribanks said many couples suffered in silence for years and only sought help when it was too late to salvage their relationship.
Relate counsellor Arabella Russell said some couples she met were arguing constantly about the pressures of jobs, finances and childcare.
"It's a very painful place to be and the impact it can have on the family is huge," she said.
Relate is launching its first national appeal, Breaking Point, calling for donations to help pay for services to support families whose relationships and finances are under pressure.
---
Can you relate to any of the issues raised in this story? You can share your experience by emailing haveyoursay@bbc.co.uk.
Please include a contact number if you are willing to speak to a BBC journalist. You can also contact us in the following ways:
Fifth of UK couples close to break-up – Relate study – BBC News