Adam Scott picked up his second win in as many weeks, clearly putting him — if not at the top, then near the top — of the list of Masters favorites.
So how does the Aussie handle the pressure, even though he already owns a green jacket? And what should we make of Rory McIlroy's new left-hand-low putting stroke at Doral?
Our scribes weigh in on those topics and more in this week's edition of Monday Four-Ball.
1. What's the best way for Adam Scott to handle being the favorite to win at Augusta National?
<!–
SportsCenter anchor Matt Barrie:
–>
SportsCenter anchor Jonathan Coachman: He has to approach this first major like he has approached the Florida swing — like he is the best and his putting stroke has been around for years. And that he has the ability to bounce back. At the Honda, he had a quad on the 15th hole in the third round and won. Sunday he had two double-bogeys on the front nine and somehow went bonkers on the back with some good luck and incredible shot-making. Oh and that putting, too.
ESPN.com senior golf analyst Michael Collins: Scott said in his media conference that his dad was watching on TV and said he looked like he was having fun. The key will be for Scott to maintain where he is right now mentally and physically — and he said as much in the media conference as well. That's much easier said than done.
ESPN.com senior golf writer Bob Harig: Embrace it. Ultimately it means nothing, so simply take it on. Use it as a confidence builder instead of added pressure. Scott knows he is playing well and his game has come together in the past three weeks. Now he simply needs to maintain it.
ESPN.com senior golf writer Jason Sobel: He doesn't have to, because he isn't — at least not in his mind. When asked after his victory if he was the favorite for next month's major, he quickly deflected that title to Bubba Watson. Whether it's true or not is subject to debate, but if Scott can handle the pressure better by allowing himself to believe he isn't the favorite, then more power to him.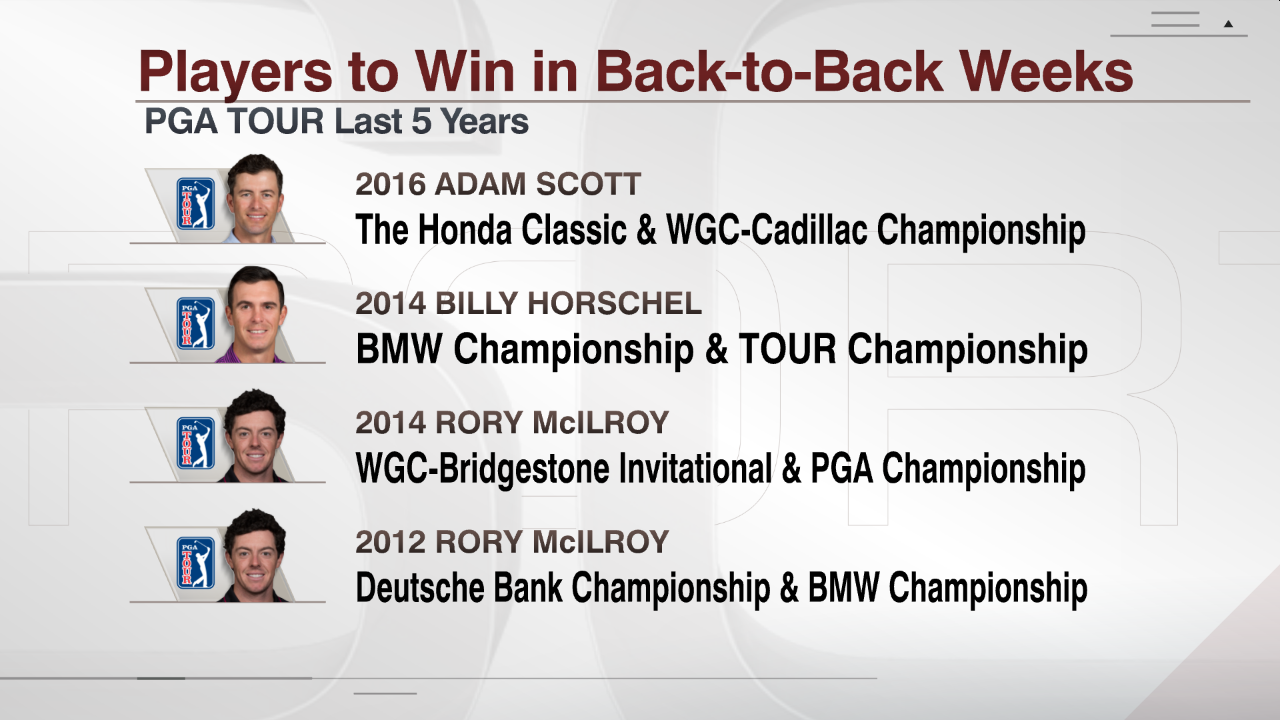 2. On a scale of 1 to 10, how successful was Rory McIlroy's switch to left-hand-low putting?
<!–
Barrie:
–>
Coachman: A 7. It seemed natural to watch Rory putt like that. But here's the thing: It's not about the actual stroke that's going to be his downfall. It's the fact that when he is clearly the best player Sunday — and now two straight chances to win — he could not finish. This week it was with a 4-shot lead in the final round. Confidence is a crazy thing and when it goes, it goes in every aspect of your game. Rory needs to know this putting stroke will win him golf tournaments. Just stay with it.
Collins: A 7. A win would have been a 10. Like figure skating, throw out his best day (23 putts) and worst (33) and his putting was good. Too bad in golf you don't get to throw out any of your stats. I think Rory sticks with this and becomes better than he has been lately.
Harig: An 8. It's hard to put his final-round play on putting, and to be in the lead a week after making such a switch was impressive. Such changes can take a long time to adopt and he seemed to be better for it immediately.
Sobel: It was a 10. His putting was never the problem this week, save for a few missed shorties in the opening round. It was his shot-making that eluded him on Sunday afternoon, as he struggled to hit any approach shots anywhere close to the hole. He looked comfortable with the new stroke and, most importantly, he maintained it already feels instinctive to him.
3. With the new PGA Tour/LPGA Tour partnership, if they do a combined tournament, what format should they use?
<!–
Barrie:
–>
Coachman: I can't wait for this to potentially happen. I think they should do three different formats, and then on Sunday take your combined score for each men's and women's team. Thursday is four-balls. Friday is foursomes. And on Saturday, the guys play even holes and women play the odd holes. This way, it's four completely different formats and the team that adapts the best will win. How much fun would that be?
Collins: Does anyone remember the old JC Penny Classic? They should play three different ways. Best Ball, Alternate Shot and modified Alternate Shot (allow each team to choose who hits the tee shot, but each player must hit an equal amount). Mic the players and the caddies for three days and put it on HBO.
Harig: They should strive to have two events in one. Individual stroke-play on respective tours as well as best ball among a male and female partner. That is the best of both worlds. Put the teams together in the same group each day. If one or the other misses the cut in the individual portion, they still play on in the team format. The guess is this will also be an easier sell, as it means everyone still gets to play for themselves.
Sobel: Let's slow down a little bit here. That's a major hypothetical that they'll even play a joint event in the future. I asked PGA Tour commissioner Tim Finchem about this possibility on Sunday afternoon and he immediately started listing the potential issues in putting together an event like this. So before we start picking a format, let's just wait and see if it can actually become a reality.
4. How big a deal is it that there are no "name" players teeing it up in the Olympic test event this week?
<!–
Barrie:
–>
Coachman: Not a big deal at all. The Masters is in a month. There are a bunch of big tournaments coming up. Best believe if it wasn't a 10-hour flight, more guys would be going. You can't make that trip and have it not affect you. The only way I would go is if I wasn't going to make the Olympics and I just wanted a free trip to say I played the course. But trust me, no one is going to be losing any sleep over not seeing Jordan Spieth play this course until the summer.
Collins: Fly overnight for a one-day event that doesn't count for anything? Big deal? No! Skipping it is the smartest thing the big names could do. There's no weird format to practice, so going there and losing three full days off is not something a top golfer would do.
Harig: None whatsoever. The idea, mostly, for the test event is to work out the various kinks in scoring, transportation to and from the course with volunteers and test the playing conditions. It doesn't matter that Jordan Spieth and Rory McIlroy won't be there, especially for a one-day event. Ideally there would have been a 72-hole tournament, maybe a PGA Tour Latino America event either last fall or this spring. But it didn't work out and logistics suggest none of the big-game players will be able to make it there at this time during the season.
Sobel: Not a big deal at all. I ran into Olympic course designer Gil Hanse on Sunday and he sounded extremely confident that his new track is ready to go. Hanse is hardly a stranger to designing and setting up championship-caliber golf courses, so he knows what it takes to have one ready for this summer. The test event will help work out some potential logistical issues, but the playability of the course isn't one of them.