Investors in Kuwait's Human Soft Holding Co. now own the best-performing stock in the Middle East after resisting the company's efforts to delist.
The Kuwait-based education firm has risen almost every day since May 2, when the Capital Markets Authority rejected a bid by the company to voluntarily delist shares. The advance helped add fuel to a rally that began weeks earlier after Human Soft said first-quarter profit doubled, boosting the stock 93 percent since mid-April to May 8.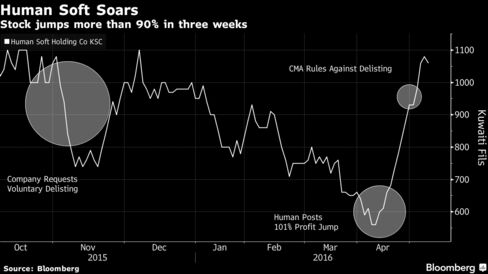 "This decision by the CMA sets a very important precedent," said Gus Chehayeb, chief investment officer of U.S. hedge fund Sancta Capital Group, which holds a combined stake of about 3 percent in the company."It sends a clear message that the regulator takes minority shareholder rights very seriously. Kuwait has very serious ambitions to be in the MSCI Index and to attract more foreign investors so this is a landmark decision."
Investors petitioned the CMA in March, objecting to a decision by majority shareholders to halt trading in the company, a proposal Human Soft had announced in November. It repeated its recommendation to delist in February.
Profit Jumps
The company in April said first-quarter profit soared 101 percent, a month after it said earnings more than doubled in 2015. Even though Human Soft's stock has outperformed the Bloomberg GCC 200 Index by more than 230 times over the past three weeks, it's trading at about 6-times current earnings, well below the BGCC's level of 14.
Kuwait's $76 billion stock exchange has endured a wave of delistings, with about 20 companies announcing plans to leave the bourse since the end of 2014. These delistings threaten to deter foreigners from investing in the stock market, and could hinder Kuwait's ambitions to eventually be included in the MSCI Emerging Markets index, according to Chehayeb.
Ghost Companies
For The National Investor's Sebastien Henin, eliminating "ghost companies" on Kuwait's stock exchange will help the market mature. "Half of the companies were doing nothing," said the head of asset management at the Abu Dhabi-based company. "I haven't even noticed that a bunch of them delisted."
The nation's stock index has 182 members, more than any other benchmark gauge in the six-nation Gulf Cooperation Council, which includes Saudi Arabia and the United Arab Emirates. The CMA declined to comment, while Human Soft didn't answer calls or respond to an e-mailed request for comment.
On any given day since at least 2006, a minimum 45 members of Kuwait's index end the trading session unchanged. And while the gauge has five times more companies than Dubai's DFM General Index, the volume of daily trades on Kuwait's measure over a 12-month period is half of its Emirati counterpart.
"Now that minorities and foreign investors feel that they're being protected, I think there will be a positive reaction to the stock," said Chehayeb.