Appetite for equities continued to sour in Asia as oil's drop and a revival in demand for low-risk assets saw stocks from Japan to Australia decline with emerging-market currencies.
Asian shares fell the most in a week as a resurgent yen weighed on Japan's Topix index, while mining and energy shares drove a 2.1 percent retreat in Australia's benchmark. Crude fell toward $31 a barrel in New York after sliding last session as Iran's oil minister ridiculed a plan forged by Saudi Arabia and Russia to lock production at January levels. Gold built on Tuesday's advance, while yields on 10-year Japanese government debt fell back below zero. The pound slipped below $1.40 for the first time since 2009 as Malaysia's ringgit dropped by the most in a week.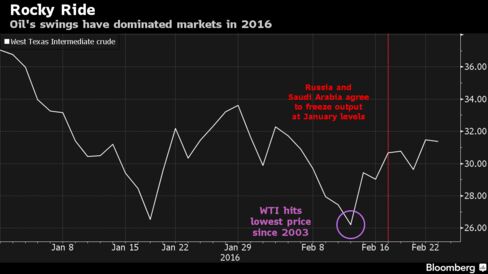 Oil's retreat is weighing on global stocks along with concerns about growth in China, the world's second-biggest economy. A gauge of expected volatility in American equities jumped by the most in two weeks on Tuesday, a sign investor sentiment remains fragile amid turmoil that has persisted in global financial markets since the start of the year. The risk that U.K. citizens will vote to leave the European Union in June is weighing on the British currency.
"It will take some time before market sentiment does turn," Kerry Craig, global market strategist at JPMorgan Asset Management, told Bloomberg TV in Melbourne. "It's still very pessimistic. Most investors are very risk averse. You need catalysts or triggers such as an oil price stabilization, clarity about what the Fed is actually going to do and what we see happening with the Chinese currency and economic data."
Stocks
The MSCI Asia Pacific Index fell 1.1 percent as of 2:36 p.m. Tokyo time, with raw-materials producers leading the drop. The Topix slipped 0.7 percent, building on Tuesday's retreat as the yen solidified its gains. MSCI's All-Country World Index declined a second day in early trade, losing 0.3 percent following last session's 1.1 percent drop.
Australia's S&P/ASX 200 Index also fell as BHP Billiton Ltd. — the world's biggest mining company — tumbled 8.2 percent, the most since 2008. Hong Kong's Hang Seng Index fell 1.5 percent as PetroChina Co., the country's biggest oil and gas producer, declined 2.9 percent.
"Oil prices are back in the spotlight," Jason Wong, a currency strategist in Wellington at Bank of New Zealand Ltd. said in an e-mail to clients. "We think that it's inevitable that oil prices move back below the $30 market soon as supply continues to outstrip demand and inventory levels are very high," he said, describing market sentiment as "gloomy."
Futures on the Standard & Poor's 500 index declined 0.1 percent, following a 1.3 percent retreat in the U.S. benchmark.
Currencies
The yen gained as much as 0.4 percent versus the dollar following a 0.7 percent advance on Tuesday. The currency, which typically moves in the opposite direction to Japanese stocks, is the best performer among major peers this year as gyrating equities and concern over the global economy bolster demand for haven assets.
The ringgit fell 1 percent as lower crude prices dimmed prospects for Malaysia, Asia's only major net oil exporter. South Korea's won weakened 0.3 percent.
The pound slid for a third day, touching $1.3965, its lowest level since March 2009. It also fell against the euro. Sterling has been falling all week after London Mayor Boris Johnson, one of the nation's most popular politicians, said Sunday he'll campaign for the U.K. to exit the EU in a referendum.
The Bloomberg Dollar Spot Index, a gauge of the greenback against 10 major peers, added 0.1 percent in a third day of gains.
Bonds
Yields on Japanese sovereign notes due in a decade fell by almost one basis point to negative 0.003 percent, as rates on similar-maturity Treasuries held at 1.72 percent following last session's three-basis-point drop.
"It all goes back to the recent volatility in inflation expectations," said Jim Vogel, head of interest-rate strategy at FTN Financial in Memphis, Tennessee. Falling oil "puts pressure on shorter-term inflation expectations."
Commodities
West Texas Intermediate crude oil futures fell as much as 2.5 percent in New York and were trading at $31.17 a barrel, after sinking 4.6 percent last session.
The proposal to cap output at January levels puts "unrealistic demands" on Iran, Oil Minister Bijan Namdar Zanganeh said Tuesday. Ali Al-Naimi, his counterpart from Saudi Arabia, said high-cost producers should bear the burden of reducing the current surplus in production. U.S. crude stockpiles rose by 7.1 million barrels last week, the industry-funded American Petroleum Institute was said to report, with government data on supplies due Wednesday.
Gold for immediate delivery gained 0.1 percent, extending Tuesday's 1.5 percent climb, as investors favored the safest assets. Industrial metals retreated, with copper, lead and zinc all losing 0.9 percent in London.