Grizzlies' Marc Gasol officially out for season after foot surgery – CBSSports.com
11 months ago Comments Off

on Grizzlies' Marc Gasol officially out for season after foot surgery – CBSSports.com
It's official: Memphis Grizzlies center Marc Gasol is done for the season. The team announced on Tuesday that Gasol had surgery on Saturday to repair a non-displaced fracture of the navicular bone in his right foot.
"Marc remains a cornerstone of our franchise and we are pleased to hear that the surgery went according to plan," Grizzlies general manager Chris Wallace said in a press release. "Marc's determination and competitive spirit will serve him, his family and the team well as he begins the healing and rehab process from which we expect him to make a full recovery. We are confident we will have Marc back anchoring our team next season and beyond."
"It is frustrating to not be on the court with my teammates at this time," Gasol said in the same press release, "but I understand that the focus of this process is on long-term health and stability. I look forward to the road ahead and a full and successful recovery."
Gasol hasn't played since the first quarter of Memphis' game against the Portland Trail Blazers on Feb. 8, and the team has changed significantly since then. A week ago, the Grizzlies traded guard Courtney Lee to the Charlotte Hornets in a three-way deal that brought back guard P.J. Hairston, center Chris Andersen and four second-round picks. On trade deadline day last Thursday, they then sent forward Jeff Green to the Los Angeles Clippers in exchange for Lance Stephenson and a first-round pick.
Without Gasol, the Grizzlies can no longer hope to make much noise in the playoffs, and they might be in a battle just to get there. They are fifth in the Western Conference, but the Dallas Mavericks, Portland Trail Blazers, Houston Rockets and Utah Jazz must think they have a chance at overtaking them.
It's never easy when a franchise player gets hurt, and this injury was a huge blow for Memphis. This announcement iself felt inevitable, though, and his teammates are just going to have to make the best of what has become a difficult situation.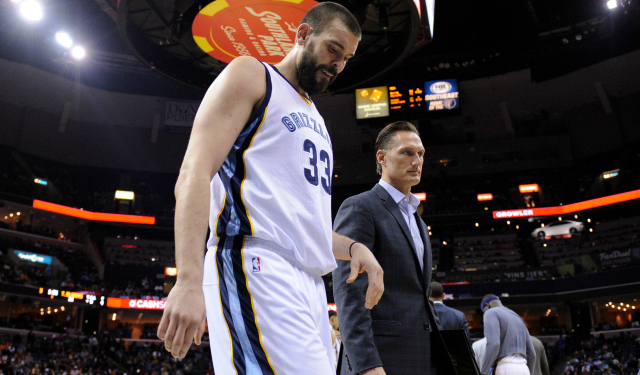 Grizzlies' Marc Gasol officially out for season after foot surgery – CBSSports.com