All 11 passengers and two crew members were killed as a helicopter carrying people from a Statoil ASA-operated oil and gas field offshore Norway crashed on its way to Bergen on Norway's west coast.
The CHC helicopter went down around noon near Turoey, outside Bergen, coming back from the Gullfaks B platform. Official rescue operations ended at 5 p.m. local time and all have been confirmed dead, according to Norway's Joint Rescue Coordination Center.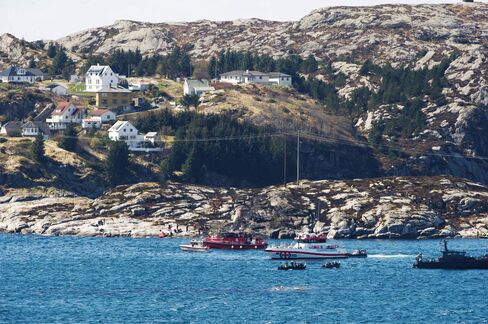 It was the first deadly flight accident in Norway's offshore industry since 1997, when a helicopter on its way to the Norne field crashed in the Norwegian Sea, killing all 12 onboard. The latest fatality in the industry happened in December, when one person was killed after a wave crashed into a rig contracted by Statoil. 
The rotor blade of the helicopter, a Eurocopter 225, was found on land while the hull was under water at a depth of 6 meters to 7 meters, according to John Sjursoe, a spokesman for the rescue center.
In the neighboring U.K., helicopter flights were suspended as recently as 2013 after four people were killed in a crash of a machine carrying workers from a rig.
Statoil, which is 67 percent owned by the government, has grounded all helicopters of the same type, it said in a separate statement. Norway's biggest oil and gas company acts as the operator of more than 70 percent of the country's output. Statoil owns 51 percent of Gullfaks, fully state-owned Petoro 30 percent and Austria's OMV 19 percent.
All 11 passengers were Statoil employees, while the two crew members worked for CHC, according to Sjursoe. Eleven were Norwegians and the other two were British and Italian, he said.
Statoil quickly mobilized after the incident and have established a center for next of kin at the Scandic Bergen Airport Hotel.