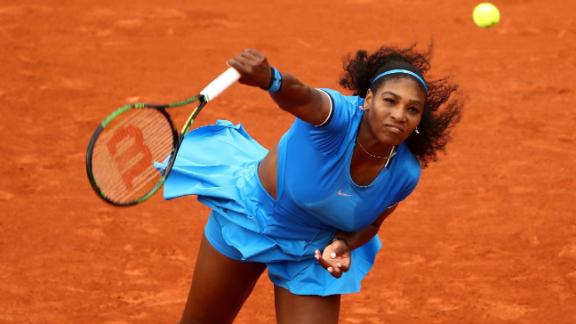 PARIS — When Serena Williams is winning, there's nary a peep from her on the court. But when she is losing or even just not playing well? Then the defending French Open champ makes more noise than a 110-piece orchestra. She's so exacting — she gets fed up with herself. Then she yells. Squeals in horror. She stomps around, shakes her fists, rages at herself.
Quite often, it actually seems to help.
Saturday at Roland Garros, Williams was triggered by the uncertainty of her third-round match against 26th-seeded Kristina Mladenovic, a hard-hitting Frenchwoman whom Serena had never played before. While Mladenovic was cracking off winners early on, Serena was spraying her forehand long and wide.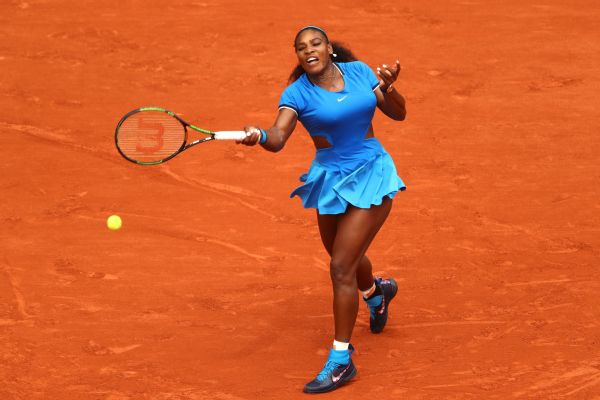 Williams began the match with some sluggish footwork, and her contorted swings soon metastasized into some general gloominess about the entire state of her game.
That's when Serena loudly started letting Serena hear about it.
"I was playing defensive — that's not me," Williams said.
From about 2-all in the first set to the middle of the second, about the only thing Williams didn't do to rouse herself was throw the entire contents of her tennis bag onto the middle of the court during a changeover.
By the conclusion of her riveting 6-4, 7-6 (10) win — which didn't end until she and Mladenovic had dragged each other through a rain-delayed marathon tiebreaker in which Williams whiffed on two match-point opportunities and took a seat on the clay court in disgust after slapping a terrific drop shot get into the net — Williams was relieved but spent.
Her emotional display was unintentionally comical and absolutely majestic at the same time. Williams' desire to win is that raw, that strong. And she doesn't give a damn if it comes out sideways or how it sounds or looks.
"It was very difficult," Williams told the crowd at Philippe Chatrier, congratulating Mladenovic for her determined effort. "She really forced me to bring out my best tennis. I'm just excited to get through that."
(By comparison, her sister Venus' move into the fourth round with a 7-6 (7), 1-6, 6-0 win over another Frenchwoman, Alize Cornet, was uneventful.)
While Serena's unfamiliarity with Mladenovic might have accounted for some of her early tentativeness, Mladenovic seemed to relish her first pro encounter against a world No. 1 player. She stands 6 feet tall and plays a power game, much like Serena.
Like Serena, Mladenovic also has a formidable serve and return skills, and she's not averse to taking the net. All of this enabled her to keep applying pressure on Williams even after Williams' blast-furnace intensity started to rev up.
"I feel like I made a tremendous amount of errors," Williams said. "But I feel like she forced me to."
Midway through, the soundtrack of some of their groundstroke rallies were more like growls than grunts. Both players badly wanted this white-knuckled match. And neither of them was willing to let it go.
Williams didn't get away with her first-set win until she finally broke Mladenovic at 5-4. And she celebrated by screaming at the top of her lungs at the net.
But Mladenovic didn't slump after that. If anything, she seemed inspired, and she had the French crowd excited and rooting for her, too.
In the sixth game of the second set, Mladenovic fought off six break points that Williams carved out to remain on serve at 3-all. Williams had honed her accuracy on her groundstrokes a little better by that point, and some of their rallies were exceptional.
Their most memorable point (other than the two match-point chances Williams flubbed) was an exchange in which Serena raced in to get a drop shot, then had to spin and race backward when Mladenovic sent a defensive lob floating down just inside the baseline. Williams got there in time to gather herself and restart the rally by blasting a forehand back at Mladenovic, but Mladenovic was ready for it and ended the point with a winner.
They were both breathing heavily by the time it was done. The roaring crowd at Chatrier gave them a standing ovation.
"COME ON-N-N!" Williams was soon thundering at herself again.
It was loud. It was a 2-hour, 11-minute slugfest, by far Serena's longest match of the young tournament. And she's got a chance to make even more noise. Williams' chase of a tie Steffi Graf at 22 major titles remains vibrant and alive.