How the presidential poll has split Austria – BBC News
8 months ago Comments Off

on How the presidential poll has split Austria – BBC News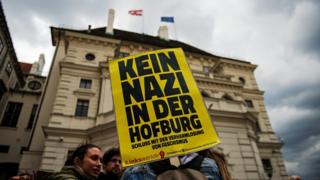 It is a mistake to dismiss Austria's presidential election (as many do) as another indication that this country simply loves to lurch to the right.
In fact, this is a vote that has split the nation.
Even before the first exit polls came out after Sunday election, pundits on Austrian TV were debating how the country could be brought together again after its new president was announced.
"Families, (young and old) generations, our country divided," intoned a headline in Die Presse newspaper.
"Thank God it'll be over," said one TV news anchor last week, previewing the election.
Is Europe lurching to the far right?
Europe's nationalist surge, country by country
But it is not yet over.
Too close to call, Austrians went to bed on Sunday night arguing again as to who had, who could and who should become their country's new figurehead: a 70-year-old environmentalist or a 45-year-old right-wing populist.
That's a lot of fuss over a political role that's essentially symbolic.
But this is about much more than that – at home in Austria, and abroad.
A slap in the face from voters
If Norbert Hofer becomes president of Austria, it will be the first time since the end of the Second World War that a "far-right" politician becomes head of state in the European Union.
Many Austrians are appalled at the idea.
But are Mr Hofer and his Freedom Party actually "far-right"?
Not even Austrians can agree, never mind the international media covering this story.
Andreas Rabl, Freedom Party mayor for Wels, told me it was a ludicrous debate.
"We're not right-wing or left-wing," he insisted. "We simply put Austrian interests first. People want solutions – not politicians held back by taboos."
Austrian voters are indignant with the centre left (SPOe) and centre-right (OeVP) parties in coalition government.
They delivered them a slap in the face in the first round of the presidential election last month, ensuring that neither made it to the presidential run-off for the first time since 1945.
"The Austrian boat is full"
Austria is struggling to integrate the tens of thousands of asylum seekers who moved there last year.
Officials say their country took in more refugees and others per capita than any other EU nation.
Public resentment has been heightened by rising unemployment.
"The Austrian boat is full," one Hofer voter told me. "We're a small country. We can't be like (German Chancellor) Merkel, saying: 'Come in, come in!' We have our own poor, Austrian poor, who need help."
"It's the turn of other EU countries to do their bit now," Mayor Rabl told me.
"Our immigration policies, our integration policies are all wrong. We Austrians feel our government has allowed our national interests to take second place to the demands of the EU.
"I really admire Britain – the way it pushes through its national interests on the European Union stage."
And here you see the Freedom Party makeover.
Gone are the pronouncements praising the Nazis that got its former leader Joerg Haider into such trouble in the 1990s.
This is a rebranded, modern Freedom Party angling for discontented voters of the political centre.
Isolated no more
Seventeen years ago, when the party first joined an Austrian government, there was a huge outcry.
Fellow EU countries even imposed sanctions.
Now the Freedom Party is far from isolated in Europe.
Its anti-establishment, nationalist, Eurosceptic, migrant-curbing, party of the people tones chime with populist right-wing movements across Europe – in Germany, Italy, France, the UK, Poland, Denmark, Sweden, the Netherlands and more.
Austrian diplomat Wolfgang Petritsch told me: "This is far more a European problem than an Austrian problem. These parties have managed to make it OK, normal to vote for them. It's not a big deal anymore. And that is what is so dangerous."
The populist right in Europe is no longer automatically associated with far-right ideology or Nazi-sympathisers among the voting public.
The Freedom Party holds views that are unpalatable for many, but a sizeable chunk of the electorate view the group as a dynamic, "taboo-free" and plain-talking alternative to the staid, privileged and ineffective powers that be.
They are searching for new answers in uncertain times.
Whichever way the presidential vote goes, Norbert Hofer and his Freedom Party will celebrate Sunday 22 May as a clear victory.
They are already looking ahead to Austria's general election.
How the presidential poll has split Austria – BBC News