Isaiah Thomas, Celtics Keeping NBA Playoff Hopes Alive Amid Adversity – Bleacher Report
6 months ago Comments Off

on Isaiah Thomas, Celtics Keeping NBA Playoff Hopes Alive Amid Adversity – Bleacher Report
Isaiah Thomas and the Boston Celtics needed their 111-103 Game 3 victory over the Atlanta Hawks Friday night.
Quite obviously, they needed it to avoid the 3-0 grave from which no NBA team has ever escaped. But, just as importantly, they needed it to prove that they can do this—that this series, despite all the injuries permeating their roster, is not out of reach. 
Avery Bradley, a crucial part of what Boston does offensively, remains sidelined with a strained right hamstring. Kelly Olynyk, one of the team's most valuable two-way players, still hasn't returned from a sore right shoulder.
Those absences should be enough to torpedo the Celtics' chances. They're certainly enough to quash the team's game plan and force Brad Stevens to adjust on the fly.
And adapt he did.
Stevens distanced the Celtics from their Game 2 implosion by tweaking the starting five to Jae Crowder, Jonas Jerebko, Amir Johnson, Isaiah Thomas and Evan Turner, a lineup he could only, for the most part, feel good about in theory:
Brad Stevens was asked about the sample size he's seen of new starting lineup. He answers w/ smile, "A whole 33 possessions. They're a +20!"

— Boston Celtics (@celtics) April 22, 2016
Swapping out Jared Sullinger for Jerebko proved to be a great move. The latter didn't shoot well from deep (1-of-4), but he led the team in plus-minus (plus-14). He scrapped on defense, fought hard on the glass (12 rebounds) and caught the Hawks' bigs in awkward situations on the move that allowed him to fling purposeful passes.
Yes, Jerebko. A playmaker. Off the dribble. And here's video evidence to prove it:
Jerebko goes behind-the-back to set up Rozier! #NBARapidReplay #HAWKSvCELTICS https://t.co/LL8Ej4bkh1

— NBA (@NBA) April 23, 2016
The mere threat of his above-average shooting touch ripped Atlanta's defense outside the paint more than usual, opening lanes for Boston's guards and wings, namely Thomas and Turner. 
But especially Thomas. This was his night, and there really aren't words to describe just how instrumental he was in leading—carrying, really—the Celtics offense.
Except maybe these words, from RealGM:
Isaiah Thomas carries the 2001 76ers how far?

— RealGM (@RealGM) April 23, 2016
Thomas totaled 42 points, a career high, on 12-of-24 shooting, including a 5-of-12 detonation from three-point land. He dished out just one assist and notched the lowest plus-minus of any starter (plus-three), but that's allowed when ferrying a ridiculously heavy offensive load.
Not that we should be surprised. Stevens sure wasn't, per ESPN.com's Chris Forsberg:
Brad Stevens on IT: "He's a really competitive guy. I'm not surprised when he plays well."

— Chris Forsberg (@ESPNForsberg) April 23, 2016
All of the extra space Jerebko created helped Thomas attack the heart of the Hawks' interior defense. Almost half of his shots came inside five feet of the hoop. And while he didn't shoot lights out around the rim (6-of-11), those drives incited contact—bumps and blows and hacks that sent him to the free-throw line, where he dropped in 13 of his points.
Spending ample time next to Turner helped even more. That let the Celtics use Thomas off the rock more, something Atlanta wasn't prepared for, per Hawks.com's Kevin Chouinard:
Korver said that moving Isaiah Thomas off the ball was a great move. Gave Hawks a look they hadn't seen much of in the series.

— KL Chouinard (@KLChouinard) April 23, 2016
Turner dished out seven assists as the surrogate floor general to go along with 17 points and five steals. He was an absolute terror on the defensive end. Mismatches that should have burned him didn't; he held his own against Atlanta's wings and seldom got torched when switching onto the Hawks' point men for a hot minute.
Amir Johnson put forth one of his trademark balanced outings, quietly collecting 15 points, seven rebounds, two assists and two blocks. Marcus Smart's hot-and-cold relationship with the three-ball soldiered onward. After going 1-of-6 from beyond the arc in Game 2, he drilled two of his four shots from downtown, with both makes coming at pivotal moments in the fourth quarter.
Boston received a fair amount of help from Atlanta as well.
Dennis Schroder tallied 20 points on 8-of-14 shooting, Kyle Korver regained his three-point swagger by burying five triples and Kent Bazemore chipped in 20 points, eight rebounds and two steals. But the entire team was inefficient from long range overall, making for a wildly uneven game, as CBS Sports' Matt Moore pointed out:
The Hawks shot 9-of-36, Thomas had 40, Celts shot 12 more FTs, and Boston won by 8? This series is bonkers.

— Hardwood Paroxysm (@HPbasketball) April 23, 2016
Nearly half of the Hawks' shot attempts went uncontested. They shot 35 percent in those situations. Jeff Teague (23 points, five assists) was lucky to finish with "only" four turnovers, and Paul Millsap's shooting woes continued.
Al Horford had perhaps the most bizarre game of any player this postseason. He was a defensive pest like usual, only more so, swatting shots (four blocks) and forcing turnovers (two steals). But he shot just 4-of-10 from the field, which he complemented with six assists, which he partnered with 13 rebounds, which he paired with a team-worst minus-12. It was weird.
Still, for as much as the Hawks did wrong, the Celtics did even more right.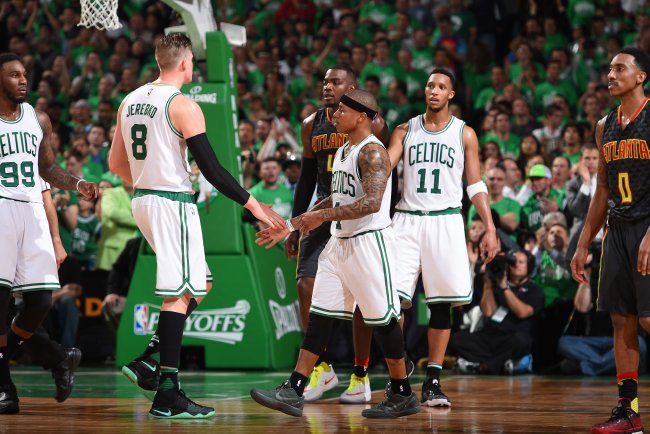 Brian Babineau/Getty Images

They ran around the court, small and unhinged, even sloppy, testing every limit of Atlanta's offense and defense, often with force. They gave up a ton of wide-open looks, yet there didn't seem to be any easy baskets. They peeled back the Hawks' skin and crawled under it, never to re-emerge, not even when they saw their 19-point lead vanish during the third quarter.
In many ways, this Game 3 was a modern-day craze. In others, it was a classic grudge match, punctuated by hard screens, harder fouls, jawing and tactical back-and-forths worthy of an MMA sparring:
Mostly, though, this game was everything the Celtics needed it to be, barring any blowback for Thomas' extracurricular activity—an unconventional win they can take with them into Sunday, when they will have a chance to tie the series.
Bradley still won't be healthy enough to go, and there's no telling if Olynyk will be able to suit up. And make no mistake, despite the outcome in Game 3, the Celtics need them.
But they have the guts and gall to win without them.
Stats courtesy of Basketball-Reference.com and NBA.com.

Dan Favale covers the NBA for Bleacher Report. Follow him on Twitter @danfavale.
Isaiah Thomas, Celtics Keeping NBA Playoff Hopes Alive Amid Adversity – Bleacher Report