And baby makes six!
Soleil Moon Frye and husband Jason Goldberg welcomed their fourth child, son Story, on Monday, May 16 in Los Angeles, she tells PEOPLE exclusively. Born at 5:16 p.m., Story weighed in at 9 lbs., 10 oz. and measured 20½ inches long.
"Welcome to the world our sweet baby boy Story …" the new mom of four captioned a black-and-white photo of the proud parents cuddling with their newborn.
The 39-year-old and Goldberg also share daughtersPoet Sienna Rose, 10, and Jagger Joseph Blue, 8, and son Lyric Sonny Roads, 2.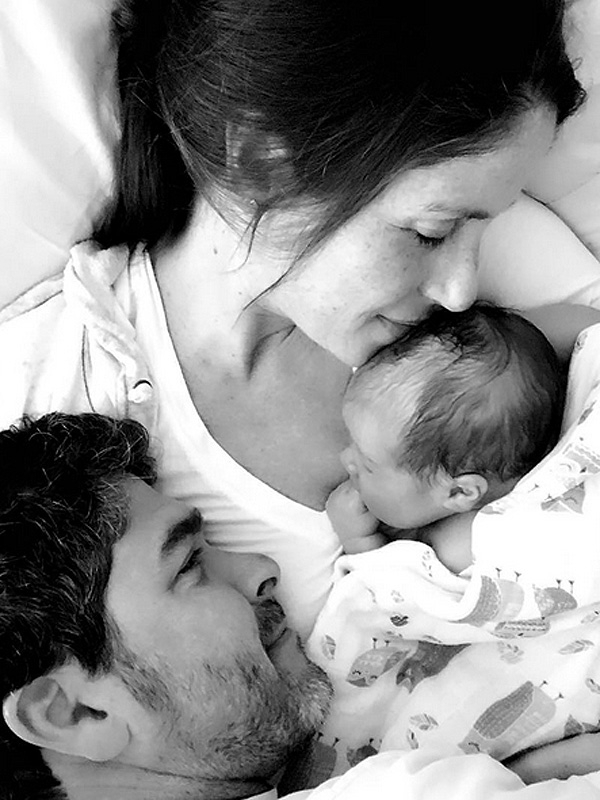 Courtesy Goldberg Family
Want all the latest pregnancy and birth announcements, plus celebrity mom blogs? Click here to get those and more in the PEOPLE Babies newsletter.
After announcing the pregnancy last year, Frye told PEOPLE that the couple hadn't planned on growing their brood — but "could not be more excited and thrilled."
"We were so surprised by this amazing, little miracle…" she shared, adding, "This was definitely a really happy surprise."
A photo posted by @moonfrye on May 13, 2016 at 11:23pm PDT
Ahead of Story's birth, Frye told PEOPLE she was hard at work crafting a unique moniker for her baby boy — somewhat of a tradition in the actress' family.
"There's so many crazy, unique names in our household that I gotta really come up with something good, so I'm working on it," she explained.
No matter the title, the happy family is thrilled that their newest member finally arrived.
"I was not expecting baby number four," Frye said. "And this was very, very exciting … Jagger was so excited. She was thrilled. I don't think Roadie really quite understands it yet."
She added, "I feel like it's my duty to raise really good people and to try and encourage them to give back and to care and to love others and to be kind. I feel like if I'm gonna have this many kids, I better teach them some really good lessons in life."
— Lindsay Kimble with reporting by Julie Jordan