CHARLOTTE, N.C. — The guy with the fancy clothes and the high-top shoes struggled to close out the tournament, his lofty world ranking meaning little in the end.
Another player just behind him in the Official World Golf Ranking who has won a major championship and makes clutch putts galore during the Ryder Cup couldn't make anything down the stretch on Sunday and was wondering how it got away.
Then there were a couple of multiple-major champions who made impressive final-day charges, their deficit too big from mistakes made a day earlier.
And so it was that a player who once quit golf to sell shoes and had missed eight consecutive cuts coming into the Wells Fargo Championship prevailed in a sudden-death playoff over another who was ranked 282nd in the world coming into the week.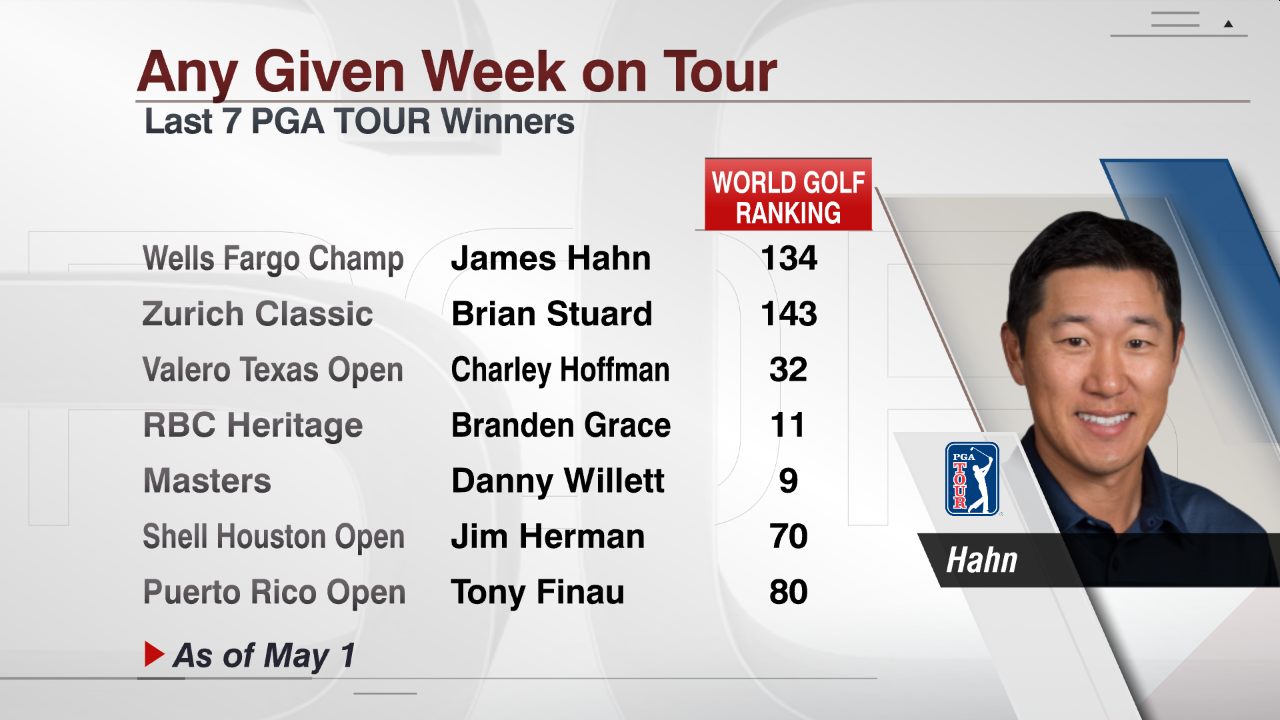 James Hahn hadn't made it to the weekend of a PGA Tour event since he tied for 17th at the Waste Management Phoenix Open in early February.
But there was Hahn on Sunday at the Quail Hollow Club, shooting a 2-under-par 70 — that included an eagle at the seventh hole but a bogey on the last — prevailing on the first extra hole when Roberto Castro hit his tee shot in the water.
Golf is a funny game that way, and Sunday offered a prime example.
"Once you start going five, six and seven [cuts in a row], you start thinking about doing other things," said Hahn, 34, who said he had never missed more than three straight. "It's tough, it really is. The mind is a powerful thing and it was going bad for a while. Just didn't have the confidence, didn't believe in myself.
"I felt like I was putting in the work but wasn't getting any reward for it, so it made me not want to put in as much work because it's not gratifying. You're playing bad and you're missing cuts and there's nothing funny about that."
Hahn, who won last year's Northern Trust Open, was not in any danger of having to find another job — yet. That win came with a two-year exemption. Nonetheless, showing up every week and not getting paid can wear on you.
And then Hahn felt a bit of added pressure. In the offseason, he along with several other pro golfers signed an endorsement deal with PXG, founded by eccentric billionaire Bob Parsons of GoDaddy.com fame. "I felt a little guilty," Hahn said.
A long chat with his caddie, Mark Urbaneck, following another missed cut last week in New Orleans sort of turned things around. "It's not always going to be like this," Hahn figured.
And it wasn't, as rounds of 70-71 got him to the weekend for the first time since the Super Bowl.
It was at that very tournament in Phoenix where Rickie Fowler let slip a back-nine lead. And yet, now a year removed from his epic comeback playoff victory at the Players Championship, there was no fretting. On Sunday, Fowler seemed poised to get another Mother's Day victory, taking a 1-stroke lead into the final round and playing in the last group with Castro.
But Fowler, who has four worldwide victories in the past year and is ranked fifth in the world, struggled with two early bogeys in his round and was doomed by a double-bogey at the par-5 seventh, when mud on his ball caused his second shot to go soaring out of bounds.
Fowler made two birdies on the back nine, but couldn't climb back into the chase, his score of 74 the only one among the top-10 players over par.
"It's disappointing knowing where my game was coming into today," Fowler said. "I felt really good about being in the final group and getting the job done."
Instead it was his playing partner, Castro, who shot 71 — he bogeyed two of the last three holes — to get into the playoff.
"There's a lot of guys playing very well right now," Fowler said. "The guys that are at the top but also the guys that are in the middle, guys who you don't hear their names very much. Everyone out here can play golf.
"And it's a fine line, especially weeks like this where the golf course is tough. It demands a lot out of your golf game. I go from yesterday where I felt like I was going in the right direction and then just a little off today."
Fowler was joined by Justin Rose, Rory McIlroy and Phil Mickelson in wondering what might have been.
Rose probably was left to kick himself the most, as the Englishman was leading on the back nine but let the tournament get away from him with a 3-putt bogey at the par-4 16th.
"This is a real disappointment," he said. "I played really well yesterday, couldn't have asked for more opportunities."
McIlroy's 73 on Saturday seemingly put him too far back, as he trailed by 8 shots, but the third-ranked player in the world made eight birdies on Sunday. But he was unable to birdie the par-5 15th and a bogey at the 18th left him two back.
Mickelson's quadruple-bogey 8 on Saturday at the 18th proved disastrous, as his Sunday 66 would have meant an outright win had he parred the closing hole a day earlier.
Strange stuff.
But more so than Hahn's career arc? A decade ago, Hahn was so down on himself that he gave up golf for a time to sell shoes. He said Sunday the move was partly about getting away from the game, but also because he wondered if he even should be playing it at all.
A former golfer at the University of California, Hahn saw the part-time job as a way to make some money to fund his golf career while also being able to see if he could keep playing.
Six months later, he was back to golf full time.
"I had to quit selling shoes and just do golf," he said. "I think I made the right choice."
Hahn's wife, Stephanie, and their 14-month-old daughter, Kailee, flew in Saturday night from Phoenix and got to witness his second victory, but the first with them in attendance.
It was a nice Mother's Day present, for sure.
And while the likes of Fowler and Rose and McIlroy and Mickelson all left town on Sunday via private jet to prepare for this week's Players Championship, Hahn and family were scheduled to make the 6½-hour drive to Ponte Vedra Beach, Florida.
"Anybody want to come along with a crying baby in the back?" said Hahn, who ought to be comforted by the knowledge that $1.314 million came with the victory.