Klay Thompson's comfort level great for Warriors, troublesome for Blazers – CBSSports.com
6 months ago Comments Off

on Klay Thompson's comfort level great for Warriors, troublesome for Blazers – CBSSports.com
CURRY HOPEFUL FOR GAME 3 RETURN | PLAYOFF SCHEDULE | EXPERT BRACKETS
Without Stephen Curry and the unique problems he presents a defense for Game 1 against the Portland Trail Blazers, the Golden State Warriors' challenge Sunday was keeping their peerless offense rolling without him.
Enter Klay Thompson, the sharpshooter who normally thrives as an option off the havoc created by Curry. Instead, Thompson had to take Curry's place as Option One, though not quite in the same ball-dominant manner. Not only did Thompson shine in that role, but his performance scoring the ball early made it possible for the Warriors to not look much different than how they normally play in terms of style. Their attack wasn't point guard-centric, but the same ball movement we typically see was there, which forced Portland into making tough choices on where to focus its defense. That's where the Blazers have to work harder early to prevent the shots Thompson was able to knock down against them.
"He's tough," Gerald Henderson said after the 118-106 loss. "He does a really good job of using screens. The guys set really good screens for him. He only needs an inch to shoot from anywhere. We really have to key in on him and make it physical."
The process of keying in on him while not allowing room to operate for the rest of the Warriors is the toughest part of all. Much like other spectacular, historic shooters, you don't really both his jumper unless you're truly in danger of tipping the ball. His comfort level is through the roof when he knows he'll get his shot off, and with his feet balanced and his body squared-up, Thompson may as well be in a mental state of napping and relaxation when he's releasing his jumper.
Your initial strategy as a basketball defense would be to deny him the ball, but the read-and-react nature of what the Warriors do coupled with the scarily accurate, internal GPS Thompson has when navigating screens on the court makes that an impossibility.
"It's almost impossible to deny him the ball," Henderson said. "You're not going to do that. But you've got to try to make it difficult for him. Make him shoot contested 2s. Really get in his space. Just contest his shot because you're not just going to keep him from shooting. He's very good with people close to him."
So then what can you do? What can the Blazers do in order to keep the other Splash Brother from dropping another efficient 37 points on them and hitting seven or more 3-pointers for an NBA-record fourth straight game? With Thompson's strengths and the Warriors' patience to make the entire floor work for him and his teammates, the work has to be done in chasing him in a smarter manner. If you can't deny him the ball, you have to be able to deny him the 3-point line.
"We've got to do a better job, starting with me if I'm guarding him, to make sure that I'm chasing better," C.J. McCollum admitted after Game 1. "Making him curl. Hard hedges got to be there, especially if it's Bogut setting that type of screen where he's not really a great shooter. We got to make sure we make them pay for that."
That's not something they could do much of in Game 1. Thompson was flaring off these screens for 3-pointers, and never really was forced to go inside the 3-point line unless he was deciding to attack off the dribble.
To McCollum's point about the helping big man hedging hard on these screens, Ed Davis and Mason Plumlee didn't even seem like it was an option at times. You have to know the personnel on the floor and live with the bigs possibly making a play against you. On this 3-pointer by Thompson in which he came back on a re-screen by Anderson Varejao, Davis is nowhere near helping on the perimeter. Instead he has both heels on the paint.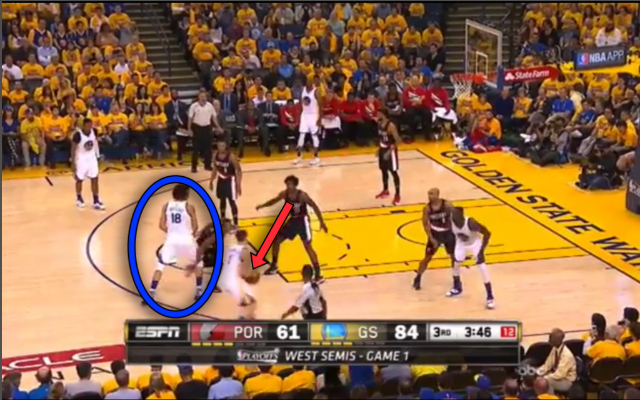 Varejao scored six points on 12 drives this season. He made 31.1 percent of his midrange shots. In what world is protecting against the paint with him setting a screen around the 3-point line the best strategy?
A couple of times in this game, McCollum was specifically taken completely out of an opportunity to stop Thompson on the perimeter because the man guarding the screener was hanging back in the paint. Again, it happened with Andrew Bogut on the back-end of a double screen and McCollum chasing. This time, it was Plumlee with one foot in the paint as McCollum tried to fight through a Bogut pick.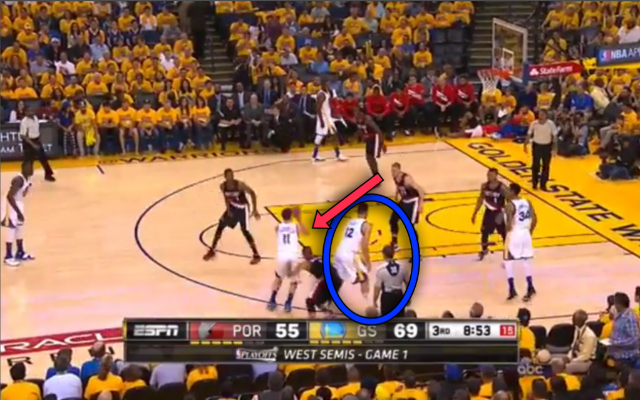 Bogut is never a threat from that distance and you'd rather him get the ball in a spot-up or on the move than you would Thompson coming around a screen for an uncontested 3-pointer. It's these mental mistakes the Blazers have to correct going into the rest of the series, because the problems become exponentially more damaging whenever Curry returns to the court.
A lot of the work to be done is by not letting Thompson get into a rhythm early. He hit a corner 3-pointer 15 seconds into the game and was wide-open on the look. He didn't fight for the look or anything.
"He got to see the ball go in to start the game," McCollum said after. "I think the first play, he came off a double stacker toward the baseline on the inbound play. Once he got to see the ball go in, it doesn't really matter how you guard him because he's comfortable. Then he starts to make the difficult shots."
That comfort zone for Klay was a killer for the Blazers. On uncontested shots, he made 6-of-9 with many of those looks coming from beyond the 3-point line. On contested shots, he was a more pedestrian 8-of-19 from the floor. Where the Blazers would like to see improvements isn't just moving him off that 3-point line but forcing him to be a playmaker off the dribble. Whether that's as a passer or a scorer, removing the flawlessness of his still shooting motion and making him a guy scoring on the move is the key.
Thompson scored 827 points on 679 catch-and-shoot opportunities. He had an effective field-goal percentage of 60.9 on catch-and-shoots. He scored 199 points on 268 drives this season with a field-goal percentage of 46.8 is the much lesser of two evils the Blazers' defense is hoping for.
"You've got to make him put the ball on the floor," McCollum added. "I think tonight, he had a lot of catch-and-shoot and he got comfortable."
It's tough because your natural instinct as a defense is to protect the rim and despite being painted with the brush of being a jump shooting team, the Warriors love to attack the paint. But everything is to set up something else. And when you make a poor decision as a defense they make you pay. The Warriors' offensive attack is predicated on a rhythm they dictate and Thompson embodied that by getting that comfort level the Blazers are worried about him discovering against them.
"I've seen Steph do it a lot," Thompson said after the game about practicing shots from the floor's mid-court logo. "Just trying to be like him. But those are shots that I don't really want to take that much during the game but if you make five or six in a row and you feel your guy is off you, I don't mind hoisting up one a game. If it goes in, I'll live with it."
If he's able to get comfortable to make shots like this, you'll lose your opportunity to make the Warriors pay while the other Splash Brother is recovering from his sprained MCL.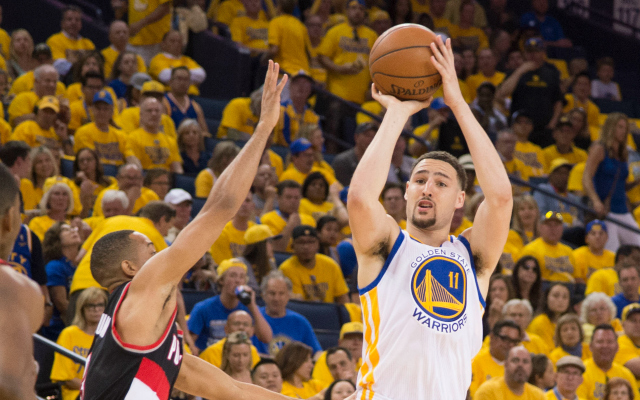 Klay Thompson's comfort level great for Warriors, troublesome for Blazers – CBSSports.com