Lakers get their man in Luke Walton, but do they know who they're getting? – CBSSports.com
6 months ago Comments Off

on Lakers get their man in Luke Walton, but do they know who they're getting? – CBSSports.com
The Los Angeles Lakers did the what the NBA world expected Friday and announced that Luke Walton will take over as their head coach once the Golden State Warrior' season comes to an end. It's a feel-good story that, quite soon, will give way to reality, whatever that turns out to be.
The celebration in Los Angeles, inside and outside the Lakers organization, will be robust. Walton was drafted by and spent much of his career with the Lakers, an organization and city that prides itself on believing its history and special culture make such connectedness not just important but pivotal.
And, of course, Walton stepped in for Steve Kerr at the start of the season as the interim Warriors head coach and led the defending champions to a 39-4 record and that remarkable 24-0 start.
He is likable, respected, humble and widely believed to have a bright future.
That's all well and good.
Here's another fact: There is very little to actually go on in assessing exactly what kind of head coach Luke Walton is most likely to evolve into.
This is no slam dunk. The Warriors, entering this season, boasted the soon-to-be best player on earth (Steph Curry),perhaps the second-best shooter in the NBA (Klay Thompson),one of the league's two or three best defenders (Draymond Green),remarkable depth and a championship culture forged the season before.
Walton also greatly benefited from a giant chip the defending champs carried on their shoulders entering the season. There was Doc Rivers suggesting the Warriors got lucky in their route to the Finals, a reflection of similar chatter around the league. And of course the players themselves fed this when they voted in their own personal season-ending awards and made James Harden, not Curry, their Most Valuable Player.
This Warriors team, in other words, was set up to roll out of the gates. It's not to say Walton won't be the next great thing in head coaching. But stepping into that job at the start of the regular season is far from the thing that guarantees it. At this point, all we really know is he didn't screw up a juggernaut.
There is much to like about Walton. There is also the fact this was just his third season as an assistant head coach in the NBA, one with Memphis and the last two with the Warriors.
Short of any real, binding resume — and short of the kind of experience Steve Kerr amassed as a front-office executive — there's one real source we must turn to trust that Walton can work out: Those that hired him.
Jim Buss and Mitch Kupchak sat in that interview with Walton. They pondered what they need and why Walton fits. They have, certainly, insight into who he is as a man, leader and basketball mind after his years as one of the organization's players.
Whatever they saw, and whatever they value, is the real source of any real assessment of what kind of head coach Walton might be.
Which is a bit of a concern.
Since Phil Jackson left in 2011, Buss and Kupchak have hired the following people to be the team's full-time head coaches: Mike Brown, Mike D'Antoni and Byron Scott.
Excluding Magic Johnson, who in 1994 coached just 16 games, that means the guys who think Walton is the right pick also hired the least successful (Scott, .227 winning percentage) and third-least-successful (D'Antoni, .435) head coaches since the Lakers moved to Los Angeles.
And Brown wasn't exactly the second coming of Gregg Popovich.
Not the stuff to usher in utter confidence.
Obviously, the failures of the last three coaches do not mean Walton, too, is destined to be a bust. He is his own man, his own coach, and he will carve out his own future. It certainly helps that he would probably be palatable to Phil Jackson. Because if Walton cannot turn things around quickly, another losing season might well lead to the front-office departures of Buss and/or Kupchak — which in turn could precipitate the return of Phil.
If you're going to hire a head coach with a possible lame-duck president of basketball operations and general manager — or at least two front-office executives with a very short leash — best to believe that coach can survive if his new bosses do not.
Walton might turn out to be a brilliant hire. But the sure-thing nature of his hire, the reports that no one else was interviewed, the idea he was leaps and bounds ahead of every other possible candidate on earth — it's all a head scratcher.
"We're excited to bring Luke back to Los Angeles, where we feel he's going to start an outstanding coaching career," said Kupchak. "He's one of the brightest young coaching minds in the game and we feel fortunate that he'll be leading the on-court future of our team."
Kupchak would be the one to say so, since his future could hinge on knowing more than the rest of us do about what has become one of the most interesting questions in the NBA:
When you take Luke Walton away from the Golden State Warriors and make him the head coach of the purple and gold, what, exactly, do you have?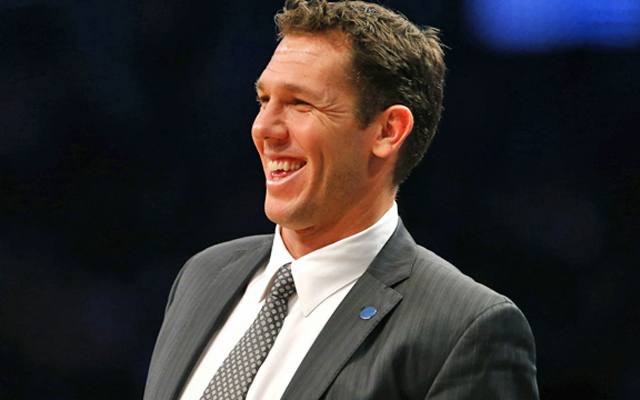 Lakers get their man in Luke Walton, but do they know who they're getting? – CBSSports.com