Manchester City vs. PSG: Score, Reaction from 2016 Champions League, Leg 2 – Bleacher Report
7 months ago Comments Off

on Manchester City vs. PSG: Score, Reaction from 2016 Champions League, Leg 2 – Bleacher Report
Kevin De Bruyne fired Manchester City into the semi-finals of the UEFA Champions League with his second-half wonder strike beating Paris Saint-Germain 1-0 (3-2 on aggregate) at the Etihad Stadium on Tuesday night.
City survived Sergio Aguero missing a penalty in the first half, thanks to a solid defensive display that kept PSG's big guns quiet.
PSG never really got to grips with the occasion, while City were patient, compact and savvy in a way they've never been in Europe's top club competition before. The credit belongs to outgoing manager Manuel Pellegrini, who set his side up to frustrate and got an excellent showing from goalkeeper Joe Hart.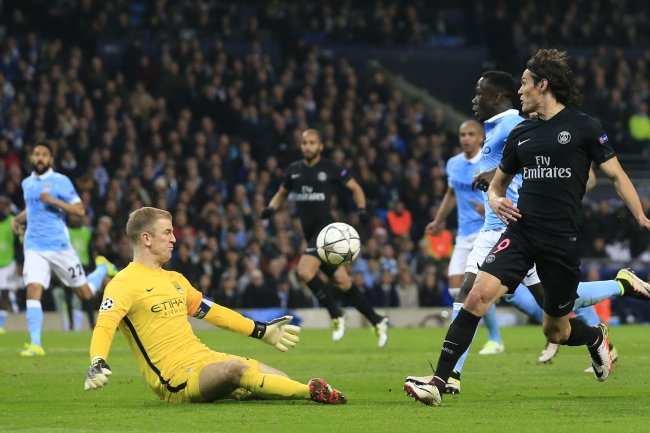 Jon Super/Associated Press

Pellegrini sprung a surprise when he opted to leave Yaya Toure on the bench. The powerful midfield goal-getter hasn't enjoyed a great season, but not starting his talent in such a big game—particularly at home—seemed like a questionable move.
Pellegrini attempted to explain his big call prior to kick-off, citing concerns about the player's fitness to BT Sport Football:
Pellegrini explains @YayaToure's absence from the starting XI. #CityvPSG #UCL https://t.co/cno0XYVpNv

— BT Sport Football (@btsportfootball) April 12, 2016
Instead, Pellegrini continued relying on resourceful destroyer Fernando at the base of midfield and in front of the back four, per James Robson of the Manchester Evening News:
Team sheet pic.twitter.com/Bu1QhpAJet

— James Robson (@JamesRobsonMEN) April 12, 2016
PSG's main threat was set to come from the strike partnership of Edinson Cavani and Zlatan Ibrahimovic. But it was manager Laurent Blanc's decision to reshuffle things at the back that had Ligue 1 analyst Matt Spiro bemused:
Ok, no Stambouli, but Maxwell wing-back, Aurier one of 3 centre-backs?!! Funny time to experiment. Blanc putting his reputation on the line

— Matt Spiro (@mattspiro) April 12, 2016
Still, Data Room pundit Sebastien Chapuis was a little more confident in Blanc's decision to rely on a back three:
Aurier played 20 times in 2 seasons in a back 3 at Toulouse.
Played twice at CB in a back four this season (Angers 5-1, Rennes 1-0 A)

— Sébastien Chapuis (@SeBlueLion_EN) April 12, 2016
Makeshift centre-back Serge Aurier was called into action early, hacking clear a fizzed cross from Jesus Navas. But Bleacher Report's Jonathan Johnson was far from impressed with the Ivory Coast man:
Aurier looking off the pace once again. Just got dispossessed by Aguero, led to City opening. #MCIPSG

— Jonathan Johnson (@Jon_LeGossip) April 12, 2016
Meanwhile, Spiro continued to question Blanc's choice of formation:
Nervy start from #PSG. It's almost as if they've never played in this formation before…

— Matt Spiro (@mattspiro) April 12, 2016
Despite some early teething problems, though, PSG were soon springing behind City's back four. Cavani was clean through on goal, but Angel Di Maria's pass was overhit. It was a rare gaffe from the stylish playmaker.
Hart soon needed to be quick and agile to palm an arrowed Ibrahimovic free-kick over the bar.
But those slight scares aside, it was the home team who should have been in front when PSG goalie Kevin Trapp felled De Bruyne in the box. Fortunately for the visitors, Aguero's penalty was too casual and sailed harmlessly wide.
The lucky escape didn't stop Johnson from calling for Blanc to ditch his Aurier experiment:
Aurier off, Maxwell at LCB & Kurzawa on, anybody? #MCIPSG

— Jonathan Johnson (@Jon_LeGossip) April 12, 2016
Meanwhile, Aguero's miss summed up City's blunt attacking display early on, per Squawka Football:
Despite being awarded a penalty, Man City failed to have a single shot on target in the opening 30 minutes vs. PSG. pic.twitter.com/UjpfG0bw4Z

— Squawka Football (@Squawka) April 12, 2016
There may have been little threat in front of goal, but PSG's formation became more disjointed when veteran holding midfielder Thiago Motta limped off.
As Spiro pointed out, PSG were now without the solid base in the middle that's usually so key to their success:
PSG's strength for so long, the midfield trio of Verratti-Motta-Matuidi, all missing now at moment they're needed most

— Matt Spiro (@mattspiro) April 12, 2016
Yet Motta's withdrawal did at least facilitate the tactical change many wanted to see:
Blanc switches to flat back four. Not before time. Marquinhos pushed up in to defensive midfield role to replace injured Motta

— Matt Spiro (@mattspiro) April 12, 2016
The second half began with Hart again springing into action to rebuff an Ibrahimovic free-kick. The Swede bent a wicked shot around the City wall, and Hart needed a strong hand to swat it away.
Some slick combination passing between Fernandinho and Bacary Sagna earned City a corner at the other end, but Aguero couldn't get near the resulting cross.
Yet that set piece was a too-rare foray forward from the Citizens during the first stages of the second half. PSG were beginning to look dangerous, finally passing between the lines via neat combinations.
Blanc introduced maestro Javier Pastore to take advantage of the sharper possession play.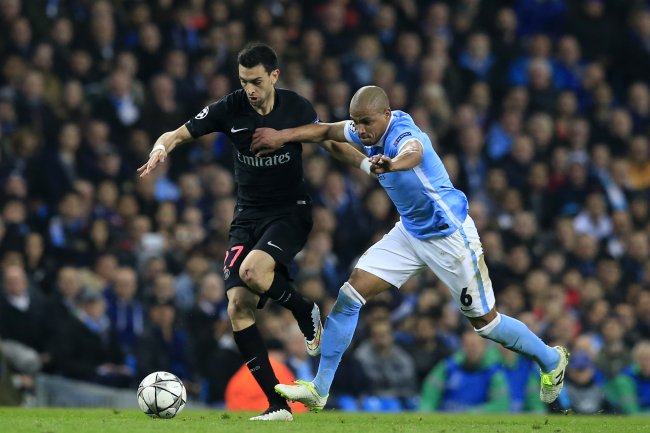 Jon Super/Associated Press

Hart was soon needed to bat behind Thiago Silva's header, as PSG's threat continued to steadily grow. Cavani then slid full-back Gregory van der Wiel in behind after a neat one-two, but the Dutchman's cross was turned away, as things began to look last-ditch in the City box.
But just as PSG were asking serious questions, City soon provided the answer. It came courtesy of a superbly whipped shot from De Bruyne following what had been a marathon-length exchange of passes.
As OptaJoe pointed out, De Bruyne was ruthlessly efficient during this tie:
2 – Kevin De Bruyne has scored with both of his shots on target for Man City in this tie against Paris SG. Hero.

— OptaJoe (@OptaJoe) April 12, 2016
City then needed Hart again, when the England mad smothered a potential opening for Cavani. Speaking after the match, ex-City 'keeper Shay Given told BT Sport how Hart deserves special praise for his performance:
Tonight proved exactly why Joe Hart is @england number one, according to @No1shaygiven. 👐 #PSGMCI #UCL https://t.co/I552UsvPGt

— BT Sport Football (@btsportfootball) April 12, 2016
De Bruyne made way for Toure heading into the final five minutes. The substitute promptly saw Ibrahimovic have a goal chalked off for offside.
But that was the last whimper from the visitors, as City's resolute rearguard held Ibrahimovic, Cavani and Co. comfortably at bay.
Post-Match Reaction
Beaten manager Blanc praised that miserly City defence after the game, per AP reporter Rob Harris:
PSG coach Blanc: "Man City surprised me more in defence tonight than in Paris, they were very solid particularly in the middle of defence"

— Rob Harris (@RobHarris) April 12, 2016
Match-winner De Bruyne confirmed how City played the game the way they planned it, per the tournament's official site:
De Bruyne, @MCFC: "We deserved to progress. PSG didn't create a lot. It was a case of sticking to our plan." #UCL pic.twitter.com/E0hg3AoVrX

— Champions League (@ChampionsLeague) April 12, 2016
Proving they can do the dirty work should bolster's City's belief they can actually lift this trophy. It's a confidence Pellegrini already possesses, according to Robson:
Q to Pellegrini: Can City win the Champions League.

A: Of course

— James Robson (@JamesRobsonMEN) April 12, 2016
As for PSG, they ultimately flattered to deceive during this tournament, with their big players failing to really show up over the course of this tie.
To contrast, Pellegrini showed his critics he's astute enough to mastermind big results on the grand stage.
Manchester City vs. PSG: Score, Reaction from 2016 Champions League, Leg 2 – Bleacher Report