Manchester City vs. Real Madrid: Score, Reaction from 2016 Champions League – Bleacher Report
6 months ago Comments Off

on Manchester City vs. Real Madrid: Score, Reaction from 2016 Champions League – Bleacher Report
Manchester City kept a clean sheet at home to Real Madrid in their UEFA Champions League semi-final first leg at the Etihad Stadium on Tuesday night, but they won't take a lead to the Santiago Bernabeu on May 4 after a 0-0 draw.   
It's still a credible result for City, though, who can crank the pressure on Los Blancos by netting an away goal in the Spanish capital. But manager Manuel Pellegrini may well rue not scoring at home, especially since the 10-time winners were missing attacking talisman Cristiano Ronaldo.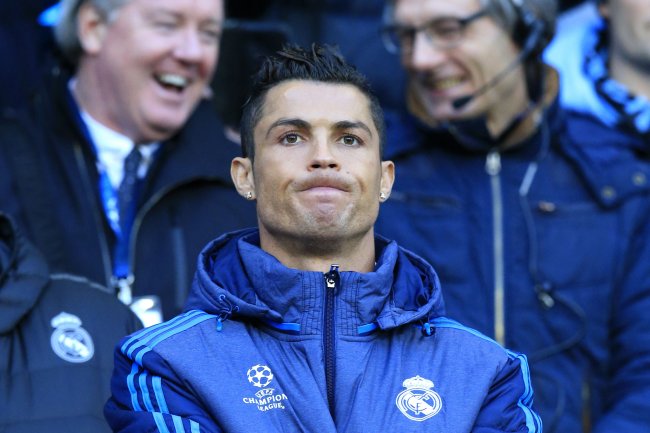 Jon Super/Associated Press

Madrid's prolific No. 7 sat out with injury, per El Chiringuito's Jose Luis Sanchez (h/t ESPN's Dermot Corrigan),but he should be back for next week's second leg.
That will mean City will have to be even more resilient at the back than they were on Tuesday night. Goalkeeper Joe Hart was again the hero, producing two excellent close-range saves in the second half, salvaging a game otherwise woefully short of attacking intent.
Pellegrini kept faith in Spanish pair Jesus Navas and David Silva, both of whom have struggled in Premier League action recently. They kept Raheem Sterling consigned to the bench, while Brazilian duo Fernandinho and the underrated Fernando manned the centre of midfield, per City:
TEAM NEWS | Here's your #mcfc line-up for tonight! #cityvreal#mcfcpic.twitter.com/duXzKPOiuh

— Manchester City FC (@MCFC) April 26, 2016
Ronaldo's absence was notable, but Los Blancos still boasted plenty of star power in Manchester, including centre-forward Karim Benzema and the prolific Gareth Bale. Manager Zinedine Zidane also persisted with winger Lucas Vazquez in place of James Rodriguez or Isco, per the club:
This is our starting line-up for tonight's @ChampionsLeague semi-final first leg against Manchester City. 📝#RMUCLpic.twitter.com/MXcP1TNhTw

— Real Madrid C.F. (@realmadriden) April 26, 2016
Benzema caused the City back four a few headaches early on, forcing a corner from Vincent Kompany, before drawing Nicolas Otamendi into a free-kick. But City showed their own menace, and there were sounds of awe from the crowd when Navas nearly released Aguero with a clever backheel.
City probed, but Madrid were determined not to be timid, despite their status as visitors. The Daily Mirror's Ed Malyon noticed one way Los Blancos were carrying the fight to their hosts:
Notable pressing by Madrid on Fernando in early stages. Luka Modric leading the charge while Casemiro looks to have been tasked with KDB.

— Ed Malyon (@eaamalyon) April 26, 2016
But the Citizens had their own harriers in the middle, and Fernando was leading the charge to frustrate ball players Luka Modric and Toni Kroos.
A typically aggressive collision between two midfielders never shy about getting physical best summed up the combative, cagey early exchanges, according to ESPN's Corrigan:
Two players with most fouls in competition so far clash. Casemiro [21 before today] takes out Fernandinho [32 before today]

— Dermot Corrigan (@dermotmcorrigan) April 26, 2016
The play livened up when Pepe was booked for a last-ditch slide on Kevin De Bruyne. Kompany met his free-kick, but the burly defender had manhandled his marker to make the connection.
Next, it was Pepe's fellow centre-back, Sergio Ramos, taking the raiding Fernandinho down on the same edge of the box, but he somehow escaped a yellow card. Otamendi headed over from a deep cross from Silva after another De Bruyne delivery.
The game was moving at the pace of a stroll when Silva had to be withdrawn for Kelechi Iheanacho. His introduction was the last notable moment of a tepid half.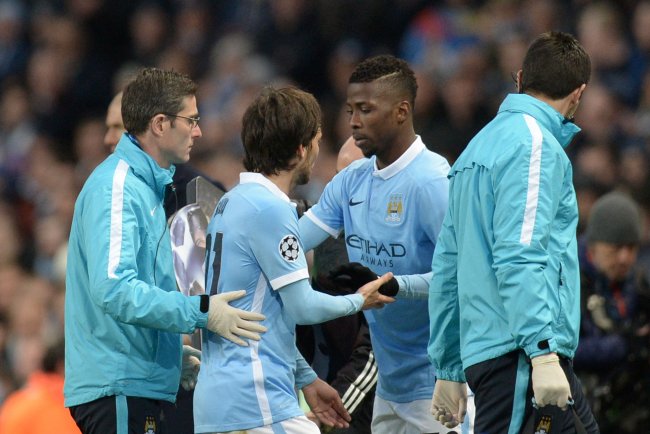 OLI SCARFF/Getty Images

After the break, Zidane wisely introduced extra pace up front by swapping out the sluggish Benzema for Jese.
Slowly but surely, the static proceedings began to open up when Aguero fired over from his first sighter seconds after the restart. Then there was some controversy when Otamendi appeared to catch Bale in the box, but replays revealed minimal contact, despite the Welshman's elaborate tumble.
At the other end, Ramos wasted an excellent chance when he headed straight at Hart after rising to meet a rare accurate corner from Kroos.
Sadly, though, the game soon sank back into the same snail-like pace of the first half. Sam Gregory of Analytics FC had a creative solution to stop the turgid passing:
Bring on Zidane.

— Sam Gregory (@GregorydSam) April 26, 2016
Yet, even though both sides were labouring, Corrigan called on City to hold their nerves and not make the same mistake a fellow Premier League side had against a La Liga power earlier in the tournament:
0-0 at home not worst result for City… was around now Arsenal started to get antsy at home to Barca, threw players forward, got punished.

— Dermot Corrigan (@dermotmcorrigan) April 26, 2016
Ironically, the Citizens did the opposite, becoming even more cautious and allowing Madrid to steadily grow into the game. Jese headed off the bar, Bale dragged a shot just wide and Otamendi had another penalty scare when he tangled with Vazquez.
Needing to freshen things up, Pellegrini brought on Sterling and his lightning pace for Navas.
But Pellegrini needed Hart to make consecutive point-blank saves from corners, denying both Casemiro then Pepe with sprawling feet-first stops.
BT Sport relayed highlights of the second, stunning save:
City had late chances when De Bruyne saw a free-kick saved after Sterling might have gone clean through had his touch not let him down.
In the end, though, the Citizens will be thankful not to have conceded a damaging away goal. The tie is still in their hands, despite Ronaldo's looming spectre, but with Aguero and De Bruyne, City have the attacking power to snatch an away goal or two.
Post-Match Reaction
City's heroes at the back, Hart and Kompany, both lauded the draw as an excellent result and insisted their club is ready for a fight in the second leg per BT Sport:
The one real damper on City's evening was provided by Pellegrini, who confirmed Silva is likely to miss out in Madrid:
Of course, Zidane had his own injury news to address. He began by detailing Benzema's ongoing fitness woes, per Corrigan:
Zidane on Benzema "A pity. He wanted to play, but felt issue again. We will have to see what happens with Karim."

— Dermot Corrigan (@dermotmcorrigan) April 26, 2016
Next, Zidane discussed Ronaldo's situation, providing details about tonight's problem:
Zidane on Ronaldo on TV "He felt something training yesterday. We didnt want risks. Now we will try and get him back as soon as possible."

— Dermot Corrigan (@dermotmcorrigan) April 26, 2016
He also offered an update about his chances of featuring in the return leg:
Zidane on Ronaldo 2 "I hope he is back with us. That is the idea. We will look to do everything well, and have him back for the return."

— Dermot Corrigan (@dermotmcorrigan) April 26, 2016
Tonight's game will have shown Zidane how much he'll need his best attacking talents to book Madrid's place in the final. In particular, the fear factor Ronaldo creates could prove crucial.
As for City, while Silva's vision will be missed, but perhaps some direct pace from either Sterling or Iheanacho will help Pellegrini's men execute the kind of counter game they'll need to rely on in Madrid.
Manchester City vs. Real Madrid: Score, Reaction from 2016 Champions League – Bleacher Report