Saudi Arabian stocks advanced as investors judged the government shakeup that ushered in a new central banker and oil minister would help the kingdom reduce its dependence on crude. Gulf stocks rose the most in two weeks.
The Tadawul All Share Index added a second day, rising 1 percent to 6,725.37 at 1:03 p.m. local time, the highest level in almost a week. Saudi Arabia's King Salman appointed deputy central bank governor Ahmed Alkholifey to head the Saudi Arabian Monetary Agency, and Saudi Aramco Chairman Khalid Al-Falih as oil minister. Bloomberg's GCC 200 Index climbed 0.8 percent, poised to end the longest losing streak in almost two months.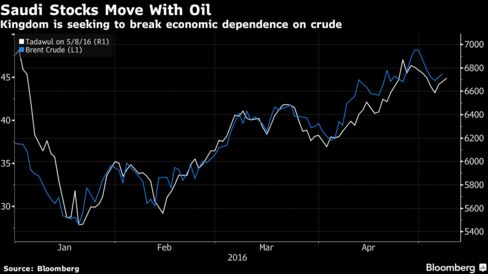 "We've been hearing about Saudi Arabia wanting to diversify its economy away from oil since we were children, but this time it seems like they're serious about it," said Reda Gomaa, a Dubai-based money manager who helps oversee $1.5 billion at Mashreq Capital DIFC Ltd. "With Khalid Al-Falih as the new oil chairman, the country will probably take more advantage of its mineral resources," and the new central bank chief may be the right person to help the kingdom sell its first international bonds, he said.
More than 50 royal decrees were issued on Saturday in the third major government overhaul since King Salman ascended the throne in January 2015. They come in the wake of Saudi Arabia launching its Vision 2030, a blueprint for diversifying the kingdom's economy away from crude. As part of its plan, the world's biggest oil exporter is relaxing rules for foreign investment into its stock exchange, will sell its first international bond sale and is studying initial public offerings for government-owned companies, including Saudi Aramco.
Tadawul IPO
Almost 160 companies gained in Saudi Arabia on Sunday, near the most in two months. Al Rajhi Bank led the advance, rising 1.7 percent. Saudi Electricity Co. climbed 2.8 percent on more than four-times the average full-daily trading volume for the past three months.
The Riyadh-based Capital Market Authority released new rules for book building and IPO allocation for consultation. The announcement came less than a week after it the bourse said it will cut the amount of assets foreigners must have under management to invest directly in the nation's stocks to 3.75 billion riyals ($1 billion) and amend its settlement cycle for share trading.
The Saudi stock exchange, which plans to sell shares in an IPO by 2018, has appointed HSBC Saudi Arabia Ltd. as its financial adviser for the process.
"The changes in terms of diversifying the economy, lifting subsidies and future introduction of value-added tax will affect companies' profitability and margins," said Tariq Qaqish, the Dubai-based head of asset management at Al Mal Capital PSC. "We expect to see lower growth for Saudi companies in the short term, and will see companies' management work more closely to adjust their business modules to adapt to the new prices."
U.A.E. Reopens
Dubai's DFM General Index added 0.6 percent, its first gain in seven days, as equity markets in the United Arab Emirates reopened following Thursday's public holiday. Abu Dhabi's ADX General Index rose 0.5 percent. The MSCI Emerging Markets Index, which includes stocks from both emirates, fell 4.1 percent in the five days through Friday, the biggest weekly decline since January, after a U.S. jobs report underscored the frailty of the global economic recovery.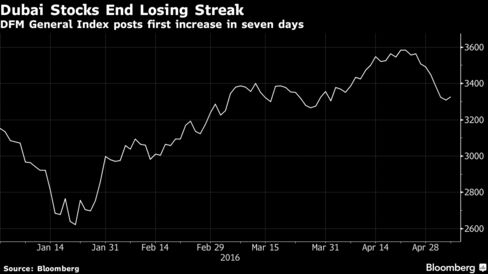 Amanat Holdings PJSC, an investment company with stakes in health care and education businesses, rose 0.1 percent after reporting a 9.5 million dirham ($2.6 million) profit in the first quarter, up from 1.5 million dirhams a year ago.
In Abu Dhabi, Dana Gas PJSC slipped 1.9 percent as traders exchanged 12.5 million shares, the most in two weeks. While the gas explorer posted a 50 percent drop in profit last week, the company has been negotiating to get $2 billion from authorities in Iraq's Kurdish region as part of arbitration proceedings in London. It will buy back its Islamic bonds opportunistically.
Bahraini Measures
Bahrain's BB All Share Index dropped 0.1 percent. The kingdom on Thursday announced measures to make the island the fastest place in the region to start a business, as competition between the six nations of the Gulf Cooperation Council to attract investment intensifies.
Bahrain Telecommunications Co. declined 0.7 percent after the company, known as Batelco, reported a 33 percent drop in first-quarter profit.
Oman's MSM 30 Index rose 0.3 percent, while Kuwait's SE Price Index fell less than 0.1 percent. Both markets were also closed on Thursday. Qatar's QE Index fell to the lowest level in almost three months in the longest losing streak since January.
Egypt's $2 Billion
Egypt's EGX 30 Index dropped 0.5 percent. The volume of trading was 46 percent below the gauge's intraday average in the past six months.
Eight policemen were killed by gunmen south of Cairo yesterday in the latest attack on security forces in the North African nation, which is reeling from violence that has curbed tourism, one of its main sources of hard currency. Egypt, suffering from a shortage of dollars, has yet to receive a $2 billion deposit pledged by the U.A.E. last month to support its foreign reserves, Central Bank Governor Tarek Amer said on Thursday.
Commercial International Bank, the country's biggest publicly traded lender, led decliners with a 0.6 percent drop. The company, which accounts for almost 40 percent of the benchmark index, was poised for the lowest close in two weeks.
Israel Drop
Israel's TA-25 Index slid 0.5 percent, set for the lowest level in nearly three months. The gauge is less than 2 percent from entering a so-called bear market, when a measure declines 20 percent from a recent peak.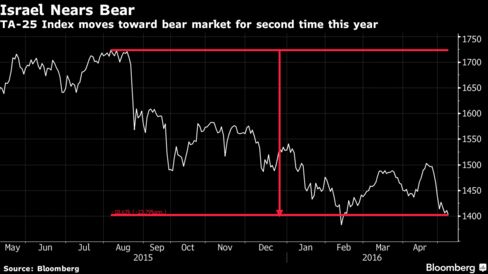 Leading the declines were dual-listed generic drugmakers Teva Pharmaceutical Industries Ltd., Perrigo Plc and Mylan NV, whose shares dropped in New York trading on Friday after another company in that sector cut its outlook on accelerating competition. The remaining companies on the TA-25 fared better, as 18 stocks rose.
"The index is increasingly not reflective of Israel's economy as it relies more heavily on these pharma stocks," said Gilad Alper, a senior analyst at Excellence Nessuah Brokerage Ltd. "Pharma is by far the worst sector on the index this year and is masking the performance of the more local industries."