Obama, Gulf Partners Remain United in Efforts to Stabilize Mideast – Voice of America
6 months ago Comments Off

on Obama, Gulf Partners Remain United in Efforts to Stabilize Mideast – Voice of America
RIYADH—
President Barack Obama said the U.S. and Gulf state leaders remain united in efforts to destroy the Islamic State group and stabilize the conflict-ridden Middle East region.
"We remain united in our fight to destroy ISIL … which is a threat to all of us," Obama said in Riyadh, using an acronym for the Islamic State group. He said members of the Gulf Cooperation Council (GCC) will also "continue to increase their contributions to the fight against ISIL and the coalition we formed."
Speaking at the close of Thursday's summit with the six-nation GCC, the president reaffirmed the U.S. commitment to "deter and confront aggressions" against its partners and allies in the region.
"Overall, there is a broad consensus in assisting each other in our collective security," Obama said. "Our intelligence sharing is vital in fighting against terrorism."
Obama spoke broadly of areas of agreement between the U.S. and GCC leaders, such as the Gulf leaders agreeing to increase humanitarian efforts in Iraq and Syria, as well as continuing to support Iraq as it "liberates and stabilizes towns and cities from ISIL control."
The U.S. and the GCC also agreed that a political solution is needed in Syria. Obama said they agreed that the only one way to end Syria's civil war is through a transitional government and a move away from President Bashar al-Assad.
Iran tensions
However, one area of tension between the U.S. and GCC leaders is in regards to Iran.
"Probably the biggest area where there has been tactical differences has been with respect to Iran," Obama said. "The issue is not the need for shared cooperation to deter against Iranian provocations, on that we all agree."
The nuclear deal between Iran and six world powers "cut off every single one of Iran's pathways to a nuclear weapon, (but) we recognize, collectively, that we continue to have concerns about Iran."
However, Obama stressed diplomacy in the region and entering into dialogue "to reduce tensions."
"None of our nations have an interest in conflict with Iran," he added.
U.S. Secretary of State John Kerry is seen at the Diriyah Palace during the Gulf Cooperation Council Summit in Riyadh, Saudi Arabia, April 21, 2016.
Besides Saudi Arabia, the GCC alliance includes Kuwait, the United Arab Emirates, Qatar, Bahrain and Oman.
Iran reaction
In an op-ed Thursday in The Washington Post, Iran Foreign Minister Mohammad Javad Zarif accused Tehran's "Western-allied neighbors" of the same tactics of destabilization through a "rapid build-up of their already excessive military hardware."
"They have repeatedly resorted publicly to raising the specter of military – even nuclear – attack on my country, in blatant disregard for international law," Zarif wrote.
"I urge my counterparts around the world to reflect on what has been achieved through diplomacy rather than threats, sanctions and demonization. … My government remains committed to constructive engagement and my initiative for a regional dialogue forum," he wrote.
U.S. Secretary of Defense Ash Carter, right, delivers remarks during the Gulf Cooperation Council Defense Ministerial in Riyadh, Saudi Arabia, April 20, 2016. Carter is in Saudi Arabia to participate in the U.S. Gulf Cooperation Council defense meeting.
Tensions between Washington and its Arab allies have been apparent over differing approaches in the region.
While both seek a cessation to sectarian violence, the U.S. is pressing for a greater focus on political solutions and democratic reforms, especially in states such as Yemen and Syria where cease-fires have been put in place, though they remain very fragile.
However, some Gulf states, such as Saudi Arabia, have expressed doubts about the administration's vision for security in the region, especially with regard to what they perceive as growing threats from Iran.
Administration officials in Riyadh downplayed disagreements.
Deputy National Security Advisor Ben Rhodes said all sides want to see Islamic State and al-Qaida defeated, stability in Yemen restored, a political transition in Syria, and unity and stability in Iraq.
"On the core issues, there's agreement about where we want to go. There have been occasional tactical differences about what we are emphasizing," Rhodes said. "But I think what this summit allows us to do is make sure that we are working to align our approaches and strategies."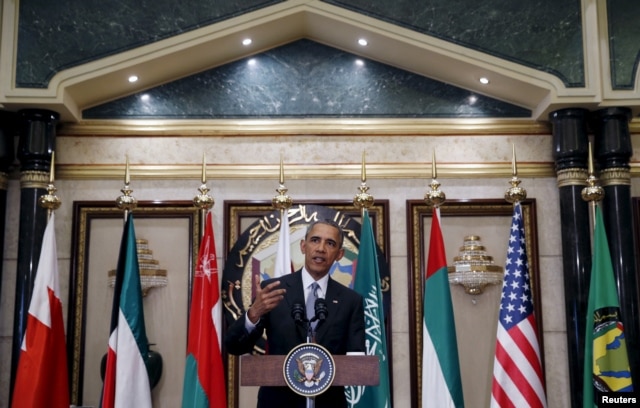 U.S. President Barack Obama speaks following his participation in the summit of the Gulf Cooperation Council (GCC) in Riyadh, Saudi Arabia, April 21, 2016.
Obama told reporters at the close of the summit, "The fact of the matter is that friendship and cooperation between the U.S. and the Gulf countries has been consistent for decades."
Following a two-hour closed meeting Wednesday, Obama and Saudi Arabia's King Salman agreed on the importance of "an inclusive approach to de-escalating regional conflicts."
In a statement after the meeting at Erga Palace, the White House said the two leaders discussed the "challenges posed by Iran's provocative activities in the [Mideast] region."
The statement said Obama welcomed the recent cessation of hostilities in Yemen "and the king's commitment to providing humanitarian assistance across all of Yemen."
​The statement said Obama welcomed the recent cessation of hostilities in Yemen "and the king's commitment to providing humanitarian assistance across all of Yemen."
Following Thursday's summit, Obama next heads to London, where he will address a range of issues with British Prime Minister David Cameron, including countering terrorism, the refugee crisis in Europe and the global economy.
Mia Bush contributed to this report.
Obama, Gulf Partners Remain United in Efforts to Stabilize Mideast – Voice of America}