When Prada SpA on Monday outlined plans to rekindle growth, marketing chief Stefano Cantino boasted that the Italian luxury-goods maker still "sets the trend in the industry." Unfortunately for Prada's investors, it's a leader in the wrong metrics.
The 103-year-old company, started as a Milan shop selling travel trunks and leather bags, has been the worst-performing major luxury stock over the past three years, with its shares down by 31 percent. It has missed its earnings forecasts in 11 of the past 12 quarters and its profit margin narrowed from 27 percent in 2012 to 14 percent last year.
Prada's mistake has been a strategy that emphasized adding stores in Asia without sufficient focus on refreshing its product lineup, especially at the lower end of the luxury price spectrum, according to Bloomberg Intelligence analyst Deborah Aitken. As demand in Asia slowed and rivals revamped their handbag designs, co-Chief Executive Officers Miuccia Prada and husband Patrizio Bertelli failed to adapt quickly enough, Aitken said.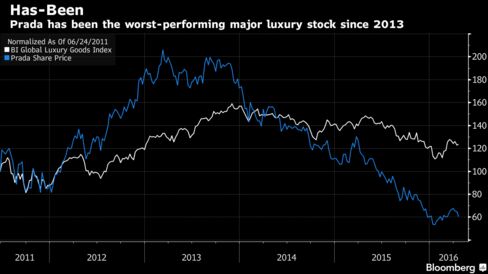 "Prada is suffering from high Asia dependency, over-ambition in store openings there, and gaps in its portfolio for mid-priced leather goods," said Aitken. "The transition to fix some of these issues could be lengthy."
Five years ago, the luxury-goods maker was riding high, preparing to sell shares in what became Hong Kong's biggest initial public offering of 2011. Asia was driving Prada's growth, and Bertelli said he expected that trend to continue, pledging to open about 80 stores annually over the next three years, mostly in Asia.
Profit doubled between 2010 and 2012 as customers from New York to Nanjing snapped up Prada's bags and shoes. In March 2013 the stock peaked at more than twice its IPO price of HK$39.50. From 2011 to this January, Prada almost doubled its store count, to 618, with more than 40 percent of its outlets now in Asia.
Bertelli's bet on Asia turned out to be excessive. A clampdown on corruption crippled demand in China, and mainland consumers took fewer shopping junkets to Hong Kong. Prada's Asia sales fell 16 percent last year, excluding currency swings, and profit for the 12 months through January slumped to the lowest level in five years. The company says the situation is so bad it's impossible to make any forecast for this year. In February, the company's chief financial officer quit after more than a decade in the job, citing personal reasons.
While the slowdown in China, the strong dollar, and the recent terror attacks in Europe have hurt all luxury goods makers — even Hermes International SCA, one of the most resilient companies, is forecasting slower revenue growth — Prada's struggles stand out.
Ignoring the Web
That's because it kept jacking up prices without offering shoppers a compelling reason for spending almost $3,500 on a purse — a stratospheric price level that put Prada in competition with brands such as Dior that are perceived as more exclusive, according to Mario Ortelli, an analyst at Sanford C. Bernstein.
Most of Prada's "new handbags are priced too high for core consumers," Ortelli said.
And the company ignored the Internet for too long: Miuccia Prada said as recently as 2013 that the Web "isn't right" for selling luxury, yet online sales of designer dresses and other wardrobe staples are growing more than twice as fast as the rest of the high-fashion industry.
Prada on Monday announced plans to address its shortcomings. The remedy includes introducing more handbags priced below 1,400 euros ($1,600), getting on social media sites like Snapchat, and offering a larger range of goods online while curbing store expansion. The announcement halted the slide in Prada's stock, but it won't be enough to restore profitability in the short term, says Rogerio Fujimori, an analyst at RBC Capital Markets.
"2016 is shaping up to be another difficult year," Fujimori said. Any recovery "will be a gradual and uneven process."