Famed music producer David Gest died Tuesday at a London hotel at age 62. PEOPLE was there in 2002 when Gest married Liza Minnelli in an over-the-top wedding that featured the likes of Michael Jackson, Elizabeth Taylor, Donald Trump and Mya. The marriage lasted just months – with both filing for divorce in 2003. Here is the original wedding story in its entirety.
If Liza Minnelli had hoped for a moment of quiet reflection before her wedding to event producer David Gest, she didn't get it.
As the bride readied herself in a private room at Manhattan's Marble Collegiate Church on March 16, the door suddenly swung open. "In walked Michael Jackson, Elizabeth Taylor, Diana Ross and Diana Ross's son Evan," says hairstylist John Barrett, who fashioned Minnelli's Cabaret-influenced do for the big day. "[Evan] proceeded to do his moonwalk for Michael and Elizabeth. I thought, 'If I never see anything else…' "
Part gaudy spectacle, part unlikely love story and part Gong Show celebrity mixer (Tito Jackson, meet Mickey Rooney),the Minnelli-Gest nuptials made many a lavish star wedding seem downright dull by comparison. There was co-matron of honor Taylor arriving in slippers and requesting that someone run back to her hotel to fetch her shoes. There was co-best man Michael Jackson fumbling to open the ring box.
And there, at the Regent Wall Street Hotel reception, was actress Carol Channing boogying to performances by the Doobie Brothers and Donny Osmond. "Even the stars were craning their necks," says Barrett. "When you see Carol Channing on the dance floor waving her arms, you know you're in the right place."
In other words: Tito, we're not in Kansas anymore. But then Minnelli, the hard-knock daughter of Judy Garland and director Vincente Minnelli, has never been one for low-key understatement. With her mother's flair for flamboyance and heartache, Liza has endured three divorces, two hip replacements and at least two stints in alcohol-and-drug rehab clinics (most recently in December). Now Minnelli says she has finally found happiness with the Gest. Her groom, she says, "is everything I ever dreamed of in a man—his humor, his authority, his manliness."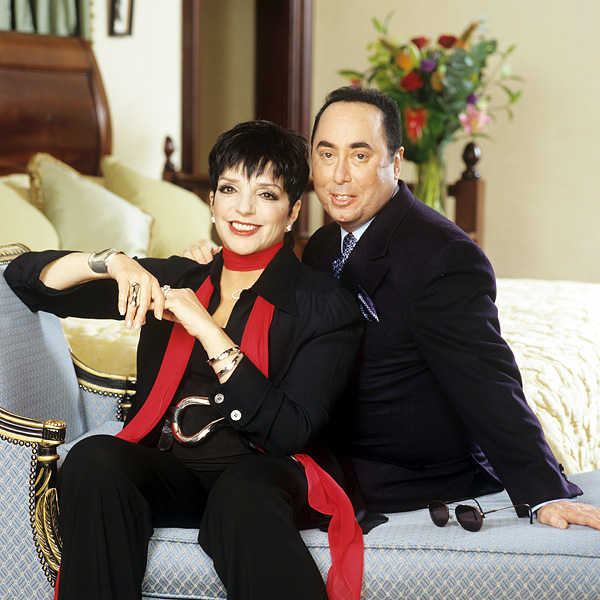 Mike Lawn / REX / Shutterstock

For his part, Gest notes that he was instantly smitten upon being reintroduced to Minnelli in June (they met briefly in the late '80s at a Frank Sinatra concert). "I could see that there was a little girl who needed to be loved," he says. "I fell for her right away."
Within 48 hours the couple exchanged "I love you"s; within a week they were living together, alternating between his-and-hers Upper East Side apartments. Gest proposed with a 3.5-carat Tiffany diamond in December. Says he: "We really don't need anyone around us to have fun."
Except, of course, on their wedding day, when the couple invited some 850 guests to help celebrate. Representing a nostalgic cross section of Garland's contemporaries (Gina Lollobrigida, Janet Leigh, Lauren Bacall),Gest's music-industry pals (singer Mya, Natalie Cole, the Jackson brothers) and the usual Big Apple party hoppers (Donald Trump,Martha Stewart, Liz Smith),the attendees filed into Marble Collegiate Church just before 5 p.m.
"Everyone was dressed in diamonds and furs," says Mya, a bridesmaid who had met Minnelli only twice before, first in September, when both performed at a Gest-produced Michael Jackson tribute concert, and then in December, when Minnelli asked her to be in the wedding. "It was incredible."
After the 36-member bridal party had assembled at the altar—including two matrons of honor (Taylor and Minnelli's Cabaret costar Marisa Berenson),13 bridesmaids, two best men (Michael and Tito Jackson),two ushers, 13 groomsmen, two flower girls and two flower boys – Minnelli finally made her entrance on the arm of her close friend, conductor Bill LaVorgna.
Clad in an ivory-crepe empire gown designed by Bob Mackie, the bride "looked gorgeous," says Rooney, 81, who arrived with his eighth wife, Jan, 63. After sharing a premature hug and kiss, the couple exchanged vows in a nondenominational ceremony (Minnelli is Catholic; Gest is half Jewish and half Christian)."
Gosh almighty, we had a few tears in our eyes," says singer Robert Goulet. After Minnelli joyfully declared, "David, you don't ever have to live life without me," her new husband replied, "Can I kiss you then?"
Ah, the Kiss. Guests couldn't stop talking about it. "He sucked her lips right out of her face!" says The View cohost Joy Behar. Asked what was his favorite part of the evening, Tito Jackson said of his friend Gest, "I had never seen him kiss anyone, so for me, seeing him kiss Liza like that was the most exciting." Added Trump: "I have been to many weddings, and I have never seen a kiss like that before."
Then again, this was no ordinary wedding. "The whole church was talked about as if it were a theater," says Mackie who first met Minnelli in 1963. "It was 'backstage' and 'You cue me!' It was all about a show." After the triumphant newly-weds exited down the aisle to the gospel song "Great Day," they were spirited via limousine to the Regent Wall Street Hotel, where they mingled with Mia Farrow, Rosie O'Donnell, Anthony Hopkins, Kirk Douglas, Dionne Warwick and just-marriedJoan Collins and Percy Gibson.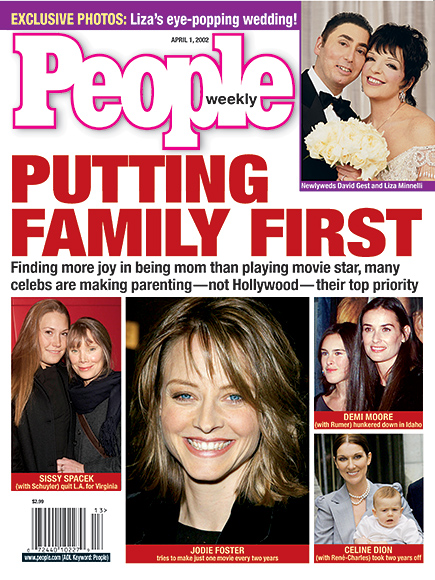 While Minnelli's half brother Joey Luft and half sister Christiana Nina Minnelli were there to wish their sister well, conspicuously absent was Minnelli's half sister Lorna Luft the daughter of Garland and producer Sid Luft. The pair – who were estranged throughout the '90s because of Minnelli's "self-destructive behavior," Luft has said – reconciled in 2000, when Minnelli suffered a near-fatal bout of viral encephalitis. But Luft, who is also a singer, attended Minnelli's engagement party last month in Los Angeles and said then that a long-planned performance in Australia would prevent her from appearing at the wedding. "She's happy, and I wish them the best," Luft said. Adds her father, Sid who attended the wedding with fifth wife Camille: "Since Liza met David, she's taken on a new life for herself."
A new body too. Overweight and depressed following her encephalitis battle, which temporarily paralyzed her from the waist down, Minnelli has lost 90 lbs. since September and credits Gest for the turnaround. "David inspired me," she says.
Good health has never been a Minnelli hallmark – not unlike Garland, who died in 1969 of a drug overdose at age 47. (Minnelli's father died of emphysema in 1986.) As Minnelli's career foundered – she has had few major successes beyond her 1972 Best Actress Oscar for Cabaret and the '81 big-screen hit Arthur – the star repeatedly battled alcoholism and drug abuse. She also divorced three times: in 1972 from singer-songwriter Peter Allen, who later died of AIDS; in 1979 from producer Jack Haley Jr.; and in 1992 from sculptor and producer Mark Gero.
Minnelli's current husband has considerably less experience walking down the aisle. Never previously wed, he says he came close "twice before" but declines to say with whom. Pre-Liza, he told Vanity Fair this month, he was "married to my career." Indeed, the ambitious Gest, who was born in Encino, Calif., where he grew up near the Jackson family (Michael, Tito et al were childhood playmates),landed his first job as a record publicist at age 17. Within two years he had started his own public relations firm in New York City, and since then he has steadily produced concerts and charity events.
It was during preproduction for September's Jackson concert that Gest and Minnelli began their romance. Still, Minnelli continued to battle her addiction to painkillers, and in December she checked into the Caron Foundation in Wernersville, Pa., for rehab. "He didn't know that I couldn't help the disease at that point, but he found out," says Minnelli. Adds Gest: "Liza has been great ever since she got out of the clinic. She's off everything and look at her – she's as fit as she was when she was in Cabaret!"
Though perhaps not quite as spry. But that didn't stop Gest and Minnelli, who wore a Mackie-designed red minidress to the reception, from hitting the dance floor when ex-Queen rocker Brian May belted out "We Are the Champions." As guests chomped on porcini-crusted beef and roasted halibut, a parade of performers took to the mike, including Gloria Gaynor ("I Will Survive"),Mya ("Lady Marmalade") and Andy Williams (" Our Love Is Here to Stay"). Michael Jackson offered a brief toast – the only one of the evening – before leaving to join an ailing Elizabeth Taylor, who was suffering from back pains and skipped the party.
"The whole place was jumping," says groomsman David Weild, vice chairman of Nasdaq. "About the only traditional thing was the cake-cutting ceremony. David put a spoonful of cake in her mouth in a very respectful way."
By the time the last guests trickled out around 2 a.m. – bearing red heart-shaped boxes of See's chocolates and cookies emblazoned with a portrait of the newlyweds – Minnelli and Gest were preparing to leave for London, where they will chat with Larry King via satellite, and then for their late-April honeymoon in Thailand.
When they return, they say they plan to adopt four children. "Liza is going to be the greatest mother you have ever met," says Gest. One thing is for sure: If the couple do adopt, their kids will be hearing wedding stories for years to come.
"This was a combination of the Oscars, the Grammys and the Golden Globes," says Minnelli pal R. Couri Hay, a public relations rep. "It was fabulous!"
• Reporting by REBECCA PALEY, DIANE HERBST, SHARON KRUM, NIC MCCARTHY, LISA PALLTA and RUTH ANDREW ELLENSON