Saudi stocks led Middle Eastern markets lower as oil languished near $40 a barrel and the Easter weekend holiday in Europe sapped volumes. Equities in Dubai extended the longest losing streak in more than two months.
The Tadawul All Share Index sank for a fourth day, losing 1.5 percent to 6,256.68 at the close in Riyadh. About 4.8 billion riyals ($1.3 billion) of shares traded, or 17 percent less than the market's daily average over the past year. Jabal Omar Development Co.'s 9.3 percent plunge was the biggest contributor to declines. The DFM General Index lost 1.2 percent on less than half the average daily turnover value over the past year. The Bloomberg GCC 200 Index, which tracks the biggest companies in the six-nation Gulf Cooperation Council, slid 1.2 percent.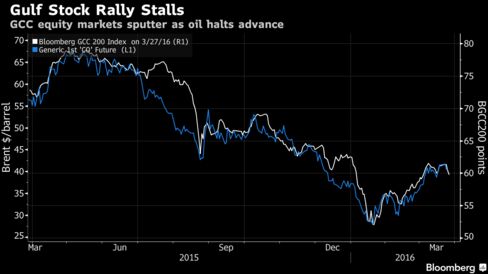 "Once again, a major public holiday in Europe and the U.S. has depleted GCC volumes, so today is irrelevant to an extent," said Akber Khan, who manages $850 million as senior director of asset management at Al Rayan Investment in Doha. "There are worries of some technical exhaustion given the strong market rally in recent weeks, and softer oil last week isn't helping either."
With about half of the GCC's population made up of expatriates, many of whom celebrate Christian holidays, and most school terms ending around the third week of March, trading volumes typically drop on Easter Sunday. That has compounded pressure on regional stocks as some traders seek to lock in profits following a recent surge in prices. Gulf countries, home to about 30 percent of the world's crude, rely on income from energy to fund spending. Brent crude posted its first weekly decline in five.
Gulf Drops
Abu Dhabi's ADX General Index lost 0.8 percent. Qatar's QE Index and Kuwait's SE Price Index declined 0.6 percent and 0.5 percent, respectively. The Bahrain Bourse All Share Index slid 0.1 percent, while Oman's MSM30 Index rose 0.1 percent. Israel's TA-25 Index retreated for a second day, losing 0.7 percent.
Egypt's EGX 30 Index lost 0.9 percent, the most in six weeks. North Africa's biggest economy, suffering from a dollar shortage, has attracted $500 million of portfolio investments since weakening its currency this month, central bank Governor Tarek Amer said in a televised interview on Saturday. The nation may lure as much as $20 billion of foreign cash by year-end as it pushes ahead with economic reforms, he said.