Scott Miller's Starting 9: Cubs, Bryce, A-Rod, Yankees and More…Do We Believe? – Bleacher Report
6 months ago Comments Off

on Scott Miller's Starting 9: Cubs, Bryce, A-Rod, Yankees and More…Do We Believe? – Bleacher Report
True fact: We are living in a world in which Mat Latos is 4-0 with an 0.74 ERA for the Chicago White Sox, and Adam Wainwright is 0-3, 7.25 for the St. Louis Cardinals. Yikes…
1. Best and Worst of First-Month Starts
The Cubs: Into this week, the Chicago Cubs Wrecking Crew Inc. owned a plus-68 run differential. Plus-68! Next-closest were the St. Louis Cardinals at plus-40, followed by the Washington Nationals at plus-44. For perspective, the total combined run differential of the first-place clubs in the AL East, Central and West was plus-25 (Orioles plus-14, White Sox plus-14 and a tie in the West with the Athletics at minus-four and Rangers at plus-one). Not only are the Cubs killing it with Anthony Rizzo, Kris Bryant and Co., Jake Arrieta already has thrown a no-hitter and has been so good he deserves his own category, coming up next.
For Real? The Cubs are real…and they are sensational.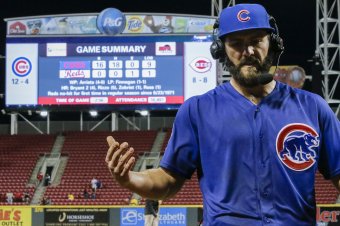 John Minchillo/Associated Press

Jake Arrieta: The game's best pitcher at the moment, bar none (including, Clayton Kershaw, David Price and, heck, I'll even toss in Mat Latos). When the finishing touches were placed on his no-hitter on Thursday night in Cincinnati, over his past 24 regular-season starts, Arrieta is 20-1 with an 0.86 ERA and two no-hitters. He's hung 24 consecutive quality starts, and in 14 of those, he's allowed zero runs.
For Real? Holy Amish-looking beard, Batman! Mark down the Cubs' acquisition of Arrieta and Pedro Strop in July 2013 for pitcher Scott Feldman and catcher Steve Clevenger as this club finally making up for that Lou Brock trade all those years ago.
Bryce Harper: Into Tuesday night's series opener against Philadelphia, Harper is the proud owner of one of the most astounding stats in the game: He's got nine home runs and nine strikeouts. After becoming the unanimous NL MVP last summer, Harper has spent the first month of this season stoking that old favorite debate point, who's the best player in the game, him or Mike Trout? Hint: Harper last year and so far this year has done the one thing he couldn't do early in his career—stay off of the disabled list. As he stays on the field, we're seeing greatness every night now.
For Real? New Nationals manager Dusty Baker spent the first couple of days this spring accidentally calling him "Royce" Harper. Let's just say ol' Dusty knows his name now, and his eyes twinkle when he says it.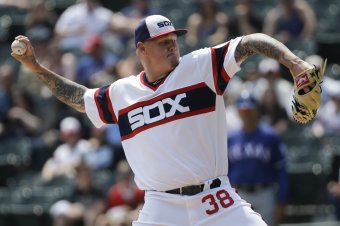 Nam Y. Huh/Associated Press

Chicago White Sox: Led by the Latos/Chris Sale tandem (and let's not forget Jose Quintana and Carlos Rodon), the Sox lead the American League in ERA (2.28), WHIP (1.02) and opponents' batting average (.204). That is far better than leading the league in jokes about kicking kids out of your clubhouse, which the Sox did this spring. Only thing hilarious about these Sox nowadays is how they're chewing up everything in their path even though the bats have yet to come out of the deep freeze.
For Real? Anybody depending this heavily on the flaky Latos is vulnerable. But look at it this way: The White Sox rank14th in the AL in runs scored (61), slugging percentage (.356) and OPS (.649), and with Todd Frazier, Melky Cabrera, Jose Abreu and Avisail Garcia swinging it in slugger-friendly U.S. Cellular Field, that will change as soon as the summer weather arrives. Look out, the Cubs are not the only club bringing sexy baseball back to the Windy City.
Baltimore Orioles: The O's will mash with anybody. One veteran scout who watched them this spring in Florida came away saying Baltimore has the most power in its lineup, top to bottom, that he's ever seen. Some are predicting Jonathan Schoop as this year's AL breakout player of the year. With Chris Davis, Manny Machado, Mark Trumbo, Adam Jones, J.J. Hardy and Pedro Alvarez aboard, O's batting practices are must-see.
For Real? Losing Yovani Gallardo to the disabled list (bicep tendinitis) weakens an already questionable pitching staff. Baltimore gets an enormous boost this week with the return of Kevin Gausman (right shoulder strain). How banged-up is Baltimore's rotation? On the depth chart it lists for the O's on Monday, MLB.com went only three deep on the five-man rotation. Good thing nobody is dominant in the AL East this year. So count this as a tentative yes in the "Are the O's for real?" department.
Washington Nationals: From the desk of the Nationals: Memo to all of those who fell in love with the New York Mets last October: We can still play, man.
For Real: Absolutely, unquestionably, yes. Don't be surprised if Dusty Baker winds up as NL Manager of the Year. He's been the calming presence and smart baseball man that this clubhouse needed.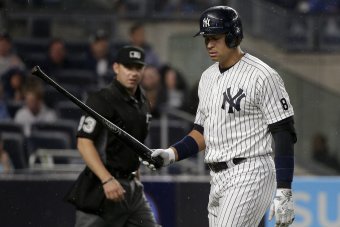 Julie Jacobson/Associated Press

The Yankees: Thud! That was the sound of the Yankees tumbling into the AL East cellar. Now, do they stay there? The tough, three-city, nine-game trip they're on right now to Texas, Boston and Baltimore is as unforgiving as Alex Rodriguez's aching oblique. The Yankees will get better—let's remember, suspended closer Aroldis Chapman hasn't shown up yet. But Michael Pineda has to be far better than he was on Sunday against Tampa Bay.
For Real? No. This is not a last-place club…unless age and injuries mug them for much of the summer.
Alex Rodriguez: Ugly slash line (.145/.242/.273), 19 strikeouts in 55 plate appearances and, now, an oblique strain. Suddenly, 40 is not the new 20.
For Real? This is what many of us expected last year. Does A-Rod have one more surprise up his sleeve? Maybe, but it is difficult to see anything like last year's offensive bonanza on the horizon.
Manny Machado: Leading the AL with a .380 batting average and a .746 slugging percentage and second with six home runs, Machado is the overlooked one when folks focus on the Angels' Mike Trout, the Blue Jays' Josh Donaldson and the Astros' Carlos Correa in the AL MVP discussion. Machado is only 23, has two good knees under him and is playing like a man driven for greatness.
For Real? Look out, this is the summer Machado chases the game's pinnacle.
Houston Astros: The nightmare continues in Houston, where the Astros battle to recapture last year's vibe (and victories). But at 6-13, things are piling up quickly. Colby Rasmus has been terrific; Carlos Gomez, not so much. One thing this club could use is the return of injured starter Lance McCullers Jr.
For Real? The Astros are far better than they're playing, and they're young enough to remain resilient. "I think they're pissed off," A.J. Hinch told reporters Friday night. "I think they're frustrated." We'll see where that takes them.
Hinch: "I think their p—-d off. I think they're frustrated."

— Brian McTaggart (@brianmctaggart) April 23, 2016
Trevor Story: Eight home runs, check. Thirty strikeouts in his first 75 at-bats, check. This kid has been sensational at times, and rookie-like at other times. Look for more of the same. He's going to homer a lot (especially in Coors Field), and he's going to strike out a lot. The Colorado Rockies will take what they can get in the post-Troy Tulowitzki era, especially with Jose Reyes expected to be released as soon as he's finished serving whatever punishment MLB hands out in Reyes' domestic violence case.
For Real? Enough to keep the (fill-in-the-blank) Story puns cooking.
Adam Wainwright: The Cardinals need all hands on deck to fend off the Cubs this summer. Good news is they've got their ace back after he missed almost all of 2015 with an Achilles tendon injury. Bad news is, Waino is struggling so far.
For Real? "He keeps working," Cardinals manager Mike Matheny says. "He'll find the feel for it. And once he does, it's going to be fun to watch."
Turner Field infield: It's been more (Tomahawk) choppy than the Braves this season, and being that the Braves were 4-14 heading into this week, that's a whole lot of divots and bad hops. ESPN.com reported that the Braves may file a complaint with the Players' Union, things were so bad.
For Real? Opponents have complained, but given Turner Field's lame-duck status (the Braves are set to move into a new park next season), those opponents may want to wear batting helmets onto the field to protect themselves against all of those unpredictable bounces.
2. Stephen Strasburg's Mystery Pitch
Dating back to last Aug. 8, Stephen Strasburg is 9-2 with a 1.98 ERA in his past 14 starts. During that time, he's fanned 123 batters and walked just 15. He also is authoring one heck of a mystery.
See, he's added a pitch. Or, rather, he's utilizing a pitch he's always had. And it has become quite a weapon, making him even more lethal.
It looks like a slider. New pitching coach Mike Maddux calls it a cutter, and first baseman Ryan Zimmerman described it to Chelsea Janes of The Washington Post as a 'cutter/slider thing.'"
Strasburg? He's yet to acknowledge it. Maybe by not talking about it, he figures, it will just add to the mystery and intrigue for hitters.
Regardless, according to FanGraphs.com, Strasburg has thrown a slider 14.3 percent of the time so far in 2016. Last season, he threw the pitch 0.5 percent of the time, and in 2014, he threw it 1.4 percent of the time.
3. Color Them Purple
When I saw Ken Griffey Jr. this spring and asked how his Hall of Fame speech was coming along, he acknowledged he hadn't started to write it yet. But he grinned, and said when he is inducted later this summer, maybe he will walk up to the podium and start this way:
"Dearly beloved, we are gathered here today to celebrate this thing called life."
It is the first line of the classic Prince song "Let's Go Crazy." And when the legend shockingly and tragically passed at 57 at home outside Minneapolis last Thursday, that moment with Griffey was one of the first things I flashed back to.
The gift of a truly great artist is that he or she touches so many people across so many walks of life in so many different ways. Prince did that in an enormous way, and even just a small glimpse of that was very evident in the baseball world over the past few days.
The Twins lit Target Field up in all purple after Prince's passing, they showed "Purple Rain" and the players wore purple armbands for Friday's game in Washington.
It also is tradition that the Minnesota veterans made sure the rookies knew all the words to "Little Red Corvette":
This is a #MNTwins clubhouse ritual. Veterans make sure rookies know the words to "Little Red Corvette."https://t.co/EwHJzxf6j5

— Minnesota Twins (@Twins) April 21, 2016
Meanwhile, Texas slugger Prince Fielder? Yep, named after Prince:
Prince Fielder was indeed named after the great artist who died today. Said his mother was big fan.

— Gerry Fraley (@gfraley) April 21, 2016
And in Cooperstown, this from Hall of Fame president Jeff Idelson:
In Coop 2c @baseballhall I asked @CSNofficial Graham Nash+ @kennyloggins to name a 5 tool musician. Both gave me same answer: Prince. RIP

— Jeff Idelson (@HallofFamePrez) April 21, 2016
And, several players used Prince songs for their walk-up music during games, including Alex Rodriguez ("Kiss," "Alphabet St.", "Pop Life"), Adam Jones ("Purple Rain," "1999"), Brandon Phillips ("Purple Rain"), Matt Kemp ("Let's Go Crazy") and Melvin Upton Jr. ("When Doves Cry").
4. This Week in Yasiel Puig
Two tremendous plays that you should see if you haven't already.
The first, this pea from right field:
The second, also in Colorado over the weekend, this catch:
Also, this while the Dodgers traveled last week. Puig is showing his lighter side this year:
I'm early, already on the plane, ready to fly, where are my teammates? Let's go! #PuigNotLate #roadtrip #dodgers pic.twitter.com/GKaOiYMawg

— Yasiel Puig (@YasielPuig) April 18, 2016
5. Pittsburgh's New Lumber Company
Clint Hurdle always has been sort of an avant-garde manager, and one of the ways he tracks offensive production is by a very different measure: The Pirates keep track of "productive team plate appearances," which are measured in one of eight ways per at-bat: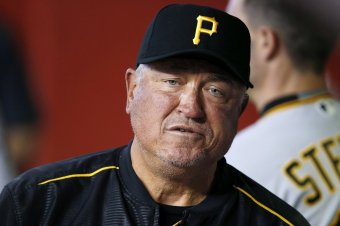 Ross D. Franklin/Associated Press

A productive plate appearance can be a hit, a walk, getting hit with a pitch, a sacrifice bunt, moving a runner from second to third, scoring a runner from third, a plate appearance of eight pitches or more and, finally, catcher's interference.
Hurdle and his staff want a minimum of 15 of these productive plate appearances per game, figuring if that happens, the victories will pile up.
Through Pittsburgh's first 15 games last week, Pirates hitters reached 15 productive plate appearances in a game 12 times, though they went only 7-8.
Hurdle credits Zack Rosenthal with creating the idea when he was managing in Colorado. Rosenthal is still with the Rockies, now their assistant general manager of baseball operations. Rosenthal, Hurdle said, hatched the idea after being influenced by former NFL coach Dick Vermeil's philosophy that teams win 70 percent of the time when they produce 50 or more plays per game that net positive yardage.
According to Hurdle and the Pirates' analytics department, a baseball team with 15 productive plate appearances per game should win 67 percent of the time. Stay tuned.
6. Weekly Power Rankings

Bob Levey/Getty Images

1. Prince: Baby, that was much too fast.
2. Bryce Harper: His pinch-hit home run to send Sunday's game with Minnesota into extra innings was just one more rabbit out of this guy's magical cap.
3. Jake Arrieta: Next chance to match Johnny Vander Meer's consecutive no-hitters: Wednesday night at Wrigley Field against the Milwaukee Brewers.
4. Washington Nationals: Hey! Remember us?
5. All-Star Voting: Open now. Start clicking to your heart's delight, just like Kansas City fans did last year in working hard to stack the American League team. Cubs fans? Your move.
7. Who Needs Matt Harvey and Noah Syndergaard?
When you've got Yoenis Cespedes (knee problems aside), David Wright, Neil Walker, Lucas Duda and a modern-day Murderers' Row like this:
The @Mets have hit 23 HR in their last 8 games. That's the most in an 8-game span in team history (via @EliasSports) pic.twitter.com/8MGGEJa4dC

— ESPN Stats & Info (@ESPNStatsInfo) April 24, 2016
And:
Neil Walker: 6 HR on 9-gm road trip, tying the most by a #Mets player on any road trip over last 12 seasons.

— Elias Sports Bureau (@EliasSports) April 25, 2016
8. Chatter
**Among the bright spots for the Baltimore Orioles so far: Left fielder Joey Rickard. "I couldn't believe Tampa Bay didn't protect him last winter," says one scout of the man Baltimore stole in the Rule 5 draft. "There was some mis-evaluation there."
**Word is former San Francisco ace Tim Lincecum is getting closer to a showcase for scouts, but nothing yet. It was supposed to take place in February, and then in March, leaving many scouts to surmise that he must not be as healthy as he hoped to be by now.
**There is little that Colorado's outstanding third baseman Nolan Arenado cannot do. A Gold Glover who makes one highlight-reel play after another, he also was hitting .275/.359/.982 into this week with seven homers and 17 RBI. "He's my favorite player," one scout says. "I love to watch him."
**Ron Gardenhire is back to the Minnesota Twins as a special assistant to general manager Terry Ryan. Gardenhire interviewed for manager jobs in Minnesota and Washington during the winter but didn't find a fit. It speaks to the quality of talent and people in the Twins' organization that not only is Gardenhire returning, but Billy Smith, who was fired as general manager in 2011, remained with the organization. The Twins have had only three men serve as GM since 1986: Terry Ryan, Smith and Andy MacPhail. They've also had only three managers since 1986: Paul Molitor, Gardenhire and Tom Kelly.
**Great line from St. Louis manager Mike Matheny on Friday regarding San Diego's late (7:40 p.m.) Friday night starts: "I don't have anywhere to go. And I don't have a paper route in the morning." He once delivered papers, though he never had his own route. He subbed for his brothers, who delivered the Columbus (Ohio) Dispatch.
**Some scouts are wondering whether something is physically wrong with Tampa Bay ace Chris Archer, who was 0-4 with a 7.32 ERA and a 2.085 WHIP entering Monday. A stellar 6.2 IP, 5 H, 0 ER, 10 K, 0 BB outing on Monday night against the aforementioned power-packed Orioles lineup may calm those fears.
**Things are described as being much looser in the Colorado Rockies' clubhouse this year with Troy Tulowitzki gone. The cumulative pressure of Tulowitzki's contract, the Rockies' failure to win and the constant speculation about what his future was last year reached a point where trading him was for the best.
**Nice day at the park last week for former big league catcher Terry Steinbach, who watched his son hit his first home run for St. Thomas University. Except, true story, Jake's home run smashed dad's windshield.
9. Big Papi, the National League and Flashing Leather
With Boston touching down in Atlanta for a three-game set with the Braves this week, worth noting is this: Since 2003, into Monday, the Red Sox were 47-23 (.671) at National League ballparks when David Ortiz starts at first base. When he doesn't? The Sox were 22-28 (.440).
Boston had won 40 of its past 54 interleague games in which Ortiz started at first base (74 percent), and since the start of the 2010 season, Ortiz had committed only one error in 33 starts at first base (231 total chances, a .996 fielding percentage).
Note: All above stats are via the Boston Red Sox game notes prior to Monday night's game.
9a. Rock 'n' Roll Lyric of the Week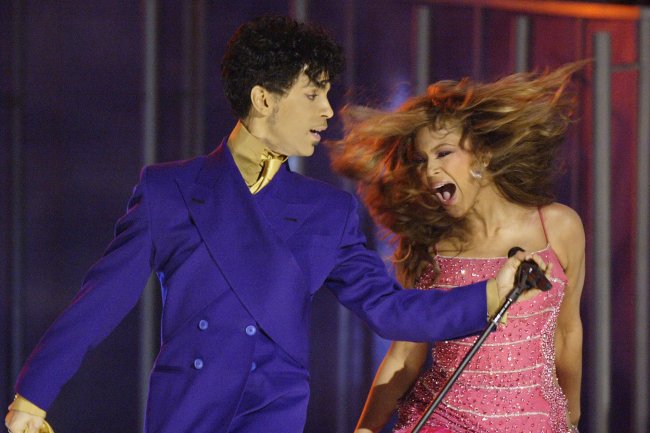 KEVORK DJANSEZIAN/Associated Press

We're going to miss you, Prince. Thanks for the treasure trove of music you leave us with. Nothing will compare to you.
"Springtime was always my favorite time of year
"A time for lovers holding hands in the rain
"Now springtime only reminds me of Tracy's tears
"Always cry for love, never cry for pain
"He used to say so strong, oh unafraid to die
"Unafraid of the death that left me hypnotized
"No, staring at his picture I realized
"No one could cry the way my Tracy cried
"Sometimes it snows in April 
"Sometimes I feel so bad
"Sometimes, sometimes I wish that life was never ending
"And all good things, they say, never last"
—Prince, "Sometimes it Snows in April"
Scott Miller covers Major League Baseball as a national columnist for Bleacher Report.
Follow Scott on Twitter and talk baseball.
Scott Miller's Starting 9: Cubs, Bryce, A-Rod, Yankees and More…Do We Believe? – Bleacher Report