Shake Shack: A Good Short Story Going Into A Rocky 2016 – Seeking Alpha
8 months ago Comments Off

on Shake Shack: A Good Short Story Going Into A Rocky 2016 – Seeking Alpha
Shake Shack (NYSE:SHAK) is a QSR chain with a total of 84 restaurants completed or near completion around the world, 44 of which are company owned and 40 of which are franchisees (per January 2016 investor presentation). Shake Shack went public on 01/30/2015 with a initial IPO price of $21/share and a closing price on its IPO day of $45.90. SHAK proceeded to double in value over the next few months reaching an all time high of $96.75/share on 05/22/2015. However, thanks in part to an increase in the company's float from lockout expiration SHAK's stock plummeted hitting an all time low of $30.00/share on 01/14/2016. Since SHAK's 52 week low, its shares have bounced to $41.23/share, and I believe this latest bounce represents a good opportunity to go short a stock facing a couple of serious short-term catalyst and long-term valuation issues.
Shake Shack's performance since IPO (Chart compiled from Yahoo Finance)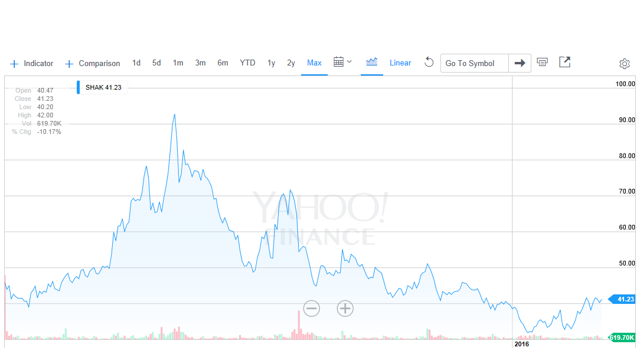 Click to enlarge
As seen in the chart above SHAK has fallen 10.17% during the first 12 months of being a public company.
Negative Catalyst for SHAK
Analyst Consensus
According to NASDAQ the consensus price target from sell side analyst following SHAK is $45/share. Currently, 5 analysts rate the company a hold, one analyst rates the company a strong buy, and one analyst rates the company a sell. It is important to note that most investors who bought the stock at any point in 2015 are down a considerable amount so far this year. Given the negative price action in the stock I believe analysts will have to cut their price targets going forward. If analysts cut their price targets, I believe SHAK will continue its downward trend.
Insider Selling
Over the past three months (as of 03/07/2016) their have been a total of 84 insider transactions. 87% of transactions were sales vs 13% which were buys. Furthermore, in the same three month period a total of 8,996,076 shares were sold by insiders vs. only 2,371,009 shares bought by insiders. Insider selling has two main negative effects on SHAK. The first one is an increase in the company's float. As SHAK's float increases the supply demand dynamic will change causing the shares to fall in price all else equal. Additionally, insider selling could make the market doubt the company's ability to meet its expectations. SHAK's valuation is largely dependent on its future growth rate and any actions that might cause investors to doubt the ability of SHAK to hit that growth rate could cause the stock to fall sharply.
Growth Decline
The chart below contains SHAK's growth figures for the past few years. (Historical earnings for revenues, and store count were compiled from SHAK's 10'Ks. 2015E, 2016E, and 2017E numbers were compiled from analyst consensus provided by Yahoo and Nasdaq.)

As seen from the chart above it appears growth has began to falter particularly when it comes to store growth with a growth rate of just 25% in 2016, down from 37% in 2015. Revenue growth is also expected to fall from 37% in 2015 to 21% in 2016. Furthermore, as SHAK continues to grow I believe SHAK's growth will continue to decline. Keep in mind SHAK is not a tech company that can grow its business as fast as it can add servers. SHAK is a brick and mortar business that must phsically build out space that in plans to use and attract a new set of customers. Growing brick and mortar businesses becomes increasingly more difficult as more locations are available. The amount of time and expertise it takes from going from 5 to 10 stores (100% increase) is much less than the time and expertise it takes to go from 200 to 300 stores (50% increase). Currently it appears analysts are not pricing in the difficulty of growing a brick and mortar business.
Valuation
SHAK's valuation has been egregious since its IPO price of $21/share. However, shorting a stock on valuation alone is to risky by my measure, in the words of John Maynard Keynes, "markets can remain irrational a lot longer than you and I can remain solvent." That being said now that the bubble has began to burst it is important to take a look at SHAK's valuation to try and discern a reasonable value for the tiny burger chain.
The chart below contains a comparison of SHAK's valuation metrics with other similar publicly traded companies. (Revenue and earnings for SHAK and HABT were based on annualized 2015 Q3 results. Revenue and earnings for JACK ad SONC were based on unadjusted TTM results.)

As you can see in the table above when comparing different metrics SHAK trades at a huge premium to the rest of the publicly traded companies in the same space. If SHAK were to trade at the same sales multiple as SONC (the company on the list with the second highest price/sales multiple) it would require a further 60% drop in stock price. Alternatively, if SHAK were to trade at the same P/E ratio as HABT(the company on the list with the second highest price/earnings multiple) it would require a further 62% drop in stock price. Lastly, market cap/store is not a regularly used metric; however, I think it helps illustrate just how overvalued SHAK really is. If you take SHAK's market cap and divide it by the total number of locations you arrive at a figure of early $15MM per location or about the price of a 200,000 square foot high-rise recently sold in my hometown. Regardless of how you slice it SHAK will require a very substantial drop in price before it represents any form of value.
Based on a PE comparison between SHAK and HABT (SHAK's closest competitor based on size and growth) SHAK should have a market cap of about $470MM or approximately $12.70/share. While this might seem extreme keep in mind SHAK's IPO had been originally priced at $14 to $16 per share prior to the final price of $21/share.
Trade Structure
For this trade I am using SHAK's IPO price of $21/share as my target price. I believe investors who were not able to receive shares during the initial offering could be buyers at the IPO price. A new influx of investors could provide short-term balance for SHAK's stock. I think the best way to play SHAK to the downside is buying SHAK's $42.50 strike June, 17 2016 puts. Using SHAK's June, 17 $42.50 put's closing price of $6.35/option as our desired entry point we would be risking $6.35/option and would have a return target of $21.50/option. This trade would roughly offer a risk/reward profile of 2.5:1. Using the June 17 puts gives us the most upside because they will benefit from two reporting periods. Given the short term negative catalyst and longer term valuation issues with SHAK, I would be willing to hold the short position throughout the rest of 2016 if prices remain elevated by the contract's expiration. If the company's fundamentals do not strengthen I would consider moving the trades price target closer to SHAK's intrinsic value of $12.70/share.
Conclusion
Even though Shake Shack is a good company, its stock valuation is nowhere near its intrinsic value of $12.70/share. Furthermore, as analyst begin to adjust their price targets in the coming weeks and the market becomes aware of the massive unloading of stock by insiders; I believe SHAK will continue to crater as the market tries to find its intrinsic value. I believe shorting SHAK at current levels through the options market could offer investors a excellent opportunity going into a rocky 2016.
Disclosure:I/we have no positions in any stocks mentioned, and no plans to initiate any positions within the next 72 hours.
I wrote this article myself, and it expresses my own opinions. I am not receiving compensation for it (other than from Seeking Alpha). I have no business relationship with any company whose stock is mentioned in this article.
Shake Shack: A Good Short Story Going Into A Rocky 2016 – Seeking Alpha