South Africa's rand fell for a second day, heading for its weakest level against the dollar in two months, after reports that police are set to arrest Finance Minister Pravin Gordhan over alleged irregularities at the nation's revenue service.
The currency declined as much as 2.1 percent to the weakest level on a closing basis since March 15 and was the worst performer among 31 major and developed-nation currencies monitored by Bloomberg. Two-week implied volatility rose to the highest since January and was the widest among emerging market currencies. Yields on benchmark government bonds due December 2026 climbed 14 basis points to 9.33 percent, the highest on a closing basis since March 29.
"People are getting tired of the circus and investors don't like uncertainty," said Warrick Butler, the Johannesburg-based head of emerging-market spot trading at Standard Bank Group Ltd., the continent's biggest rand trader. "The emerging-market universe has been a loser again today. The rand is the poor cousin because of the politics."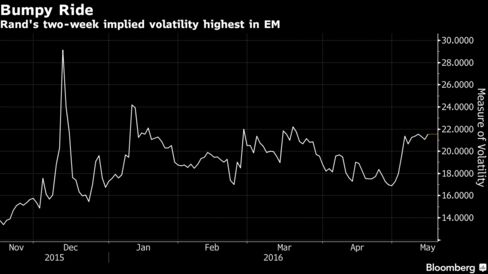 Gordhan is aware of plans to arrest him and described them as an effort to thwart his campaign to end government corruption, Beeld newspaper reported on Monday. President Jacob Zuma's office on Sunday denied the minister would be arrested, rejecting a report in the Johannesburg-based Sunday Times newspaper that prosecutors were studying a docket from a special police unit investigating a special agency set up within the national revenue service.
By 4 p.m. in Johannesburg, the rand was down 1.5 percent at 15.6304. A sustained break through 15.65 would probably push the currency back to the 16 level, Butler said.
Investors see the investigation against Gordhan as further evidence that Zuma, who last month lost a court battle to have a series of graft charges against him dropped and is facing accusations of giving jobs and government contracts to friends and family, is trying to get rid of the finance minister, according to Peter Attard Montalto, an emerging-markets strategist at Nomura International Plc.
Zuma was forced to reinstate Gordhan as finance minister in December after he unexpectedly fired Nhanhla Nene from the post and replaced him with a little-known lawmaker, raising questions about his commitment to fiscal targets and sending the rand and bonds tumbling. Gordhan, who had previously served as finance minister from 2009 to 2014, has pledged to curb government spending and rein in corruption as South Africa struggles to avoid a credit rating downgrade.
"We think that markets are vastly underestimating the political risk," Montalto, who predicts the rand will fall to 19 per dollar by year-end, said in an e-mailed note. "The arrest of a respected finance minister in order to engineer a reshuffle to achieve rent-extraction aims would be a major, catastrophic, market event from which it would be difficult to recover. We believe rating agencies would hold emergency ratings meetings straight after such events, with downgrades likely."
Ratings Companies
S&P Global Ratings is reviewing South Africa's BBB- credit rating on June 3. The government is meeting S&P and Fitch Ratings this week for final discussions on the ratings, the Johannesburg-based Business Day newspaper reported. A Bloomberg survey this month showed 12 of 13 economists expect S&P to cut South Africa to non-investment grade by year-end.
"We're looking at a tough trajectory for USD-ZAR going into the second half of the year as the bearish political narrative in South Africa only coincides with chinks in the global macro armor," said Roxana Hulea, an emerging market strategist at Societe Generale in London. "We certainly haven't seen the last episode of the long-drawn battle, but it should be clear to the markets that Gordhan's continuity is not a given fact."
Also weighing on the rand were data showing China's industrial production, retail sales and fixed asset investment growing at a slower rate than economists' expectations. China is the biggest buyer of South African raw materials, which account for about 60 percent of the country's exports.