Spurs stars Leonard, Aldridge step into a new kind of spotlight – CBSSports.com
6 months ago Comments Off

on Spurs stars Leonard, Aldridge step into a new kind of spotlight – CBSSports.com
PLAYOFF SCHEDULE | EXPERT BRACKETS
SAN ANTONIO — Kawhi Leonard and LaMarcus Aldridge did not come into this year's postseason with a great deal of built-up credit.
Leonard was a 2014 Finals MVP but, even then, he wasn't the man, making his name instead on the back of his defense against LeBron James and otherwise filling all the right gaps for the Spurs. Aldridge was a bona fide All-Star in Portland but had never stepped up beyond the first round. Neither were Tim Duncan in his prime, the caliber of player where you knew when they stepped on the floor they were going to be the best player on their team no matter what.
In Saturday night's 124-92 annihilation of the Oklahoma City Thunder, not only were Leonard and Aldridge the best players on the Spurs, they were the best players on the floor, period, and by a significant margin — as Russell Westbrook, Kevin Durant and the rest of the Thunder simply weren't ready to compete on this night.
Aldridge and Leonard dominated the Thunder, combining for 63 points on 28-of-36 shooting without having to step foot on the court in the fourth quarter. They were unstoppable in every sense of the word. If the Thunder left Leonard in single coverage, he pulled up. If they doubled Leonard, he found Aldridge for jumpers, including his first 3-pointer as a Spur.
Leonard had a disappointing series vs. the Clippers in the Spurs' first-round exit last season. He slowly vanished over the course of that series, particularly offensively, and without a major wing matchup for his defensive impact to show. He also had low-output games vs. the Warriors this season, prompting questions about whether he was ready to truly be the man on a championship level. Leonard answered those questions with a deafening roar in the affirmative, all the more stunning for a man who says almost nothing.
(Leonard declined to go to the podium for the postgame press conference, to the surprise of absolutely no one.)
But Leonard has shown this the past two years. He's evolved into this kind of top-flight player. The game was much bigger for Aldridge, who showed that you can build an offense around him, feed him constantly, and watch as he simply tears the opponent apart from midrange.
"Just one of those games," Aldridge said modestly. "My shot was falling for me. My teammates were looking for me. I just tried to stay confident the whole game and ended up making shots."
Aldridge and Gregg Popovich both hinted that this game was likely an outlier in terms of the Spurs' offensive performance, and on some level it has to be true. Repeating this kind of performance would be like painting the Mona Lisa twice. At one point Aldridge banked in a flip shot as he was falling down. It was just his night. And it wasn't OKC's.
"I think it was one of those where we had a great night and they had one of their bad nights," Popvich said. "We've been there before, it happens to everybody in the NBA, and perhaps that's what happened tonight."
It's kind of Popovich to downplay the result, but in truth, there was just no way to stop Aldridge and Leonard, not when Danny Green was also cooking, going 5-of-6 from 3-point land. Not when Leonard was all over Durant defensively and Aldridge helped the Spurs guide Westbrook to help while grabbing two blocks himself.
You could tell, Aldridge and Leonard started to find chemistry in this game. They've worked on it all year, but Leonard only assisted on 43 buckets for Aldridge all season, the same number Tim Duncan provided in far fewer minutes. On Saturday, the two found one another consistently, with Aldridge repeatedly giving Leonard the nod for the good looks he provided.
"He's been great all year," Aldridge said of Leonard. "Offensively, defensively of course. He draws two guys every time going to the basket or playing one on one. And I had it going a little bit and he found me out there. He's a very unselfish guy. He just takes what the game gives him out there."
Aldridge had it going a little bit, he says?
He had 38 points, 25 in the first half, on 18-of-23 shooting in just 30 minutes.
Going deeper, Aldridge shot 13-of-15 from the midrange, where he can continue to hurt this Thunder team — particularly if they don't clean up their pick-and-roll coverage — all series long. Aldridge planted a flag on Saturday night as big as the one the Spurs' coyote waves at midcourt. Only this flag said "best big man in the playoffs" and a rain of Spurs fire followed behind it.
Trying to figure out how to stop that combination of Leonard and Aldridge will plague the Thunder until Game 2. They'd better come up with better solutions in a hurry. If they don't, this series that was supposed to be a heavyweight matchup will have already gone a long way toward being over.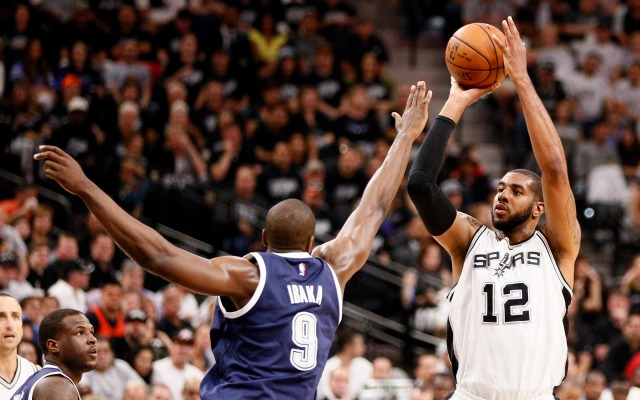 Spurs stars Leonard, Aldridge step into a new kind of spotlight – CBSSports.com