Steelers' Martavis Bryant appealing 1-year suspension: 5 things to know – CBSSports.com
8 months ago Comments Off

on Steelers' Martavis Bryant appealing 1-year suspension: 5 things to know – CBSSports.com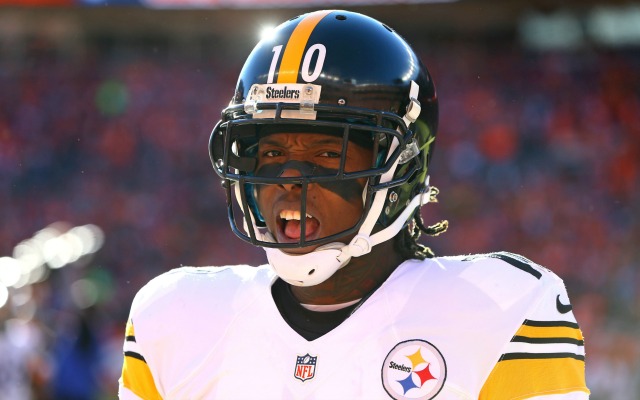 Even before the season begins, the Steelers' fortunes took an ugly turn. Suddenly, their chances to build on this past season's playoff berth and offensive explosion appear substantially less likely. Because on Saturday, the Steelers are faced with the possibility of playing the 2016 season without one of their top playmakers.
As first reported by Dejan Kovacevic and Jason Mackey of DK Pittsburgh Sports, Martavis Bryant is facing a year-long suspension for violating the NFL's substance abuse policy. CBS Sports NFL Insider Jason La Canfora also provided confirmation that Bryant is appealing.
Count among the myriad to confirm Martavis Bryant is appealing a 1yr suspension. As @Dejan_Kovacevic first reported

— Jason La Canfora (@JasonLaCanfora) March 12, 2016
If Bryant fails to win his appeal, the Steelers will be without a receiver who caught 50 passes for 765 and six touchdowns in 11 games this past season. They'll be without a receiver who is coming off a playoff run that saw him haul in 14 passes for 183 yards and a touchdown.
"Per team policy, we'll have no comment until there's an announcement from the NFL," Steelers spokesman Burt Lauten told DK Pittsburgh Sports.
Here are five things to know about Bryant's suspension:
1. Bryant's appeal
Bryant won't go down without a fight. As noted above, he'll appeal his season-long suspension. Now, with that being said, Steelers fans shouldn't hold onto much hope for a successful appeal. After all, the CBA is pretty clear on the NFL's drug policy.
#Steelers WR Martavis Bryant is appealing his yearlong suspension for violating @NFL substance abuse policy. CBA spells it out clearly tho.

— Ian Rapoport (@RapSheet) March 12, 2016
Tough road for Martavis Bryant, sources say suspension involves more than one new violation, appeal may be difficult process

— Aaron Wilson (@AaronWilson_NFL) March 12, 2016
As Kovacevic and Mackey wrote in their initial report, "League policy calls for a full season as the next level for a second suspension."
2. This isn't Bryant's first suspension.
And that brings us to Bryant's first suspension. Bryant missed the first four games of last season reportedly due to marijuana use. Bryant failed in his appeal of that suspension.
When Steelers general manager Kevin Colbert commented on Bryant's past suspension, he said, "It is very unfortunate his actions have put our team in this situation to begin the year, but we are confident he will learn from his mistake."
Bryant apparently didn't learn from his mistake, even if he reportedly worked with a counselor after his suspension. At this point, it's unknown when Bryant failed another drug test. Then again, that aspect seems irrelevant.
Bryant messed up … again. And Bryant — and the Steelers — are paying the price.
3. Why Bryant fell to the fourth round
Despite his immense talent, Bryant fell to the fourth round of the 2014 NFL Draft. Leading up to that draft, this is what NFL analyst Mike Mayock had to say about Bryant's NFL prospects:
"Bryant has a crazy wide receiver skill set, but he's a one-year wonder. This guy has some scary talent, but also some immaturity issues."
Key words: "Immaturity issues."
4. The Steelers are (sort of) prepared for this.
Well, the Steelers were at least somewhat prepared to face life without Bryant. In fact, one reason why the team selected Sammie Coates in the third round was due to Bryant's four-game suspension.
"We are not surprised by it," head coach Mike Tomlin said in September, via the Pittsburgh Tribune-Review. "We have known about the possibility of it for some time and in a lot of ways it directed our course of action throughout the offseason, specifically the drafting of Sammie Coates, because of the potential of this event."
Coates caught one pass last season. He caught two passes in the playoffs.
The team also re-signed Darrius Heyward-Bey and signed tight end Ladarius Green this week. They still have two top-notch running backs in Le'Veon Bell and DeAngelo Williams. And, of course, Ben Roethlisberger still resides at quarterback.
As a whole, their offense still projects as an explosive one.
5. Still, Bryant will be missed.
But, those three receivers probably don't inspire much confidence. And they shouldn't — at least when it comes to the task of replacing Bryant.
My mood:

— DeAngelo Williams (@DeAngeloRB) March 12, 2016
In 21 career games, Bryant has racked up 76 receptions, 1,314 yards, and 14 touchdowns. He's averaged 17.3 yards per catch.
He's done stuff like this:
There's a reason Martavis Bryant's nickname is "Alien."

This somersault TD catch is pure insanity. #PITvsCIN https://t.co/nswMny6nxq

— NFL (@NFL) January 10, 2016
Assuming his suspension holds up, Bryant will be missed by a team that will enter the season as a top playoff pick.
Steelers' Martavis Bryant appealing 1-year suspension: 5 things to know – CBSSports.com