After the bell on Wednesday, Tesla Motors (NASDAQ:TSLA) issued its Q4 report. While the quarter's results were awful, the shares jumped thanks to the company's 2016 guidance. Unfortunately for Tesla, there is still a lot to prove. Management continues to move the goal posts forward in a big way, which is why investors had recently pushed this stock to new yearly lows.
Tesla management does have a credibility problem, which is why I don't exactly believe every bit of their 2016 guidance. In fact, the 80,000-90,000 delivery number is a reduction of their original forecast for the year. That's after handily missing their initial delivery guidance for both 2014 and 2015. With the shares so far off their highs, I thought management had an opportunity to be more conservative with guidance, potentially in the 70,000s. This did not happen, so investors will be wondering if the company will be forced to reduce this forecast sometime in 2016.
Production of the Model X will be the most important factor in deliveries for this year. Management hopes to approach 1,000 units per week sometime during Q2, with an average somewhere around 700 or 800 per week for the second quarter. While this is a nice jump from where the company was at the end of December, it was just a few months ago that some bulls were looking for production of 800 units per week in December 2015. Tesla is way behind that.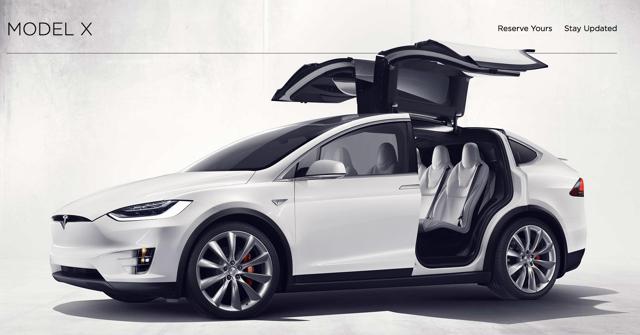 Source: Tesla
The other item to note is that guidance stated that "Model S gross margins should begin to approach 30% by year's [2016] end". While improvement is always welcome, it was a year ago, with the Q4 2014 investor letter, that management was guiding to 30% Model S gross margins for Q4 2015. Pushing back the timeline a year is troublesome given the company's current financial situation.
That gets me to the bottom line number, and for Tesla, I'm talking about non-GAAP profitability. Management guided to non-GAAP profitability for 2016, and this is the number I question the most. Tesla management had originally stated that 2015 would see dramatic improvement in non-GAAP profitability from 2014's profit of $0.14 per share. In the end, the company lost $2.30 per share on a non-GAAP basis. The chart below shows how analyst estimates came down tremendously over time, and yet, Tesla still announced a number that was way worse than anyone expected. On a GAAP basis, the company lost almost $7 a share.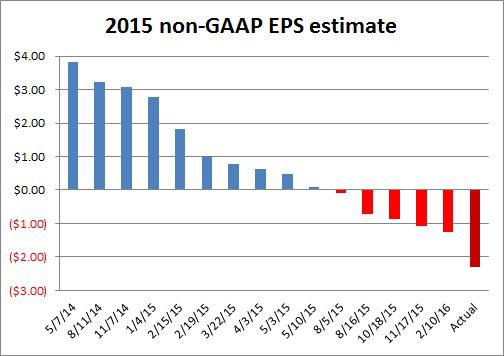 Tesla management can certainly talk the talk, but can it walk the walk? 2016 guidance implies an acceleration of delivery growth, which makes sense given the ramp in Model X production. But who's to say there won't be another issue? Another delay of a week or two here or there may not seem like much at the time, but if the company pushes back the last week in the year's 1,500 or so units, it is quite significant.
While the company can cite one-time issues that caused larger-than-expected losses in 2015, what's to say more issues won't crop up? Also, for Tesla to just say it will achieve non-GAAP profitability is likely seen as a disappointment. Analysts were looking for a profit of almost $2 a share going into this report, and that was after some huge reductions seen below.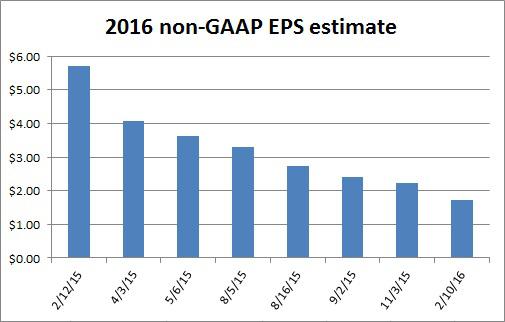 As for Tesla shares, it wouldn't surprise me if they see a little relief rally in the short term. Going into Wednesday's close, the stock was down nearly $100 so far this year, and short interest was about 30% of the float at the most recent update. There will be some buyers that liked the 2016 guidance, and probably some more who want to jump in before the late March reveal of the Model 3. But in the long term, it will be results that do the talking, and if Tesla announces more bad quarters like Q4, the stock will ultimately head lower.
(Source: All financials and results discussed in Tesla's investor letters, which can be seen here, and estimates from Yahoo Finance seen here.)
Disclosure: I/we have no positions in any stocks mentioned, and no plans to initiate any positions within the next 72 hours.
I wrote this article myself, and it expresses my own opinions. I am not receiving compensation for it (other than from Seeking Alpha). I have no business relationship with any company whose stock is mentioned in this article.
Additional disclosure: Investors are always reminded that before making any investment, you should do your own proper due diligence on any name directly or indirectly mentioned in this article. Investors should also consider seeking advice from a broker or financial adviser before making any investment decisions. Any material in this article should be considered general information, and not relied on as a formal investment recommendation.