There's a reason the axiom 'don't fight the Fed'—or any central bank, for that matter—is a tried-and-true one for investors.
Traders betting against the Chinese offshore yuan learned this lesson the hard way back on Jan. 10: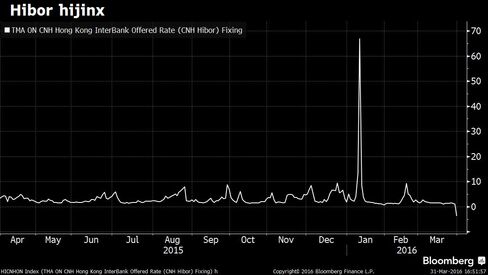 On that day, the overnight Hong Kong Interbank Offered Rate (Hibor), which is used as a benchmark for loans denominated in the offshore currency, surged to its highest level ever amid suspected intervention by the People's Bank of China aimed at draining liquidity to inflict pain on short-selling speculators and deter others from following in their footsteps.
For speculative shorts, this spike meant that the cost of borrowing the currency to sell it short increased abruptly and significantly.
The outsized ability of Chinese policymakers to exert control over financial markets and punish speculators in this fashion is a major reason why some investors betting on weakness in the currency, including Pershing Square Capital Management's Bill Ackman, have chosen to use put options to protect their portfolios from FX risk.
That jump in interbank rates wasn't indicative of a broader issue with liquidity, and the scope for it to spill over into onshore rates appears limited due to the segregation of the markets. But that's not to say that these interventions can't have unforeseen negative side effects.
In early February, HSBC Holdings PlcAnalyst Helen Huang highlighted how China's battle with speculators was adversely affecting one avenue through which private firms access credit.
Dim sum bonds—or debt denominated in renminbi but issued outside of China—fell to their second lowest level in four years in January amid elevated currency volatility and Beijing's market interventions.
"Though volatile and unpredictable liquidity conditions may increase the borrowing costs of short sellers of [the offshore yuan] and thus help stabilise the [offshore yuan] spot exchange rate, they certainly do not help to increase the attractiveness of [the onshore renminbi] to offshore savers and investors," she wrote. "As both offshore RMB deposits and the supply of Chinese investors from onshore drain, issuers may find it difficult to print new bonds."
Though the volume of dim sum issuance isn't immense, it's unclear whether the effects of intervention on the real economy of this nature are top-of-mind for Chinese policymakers. To be sure, there are good reasons why Beijing is willing to battle speculators head on. For instance, these high-profile bets on a weaker currency may have made policymakers less willing to cut interest rates for fear of eliciting the build-up of more short positions as well as capital outflows.
But how things change in fewer than 90 days.
On Thursday, the overnight Hibor fell into negative territory. This move, on the last trading day of the first quarter, looks a lot like 'window dressing' with Chinese characteristics.
The reserve ratio requirement for offshore banks is determined by the account balance at quarter end. As Standard Chartered Plc Senior Rates Strategist Becky Liu told Bloomberg News, the move into negative territory is a function of banks "trying to lend out as much as they can to reduce the amount of money that will be locked up for three months."
This flood of supply has made it much cheaper to borrow yuan to re-initiate shorts if speculators choose to do so. Not that the trade's been a profitable one in 2016, with the Chinese onshore yuan gaining modestly against the U.S. dollar.
Benchmark interest rates aren't supposed to behave like this. Consider a chart of the overnight London Interbank Offered Rate (Libor), Hibor's overseas cousin: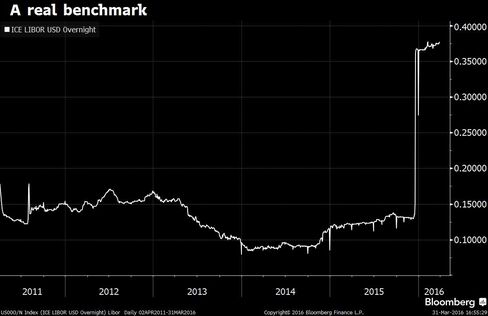 The biggest step-jump in Libor occurred for good reason—the Federal Reserve raised interest rates for the first time in almost a decade in December. Meanwhile, the overnight benchmark's idiosyncratic spikes over this stretch were nowhere near the magnitude of those seen in Hibor this year.
As such, the gyrations of Hibor may prove another example of China's reluctance to fully embrace market forces, and embody the learning curve that policymakers face as they pursue the internationalization of the currency and rebalancing of the economy, and also hint at the potential for missteps along the way that could wreak havoc on financial markets.