Timberwolves' young trio rises to occasion to kick off All-Star weekend – CBSSports.com
11 months ago Comments Off

on Timberwolves' young trio rises to occasion to kick off All-Star weekend – CBSSports.com
TORONTO — The Minnesota Timberwolves have won 17 of their 54 games this season, and many teams would love to trade places with them. Rebuilding franchises spend years hoping for someone like Karl-Anthony Towns or Andrew Wiggins to fall into their laps. The Timberwolves happen to have both of them, plus Friday's Rising Stars MVP and reigning dunk contest champion, Zach LaVine. At All-Star weekend, Minnesota won't be represented in Sunday's showcase, but its bright future will be on display everywhere else.
LaVine said Friday morning that he wanted to win MVP because Wiggins did it last year. At night he got what he wanted, scoring 30 points on 13-for-20 shooting with seven rebounds and four assists in the USA's 157-154 win over the World team. Wiggins, a Toronto native, wasn't mad about LaVine stealing some of his thunder at home.
"I got it last year, he got it this year, KAT's gonna get it next year," Wiggins said. "Three Timberwolves, back-to-back-to-back. That's the plan."
The Wolves' plan is close to foolproof, even if watching them this season can be frustrating. You see a highlight dunk here, a ridiculous rejection there and then they'll surrender a few wide-open 3-pointers. Such is life with three 20-year-olds featuring so prominently, but it seems like their ascendance is more a matter of when than if. Even now, they have people's attention.
"I look at that team and they kind of remind me a lot of us my first year," Golden State Warriors forward Draymond Green said. "A lot of young talent and guys that just gotta figure out the way. And they will. I'm just looking forward to watching."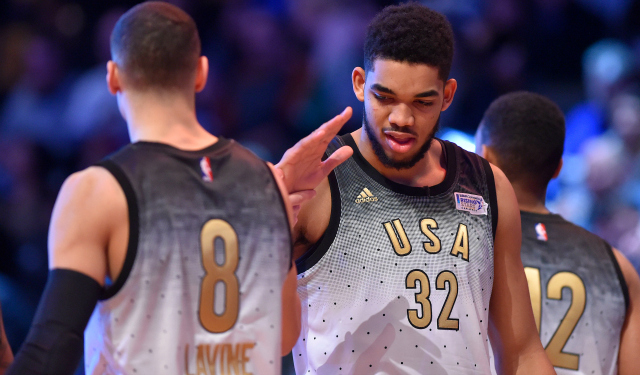 Towns, who had 18 points, seven rebounds and four assists in the glorified pickup game, will be the public face of the franchise if he is not already. Green called him "amazing" and "a special talent," adding that he didn't know the 7-footer had so much range when he came out of Kentucky. Towns is producing like Hakeem Olajuwon did as a rookie, and something catastrophic would have to happen for him not to win Rookie of the Year.
He's the type of guy who will tell you that the award is his last priority, though. He wants wins, and he called everything else "fluff."
Towns is also the type of guy who, after scoring 32 points on 13-for-17 shooting, with 10 rebounds, told reporters with a straight face that he was "absolutely atrocious," "terrible" and "played like crap." He was upset about a few turnovers, missed free throws and defensive mistakes.
Ask Towns about his running mates, though, and get ready for a string of superlatives.
"[Wiggins] is the pinnacle of a teammate," Towns said. "He thinks of all of us first before himself. He does everything we would love for him to do and does what we need him to do. He's everything. He's everything to us. His personality shines with us, and you know, it's just one of those things when the aura goes up when he's in the gym because of his energy, his positivity."
Towns and Wiggins are the NBA's last two No. 1 picks, and they've been in the spotlight since high school. Towns is a million times more comfortable in front of cameras, but he called Wiggins a jokester in the locker room. LaVine said "the real Andrew" is the one that talked trash to him before Friday's game, saying that he wanted to dunk on him and score 50 points. He added that Wiggins is his best friend in the league, and the Canadian has had bragging rights since last year's game.
"We've had a little bit of an ongoing bet, conversation going on, so I'm just trying to go out there, have a good time and compete with each other," LaVine said in the morning. "And put on a show. That's what we're here for."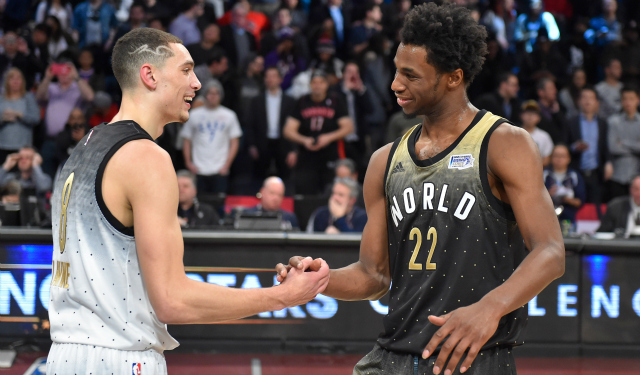 LaVine was the star of this particular show, sinking a couple of effortless 3s and flying around the rim. He's by far the least polished of the group, but his potential is impossible to ignore. The whole league is waiting to see what he does in Saturday's dunk contest, and Towns, who was given a sneak preview, encouraged everyone to get popcorn ready — LaVine is taking over All-Star weekend.
"It's like he's extra-terrestrial," Towns said of LaVine's hops. "He's not from here. It's not something humans are supposed to be able to do."
An event like Rising Stars is mostly meaningless, but it was a glimpse of the potential in Minnesota. In the fourth quarter, Towns ran a fast break like a guard and threw an alley-oop pass for LaVine to flush. On the next possession, Wiggins, who had 29 points and made 13 of his 15 shots, sprung off the floor and dropped in an acrobatic layup. While it's never this easy with real, regular-season defense, their highlight plays felt familiar. There's much more of this to come.
"They have a great core," Miami Heat forward Chris Bosh said. "They just have to continue to get better and just keep working and just go through the growing pains. That's what it's about. Sometimes losing builds character. It makes you want to compete. And they're competing in every game. Even if they come up short, their record doesn't reflect how talented they are."
The NBA is a star-driven league, and the only time that's more obvious than this weekend is May and June. The young Wolves aren't ready for the big stage yet, but they know what they're building toward.
"All of us want to play on that Sunday game one day," LaVine said. "And I feel like we're all going to get there. But it takes time, the process, so we're just trying to take it one step at a time and enjoy each day."
Timberwolves' young trio rises to occasion to kick off All-Star weekend – CBSSports.com