Travel guide to… Gourmet Italy – The Independent
6 months ago Comments Off

on Travel guide to… Gourmet Italy – The Independent
There's no such thing as "Italian food". In Italy, arguably more than anywhere else in the world, food is supremely site specific, which makes for a great excuse to get out, explore and eat. From the infinite varieties of sun-ripened grapes and grains that carpet the country's hillsides, to the olive trees and pungent, often priceless tubers that have, for centuries, taken root in its rich red soils, produce here paints a very detailed culinary map of Italy's mainland, and seafood-blessed beaches and islands. 
This is the ultimate locavore destination with every recipe defining a region, a city or, in many cases, a teeny hilltop hamlet. It's no wonder the Slow Food movement started, in 1986. Its birthplace, Turin, is the place to celebrate Slow Food's 30th birthday this year, the highlight of which will be the country's premier Slow Food culinary shindig, the Salone del Gusto (22-26 September; salonedelgusto.com), which also reaches the ripe old age of 20 – so expect a big feast. This year organisers are trying to hold as many events as possible in outdoors spots, so expect some big al fresco feasts.
The surrounding region of Piedmont is one of the best places to immerse yourself in Italy's most refined culinary traditions – a land with the richest of pickings, from grapes that produce such celebrated wines as Barbaresco, Gavi, and Barolo – to risotto rice, gorgonzola cheese and white truffles. Add to this the IGP (protected origin) hazelnuts that make gianduja chocolates (from which Nutella took its inspiration) and you have a menu to marvel at. But for all its Slow Food and Savoyard heritage (Turin was home to Italy's only royal family, the House of Savoy) gourmet travel in Piedmont needn't be stuffy. There are plenty of trips that take active travellers romping through the heart of its hazelnut groves, rural vineyards and medieval villages, including a self-guided walking tour with Inntravel (inntravel.co.uk), starting in Turin, staying in the Bra (where the Slow Food movement began) then travelling on to a historic vineyard in the Barolo region, with the chance to taste everything from cheese and chocolate to wine. From £980pp including seven nights' B&B, three dinners and rail transfers (flights extra).
Biking and hiking into Italy's backcountry is becoming a more and more popular way for culinary travellers to explore, journeying to Italy's finest food producers, working off a bit of the excess along the way. Formerly humble agriturismi are upping their game to tempt visitors with refined-yet-rustic accommodation. Here, you will increasingly find unpretentious, organic food contrasting with high thread-count cotton sheets, infinity pools among the vines, and hands-on, harvest-to-kitchen classes that culminate in wine-pairing dinners under frescoed ceilings.
Italy's farms are not the only places to benefit from this boom in high-end culinary tourism – food is becoming central to the alberghi diffusi or "scattered hotels" concept that transforms abandoned rural hamlets into luxury retreats. Travellers can step into a version of village life that is carefully curated, and increasingly food-orientated, with a rising quota of celebrity chefs. If you're not tempted by the Gordon Ramsay restaurant at Tuscany's Castel Monastero (castelmonastero.com), try nearby Borgo San Pietro (borgosantopietro.com) a restored hamlet centered around a 13th-century villa and organic farm, that comes with its own cookery school and the Michelin star-awarded Meo Modo restaurant, headed up by Andrea Mattei.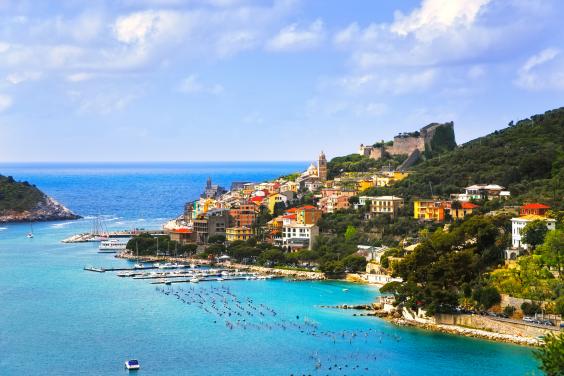 Liguria
The world pesto championship takes over Genoa's Palazzo Ducale this weekend (16th April; pestochampionship.it). With their enviable cliff-top habitat overlooking the Ligurian Sea, Genoese basil leaves are Italy's best: small, bright and, locals will tell you, perfumed by the briny breeze. 
Take a spring city break to enjoy Liguria's busiest sagra season (festivals dedicated to specific foods and their harvests). The deep crescent bay and pretty painted houses of nearby Comogli have always been home to a community centred around fish, but during the Sagra del Pesce, the town come together around what's said to be the largest frying pan in the world for a giant cook off (camogliturismo.it).
Meanwhile south, in the hiker's haven of Cinque Terre (comunemonterosso5terre.it), five teeny fishing towns linked by coast path, lemons are the focus of foodie love. The houses of Monterosso compete with lemon-themed window displays, streets are lined with stalls selling citrus goods: limoncino, lemon cream, preserves and cake along with fruity processions that attracts priests and pagans, fisherman and farmers alike. Italian Connection (italian-connection.co.uk) has a seven night trip to Liguria, including B&B, car hire, national park passes and flights from £1,250pp.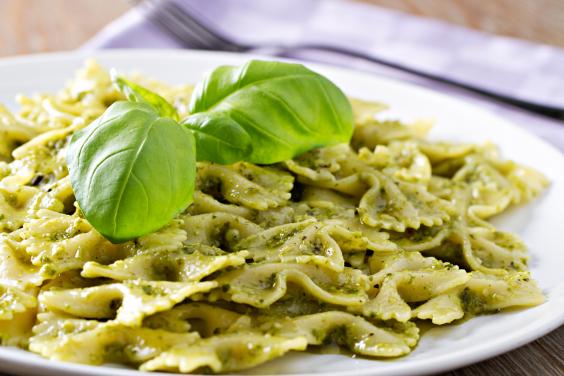 The Dolomites
This summer, two-Michelin-starred St Hubertus in the Alpine town of San Cassiano celebrates 20 years at the forefront of the Italian South Tyrol's food scene. This is Italy's most Michelin-star-awarded region, but the attitude here is determinedly earthy. St Hubertus' chef Norbert Niederkofler is a pioneer of the "cook the mountain" movement that aims to bring about a renaissance of ancient alpine produce, from graukäse ("grey cheese") to obscure carrot varieties. 
In June Rosa Alpina Hotel & Spa (rosalpina.it), at which St Hubertus is based, will celebrate its birthday by serving a different dish and wine pairing from each year of the restaurant's history, along with guided mountain food hikes and cookery tours with Norbert. Four nights' accommodation costs from €1,050pp including tours, classes, a picnic and dinner at St Hubertus.
In winter, taste more of the region's cuisine with a gourmet snow safari that calls in for lunch at a choice of seven rifugios (alpine huts) dotted around the Alta Badia ski area, where Michelin-starred chefs serve local specialities paired with wine. A sky-high experience but not prices: four courses with wines from €40pp (altabadia.org).
Emilia Romagna
Parmesan, prosciutto di Parma, balsamic vinegar, tortellini: you could fill this feature alone with the gourmet gifts the Emilia Romagna region has bestowed upon the world's tables. Where to start? A fine place is Antica Corte Pallavicina (anticacortepallavicinarelais.com), a farm estate overlooking the Po River, home to prize pigs whose rumps produce a Culatello di Zibello, a musky-sweet, cellar-cured ham that makes even premium prosciutto seem lacklustre. Visit these pungent, venerable cellars on an hour's tasting tour, or book into the estate's fine dining restaurant, headed up by the sausage maestro himself, Massimo Spigaroli. Stay over in one of six rustic-elegant guest rooms, from €180 a night, B&B.
Really want to work up an appetite? The Food Lover's Francigena Way tours are two-week guided hiking breaks that travel from Parma to Rome along part of the ancient route that took pilgrims from Canterbury to the Holy See, with plenty of chances to indulge sinfully en route. Utracks (utracks.com) offers the tours from £2,625pp, including accommodation, tours, tastings, cooking classes and most meals. Flights extra.
Puglia
The hills of Italy's sun-bleached boot are rendered surprisingly verdant by acre upon acre of centuries-old olive trees. Once among the country's poorest regions, Puglia's land is nonetheless rich, its deep red soil producing everything from olives and potatoes to myriad varieties of ancient, almost-forgotten grain. Back in the 19th century, fields of the latter were harvested, clear-cut and burnt, before farm workers were allowed their wage-crops, resulting in the grando bruciato (or grano arso) "scorched" or "black" grains, a peasant food that is now the toast of food bloggers.
Try this classic "cucina povera" dish in Puglia's deep south region of Salento, served with crumbles of salty local cheese at the family dining room-style Gustavo Ristoro (00 39 345 615 5711). Stay in nearby Nardo, whose Baroque palazzi are lately being revamped by investment-savvy Northern Europeans, including a studio and a two-bedroom apartment beautifully done out by a Boho' ex-pat Belgian couple (nardosalento.com). From €70 (£54) per night, room only.
Alternatively, book into one of the numerous rural masseria (farm house) lately being reborn as swish resorts, and learn about the (late summer) olive harvest while dining on olive-centric cuisine that has its roots in cucina povera but comes with an aesthetic, and cost, that's far from – such as the new Masseria Trapana (trapana.com), set in 600 acres of olive groves, with rooms from €375, B&B.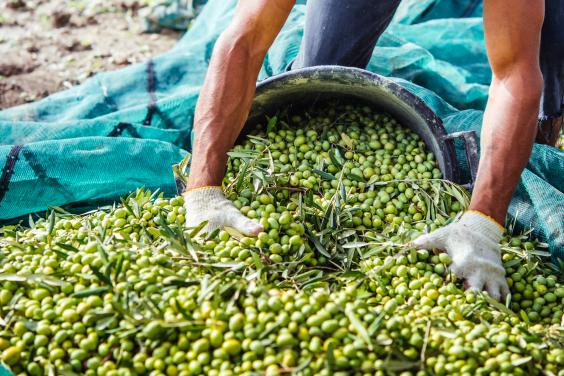 Sicily
New for this year, Headwater (headwater.com) is offering the self-guided Taste of Sicily biking tour, taking in some of the island's Unesco sites, vineyards and food-focused hotels. Highlights include the town of Modica, Baroque capital of Sicily with its 29 churches and two cathedrals, along with the fishing villages of Punta Secca and Sampieri (home to TV's inimitable Inspector Montalbano). The 10-night trip costs from £1,697pp including flights, B&B, six evening meals, bike hire, luggage transport, maps and cycling route notes.
Offering culinary tours with more mental sustenance, this year wine holiday operator Arblaster and Clarke (winetours.co.uk) has teamed up with archaeology specialist Andante Travels to combine vineyard visits and wine tastings with tours of Sicily's Greek temples and medieval churches, led by experts in the fields. Eight days from £2,475pp including B&B, some meals, expert-guided wine and archaeology excursions and tastings, and transport. Flights extra.
Tuscany
Happy birthday Chianti! Italy's best-known wine celebrates 300 years since it was first granted denomination of origin, by Medici Grand Duke Cosimo III. There will be wine-fuelled festivities across Tuscany, including at Chianti's premier wine-producing estate, Castello di Ama (also home to an unexpectedly opulent contemporary art collection with works by such luminaries as Louise Bourgeois and Anish Kapoor). In the nearby town of Castellina, don't miss the Vin Santo dessert wine-flavoured gelato at l'Antica Delizia.
To Tuscany (to-tuscany.com) has created a 10 Chianti Classics trail to honour both the wine and the region's must-see sights. It also offers a wine-tasting and vineyard tour as standard for guests at Villa Bernardi, on the Monte Bernardi wine estate. Sleeping 10, the villa has a saltwater swimming pool, scenic terraces and a gym; from £6,468 per week. It's also on the route of the Giro d'Italia, Italy's equivalent of the Tour de France, which this year takes a special leg through Chianti to celebrate the tri-centenary, travelling from Radda in Chianti to Greve, on 15 May.
Sarah Barrell is author of Italy, From The Source (£19.99, Lonely Planet; shop.lonelyplanet.com)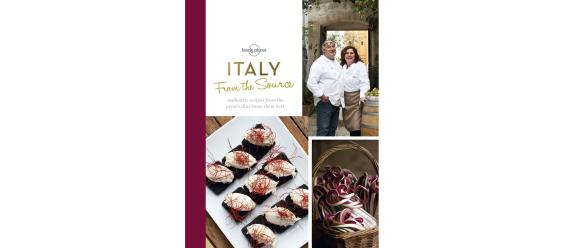 Travel guide to… Gourmet Italy – The Independent