Tuesday NBA Playoff Roundup: Clippers' Season Unravelling After Injuries – Bleacher Report
6 months ago Comments Off

on Tuesday NBA Playoff Roundup: Clippers' Season Unravelling After Injuries – Bleacher Report
Once in possession of a 2-1 series lead over the Portland Trail Blazers and faced with the possibility of playing a Stephen Curry-less version of the Golden State Warriors in the Western Conference semifinals, the Los Angeles Clippers have seen their postseason promise turn into utter despair. 
Not just because they dropped Game 4 Monday night and allowed Rip City to even up the first-round clash, but because Chris Paul and Blake Griffin will no longer be helping out. Without the two stars, it's unlikely the Clippers can survive the Western gauntlet, and their ability to win even two more games is in serious doubt. 
In the third quarter of Monday's contest, the All-Star point guard tried to steal the ball away from Gerald Henderson, but the seemingly innocuous play turned disastrous when he broke a bone in his right hand: 
On Tuesday, Paul underwent surgery that will keep him out of the lineup until a re-evaluation in four to six weeks, per Rowan Kavner of the team's website. Though there's always a chance he could beat that timetable, does anyone really expect the Clippers to be playing meaningful basketball after even two weeks without him? 
"Major, major blow," Jamal Crawford explained to reporters after his teammate suffered the devastating injury. "I just feel bad for him personally, because I know how much he puts into the game and how much he gives himself for the team."
Somehow, that wasn't even the worst diagnosis this former contending team received after Game 4.
Griffin also pulled up lame, aggravating his quad injury while drawing a foul on Mason Plumlee in the third quarter. According to Kavner, he's been ruled out for the remainder of the postseason, and CBS Sports' Ananth Pandian subsequently showed that one projection model has this news putting a significant damper on the team's chances of surviving its first-round series against Portland:

This is a serious setback for the Clippers and will likely derail any further success they have in the playoffs. According to SportsLine projections, the Clippers now have a 29.1 percent chance of making it out of the first round due to the injuries to Paul and Griffin…before the series started the Clippers had a 62.9 percent chance of beating the Blazers. If the Clippers are able to get past the Blazers, SportsLine projects that their season will end in the second round, where they have a 0.8 percent chance of advancing. SportsLine also projects that the Clippers have a 0.1 chance of making the Western Conference Finals and zero chance of making the NBA Finals.
Instead of relying on Paul and Griffin, the Clippers are now left turning to their limited depth and hoping unproven players such as Austin Rivers and Cole Aldrich can make gigantic impacts. They have massive shoes to fill, as do the established contributors—DeAndre Jordan, Paul Pierce and Crawford. 
If L.A. is to overcome this pair of devastating blows—as well as the bruised heel plaguing J.J. Redick—it will take a substantial effort from everyone on the thinned-out roster. This depth chart just doesn't look pretty, and it could easily prevent the Clippers from capitalizing on their home-court advantage in the opening round:
LAC's Potential Depth Chart Going Forward

| | | | | |
| --- | --- | --- | --- | --- |
| Point Guard | Shooting Guard | Small Forward | Power Forward | Center |
| Austin Rivers | J.J. Redick | Luc Mbah a Moute | Jeff Green | DeAndre Jordan |
| Pablo Prigioni | Jamal Crawford | Wes Johnson | Jeff Ayres | Cole Aldrich |
| | C.J. Wilcox | Paul Pierce | Branden Dawson | |
Sure, Crawford was able to score enough in Griffin's 47 missed regular-season games to help LAC do more than stay afloat, even winning Sixth Man of the Year for his inspired point-producing efforts.
But this situation is entirely different, as the team has been unabashedly terrible with its two best players off the court. Covering for Griffin is one thing; making up for the absence of a legitimate MVP candidate in Paul with no other top-tier playmakers is a different story. 
According to NBAWowy.com, the Clippers played 1,241 minutes during the regular season without both superstars, and the numbers weren't pretty.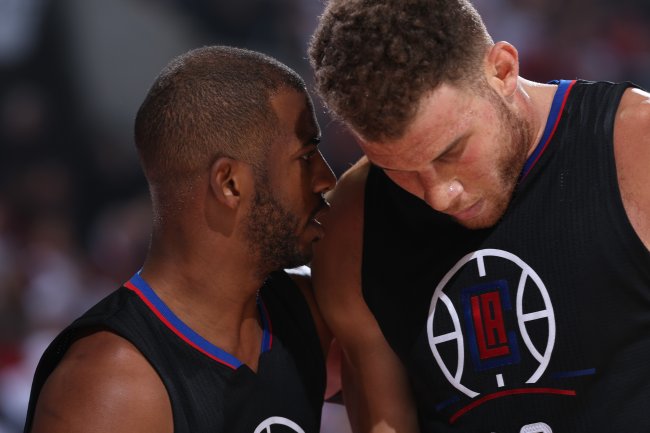 Sam Forencich/Getty Images

They posted a 100.1 offensive rating sans Paul and Griffin, which would have placed just 29th in the regular-season standings, ahead of only the offensively inept Philadelphia 76ers. And though this isn't nearly as egregious, their 105.5 defensive rating would have tied the Detroit Pistons for the NBA's No. 12 mark.
That's an ugly combination, and the resulting minus-5.4 net rating puts them around the level of the Milwaukee Bucks (minus-4.4) and Phoenix Suns (minus-6.8). It's tough to bet on a team advancing out of the first round against a dangerous Portland squad when the closest comparisons are two of the season's most disappointing outfits. 
And that's still not where the bad news ends. 
"We're right on the borderline [of growing stale]," head coach Doc Rivers told Grantland's Zach Lowe before the season began. "I have no problem saying that. I'm a believer that teams can get stale. After a while, you don't win. It just doesn't work. We're right at the edge. Oklahoma City is on the edge. Memphis, too. We just have to accept it."
Another early postseason exit won't help change this narrative. Speculation like this from The Ringer's Bill Simmons is only going to grow more pervasive when the Clippers are watching the West's remaining elites do battle in the later stages of the proceedings:
Clairvoyant Bill thinks Blake has played his last Clippers game.

— Bill Simmons (@BillSimmons) April 26, 2016
Obviously, it's far too early to tell what the Clippers could do. There's still a chance—however infinitesimally small it may be—they could shock the world and stay alive long enough for Paul to make an early return. 
But it's far more likely we're looking at an offseason filled with trade rumors and thought pieces about breaking up a core that's unsuccessfully teetered on the cusp of a breakthrough year after year. 
Raptors Shock Pacers, Take Control of Series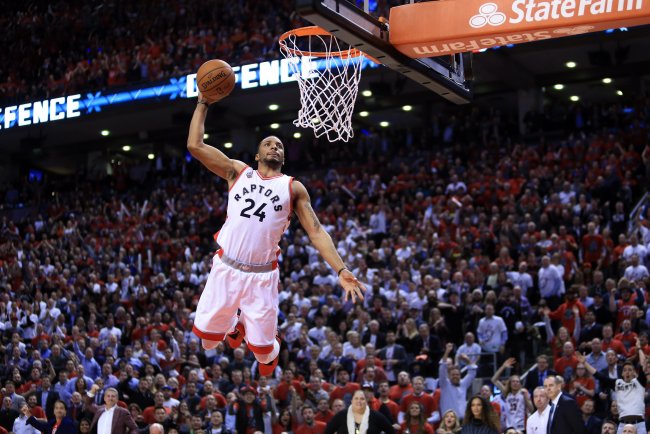 Vaughn Ridley/Getty Images

0.1 seconds—and maybe even less—made all the difference.
Had Paul George passed the ball to Solomon Hill 0.1 seconds earlier, the Indiana Pacers would've forced overtime with a buzzer-beating three to avoid humiliation. Had Hill taken 0.1 fewer seconds to gather before releasing, the ball wouldn't have remained on his fingertips when the clock hit triple zeros. 
But the Pacers proved basketball is a game of inches and milliseconds, squandering a massive fourth-quarter lead by allowing Toronto to go on a 23-2 run that began in the third period. The result? A 102-99 Raptors victory that forces Indiana into a 3-2 series deficit as the adventure moves back to Bankers Life Fieldhouse for Friday night's Game 6.
Norman Powell played the part of hero during that crucial stretch, disavowing his rookie status to finish with 10 points, four rebounds, two steals (including the momentum-swinging steal and slam you can see below) and some fantastic defense on a red-hot Paul George. 
But we also can't overlook 34 points on 22 shots from DeMar DeRozan, some late-game threes from Terrence Ross and Cory Joseph or Bismack Biyombo's stellar rim protection and rebounding. The whole team's unwillingness to roll over and play dead after it trailed by 13 points when the third-quarter buzzer sounded deserves credit as well.
It was all needed on a night that saw Kyle Lowry struggle with his shot yet again. 
Thanks to the furious comeback and the extra 0.1 seconds it took Hill to let fly at the buzzer, Toronto finds itself in a much more amenable position. Going to Indiana while trailing in the first-round series would've been akin to a death sentence; it's much easier to assume it can win one of the next two contests, especially when Game 7 would take place north of the border. 
All of a sudden, the Raptors stand on the brink of franchise history.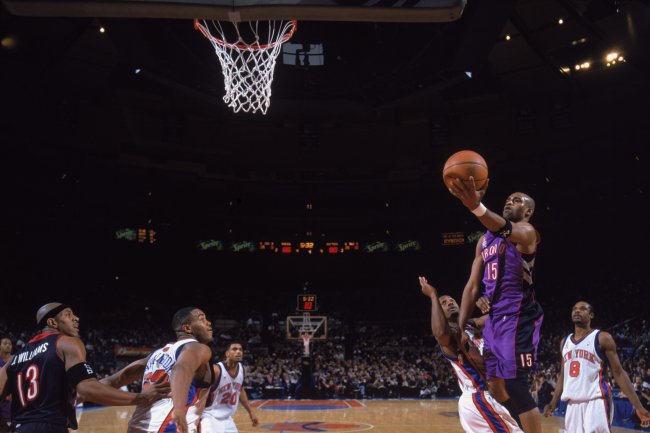 Noren Trotman/Getty Images

This is the team's eighth trip to the first round of the NBA playoffs, but only once has it successfully navigated past the opening foe. That came all the way back in 2001, when Toronto used a starting lineup composed of Vince Carter, Chris Childs, Antonio Davis, Charles Oakley and Alvin Williams to sneak by the New York Knicks in Game 5—then the final contest of the series. 
One more victory, and Toronto gets its first-ever best-of-seven success. And if there were ever a sign the basketball gods were on the Raptors' side, a fourth quarter in which Indiana scored only nine points and had three wiped away on a replay review after the final buzzer would be a pretty clear indication. 
Adam Fromal covers the NBA for Bleacher Report. Follow him on Twitter @fromal09.
Unless otherwise indicated, all stats are from Basketball-Reference.com or Adam's databases.
Tuesday NBA Playoff Roundup: Clippers' Season Unravelling After Injuries – Bleacher Report