U.S. stocks pared gains in light afternoon trading, with the Standard & Poor's 500 Index poised to halt two months of losses, as higher crude and a falling dollar lifted commodities shares. The yen strengthened with gold.
The S&P 500 headed for its first monthly gain since November, with the gauge holding at a seven-week high amid trading volume 32 percent below the 30-day average at this time of day. Global equities were little changed, set for a fourth monthly loss amid continued concern about the worldwide economy. The yen added to its biggest monthly gain since 2008 on speculation Japan won't intervene to weaken the currency. The euro slid after weak inflation data prompted speculation for additional central-bank stimulus next week.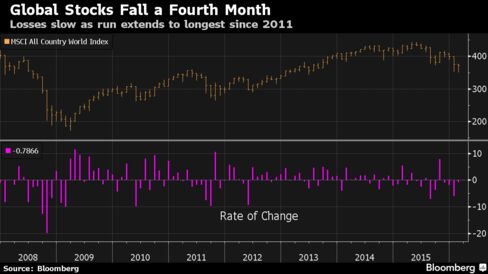 While global stocks headed for their longest run of monthly losses in four years, equities have rallied more than 5.5 percent since Feb. 11 as signs mount that American consumers can still power the world's largest economy and central banks from Asia to Europe hint that more stimulus is at the ready. China on Monday cut the amount of cash lenders must lock away in a move to cushion a slowdown there, while weak euro-zone inflation fueled calls for stimulus. Crude's rebound from a 12-year low has also sparked optimism.
"The month began with some concerns about growth of the U.S., but the developments posted mid-month led investors to believe that we might be right at the end of the tunnel," said Wayne Lin, New York-based money manager at QS Investors LLC. "If you look at the upward revision in GDP as well as consumer spending, there is evidence that consumers are starting to spend the gas savings."
Stocks
The S&P 500 rose 0.1 percent at 1:32 p.m. in New York, paring gains in afternoon trading. The gauge has added 0.5 percent in February after falling as much as 5.7 percent to start the month. Financial-services firms trimmed a rout that reached 9.6 percent to just 2 percent, while materials producers, among the worst performers last year, surged 8.9 percent in the month as gold rallied. 
Trading in the U.S. was subdued on the final day of the month, with investors remaining on the sidelines following the slowest week of trading so far this year. The U.S. equities benchmark last week plowed through its average price over the past 50 days for the first time in 2016, and measures of anxiety showed fear's loosening grip.
The Stoxx Europe 600 Index jumped 0.7 percent Monday, as a late-trading rally pushed European equities up for a third day — the first time it happened this year. Commodity producers surged after China stepped up support for its slowing economy. The benchmark index cut its monthly loss to 2.6 percent.
Financial companies led the MSCI All-Country World Index down 0.3 percent this month as it's completing its worst start to a year since 2009.
Currencies
The Bloomberg Dollar Spot Index slipped 0.1 percent Monday and is down 1.8 percent in the month. The index of the greenback against 10 major peers surged 9 percent last year.
The yen strengthened for the first time in four days versus the dollar and strengthened versus all of its 16 major peers. It's risen 7 percent in February, more than double the gain of any other major currency.
Eurogroup chief Jeroen Dijsselbloem said in Shanghai on Saturday that "there was some concern that we would get into a situation of competitive devaluations" with regards to Japan. Japanese Prime Minister Shinzo Abe told parliament Monday he is not trying to influence foreign-exchange rates.
China's yuan declined 0.2 percent, retreating for a seventh day, as the central bank lowered the currency's reference rate and stepped up efforts to cushion the economic slowdown with the cut in banks' required reserve ratio.
Commodities
Oil headed for its fourth monthly decline in New York, the longest retreat in a year, as record U.S. crude stockpiles weighed on prices. On Monday, West Texas Intermediate rose 1.2 percent to $33.16 a barrel, cutting February's decline to 1.4 percent. Brent crude added 1.9 percent to $35.76 for an increase of 2.8 percent this month.
Record-high stockpiles of U.S. natural gas for the time of year sent futures 4.8 percent lower to $1.71 per million British thermal units, extending a fourth weekly decline as a mild winter limited the drawdown.
Gold headed for the biggest monthly advance in four years as a darkening global outlook spurred demand for haven assets. Bullion for immediate delivery added 0.5 percent to $1,230.07 an ounce. It's up 10 percent in February, set for the biggest gain since January 2012.
Bonds
The yield on 10-year Treasury notes fell one basis point to 1.76 percent. It's fallen 17 basis points in the month after starting the year at 2.27 percent.
German nine-year yields dropped below zero for the first time since April, and the nation's 10-year yield also dropped to a 10-month low, as bonds drew support from the lower-than-estimated euro-area inflation readout.
Emerging Markets
Emerging-market currencies erased a monthly loss as the lira strengthened after Turkey retained its investment-grade status and the rupee advanced on optimism India will stick to fiscal targets. Stocks headed for the smallest monthly drop since their October rally.
The MSCI Emerging Markets Index fell 0.2 percent, pushing its February slide to 0.5 percent that marks the fourth straight slide. The Shanghai Composite Index dropped 2.9 percent, erasing this month's gain. The measure has declined 24 percent this year, the worst performer among 93 global equity indexes, on concern capital outflows will accelerate as the economic slowdown deepens.