UK weather: Sunshine and 24C temperatures heading to Britain after wintry spell – The Independent
6 months ago Comments Off

on UK weather: Sunshine and 24C temperatures heading to Britain after wintry spell – The Independent
Sunshine and warmer temperatures are set to drive the chillier weather from the UK in the coming week.
Warmer winds moving up from continental Europe will hoist the thermometer up to the early 20s in the south of the country while the sun will shine across most parts of Britain.
London can expect tempratures as high as 24C on Friday as high pressure fronts moving across the islands, according to the Met Office.
"As you look ahead the reason things will be settling is high pressure is building across most of the UK, which at this time of year brings pretty decent weather and temperatures," a Met Office spokesperson told The Independent.
"From Wednesday to Friday the high pressure will be firmly in control with most areas seeing a dry week with sunny spells."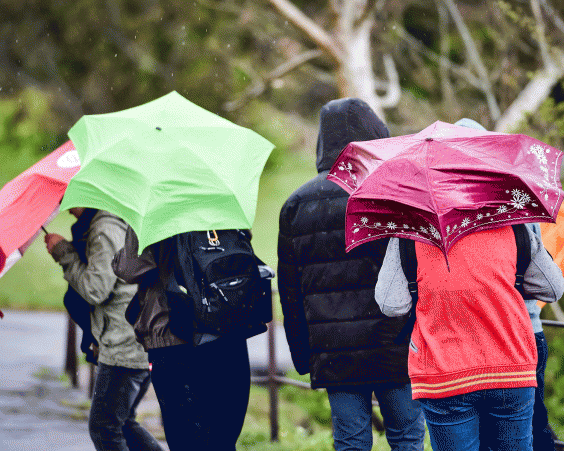 Temperatures for May 3 and 4 will hover around 14C to 16C in the south and about 12C to 14C in the north, continuing to then climb throughout the week.
The good news follows a relatively unstable May bank holiday weekend.
A band of rain pushed its way from the north-west to the south-east over the weekend, with heavy showers reaching London by the evening of May bank holiday Monday.
World news in pictures
1/30



29 April 2016

Syrians evacuate an injured man amid the rubble of destroyed buildings following a reported air strike on the rebel-held neighbourhood of Al-Qatarji, in the northern Syrian city of Aleppo

Getty Images

2/30



28 April 2016

Traditional Maasai tribesmen pose for a photograph near elephant tusks, part of an estimated 105 tonnes of confiscated ivory to be set ablaze, stacked onto a pyre at Nairobi National Park near Nairobi, Kenya

Reuters

3/30



28 April 2016

Hot air balloons are seen during a hot air balloon competition in Hefei, China

Reuters

4/30



28 April 2016

A Syrian boy is comforted as he cries next to the body of a relative who died in a reported air strike in the rebel-held neighbourhood of al-Soukour in the northern city of Aleppo

Getty Images

5/30



28 April 2016

French riot police officers clash with protesters during a demonstration against the French labour law proposal in Nantes, France, as part of a nationwide labor reform protests and strikes

Reuters

6/30



28 April 2016

An elderly woman spreads incense near a grave at sunrise in the village of Copaciu, southern Romania. On Maundy Thursday, during the Holy Week, many Romanians visit the graves of their loved ones, light fires and share food with community members in memory of the departed, ahead of Orthodox Easter

AP

7/30



28 April 2016

A Russian Soyuz 2.1a rocket carrying Lomonosov, Aist-2D and SamSat-218 satellites lifts off from the launch pad at the new Vostochny cosmodrome outside the city of Uglegorsk

Getty Images

8/30



28 April 2016

Greek Orthodox Patriarch of Jerusalem Metropolitan Theophilos (C) blesses the crowd during the Washing of the Feet ceremony outside the Church of the Holy Sepulchre in Jerusalem's Old City, ahead of Orthodox Easter

Reuters

9/30



27 April 2016

A woman holds up a flag depicting jailed Kurdish leader Abdullah Ocalan of the Kurdistan Workers Party (PKK) as others carry coffins during a funeral procession for Kurdish fighters and civilians who were killed during clashes between Kurdish security forces and pro-government forces in Qamishli, Syria

Reuters

10/30



27 April 2016

A Greek police officer gives a flyer to a child at a makeshift camp the northern border point of Idomeni. Greek police handed out flyers to refugees at Idomeni, asking them to leave the camps and use other facilities

AP

11/30



27 April 2016

A worker adjusts lanterns for the upcoming celebration of Buddha's birthday on 14 May at the Bongeun temple in Seoul, South Korea. Similar lanterns will be displayed in all Buddhist temples around South Korea for the public viewing

AP

12/30



26 April 2016

Iraqi supporters of the Sadrist movement hold national flags and shout slogans during a demonstration to press for reforms outside Baghdad's Green Zone

Getty Images

13/30



26 April 2016

Syrians help a wounded youth following an air strike on the Fardous rebel held neighbourhood of the northern Syrian city of Aleppo

Getty Images

14/30



26 April 2016

Palestinian students supporting Hamas take part in a rally during an election campaign for the student council at the Birzeit University in the West Bank city of Ramallah

Reuters

15/30



26 April 2016




Reuters

16/30



25 April 2016

Egyptian riot police fire tear gas towards protesters as they demonstrate in Cairo against the handing over of two Red Sea islands to Saudi Arabia

Getty Images

17/30



25 April 2016

A member of the Sudan People's Liberation Army in Opposition (SPLA-IO) stand guard at the military site in Juba, after the arrival of new troops and their chief of staff. Rebel spokesman William Ezekiel said that 195 troops landed along with South Sudan's top rebel military commander Simon Gatwech Dual, to provide security for Machar, who he said hoped to return on 26 April

Getty Images

18/30



25 April 2016

A woman works at a factory using traditional method to produce soy sauce in Jinjiang, Fujian Province, China

Reuters

19/30



25 April 2016

A doctor carries a child as refugees disembark from the Medecins Sans Frontieres (MSF) vessel at Pozzallo's harbour in Sicily, Italy

Reuters

20/30



25 April 2016

A pilot looks up from a U.S. F-22 Raptor fighter as it prepares to refuel in mid-air with a KC-135 refuelling plane over European airspace during a flight to Britain from Mihail Kogalniceanu air base in Romania

Reuters

21/30



25 April 2016

A man jumps into Tolly's Nullah to cool off on a hot day in Kolkata, India

Reuters

22/30



24 April 2016

North Korean leader Kim Jong Un (not pictured) guides on the spot the underwater test-fire of strategic submarine ballistic missile

23/30



24 April 2016

People perform yoga at a tea culture park to promote the tea there, in Enshi, China

24/30



24 April 2016

Dancers perform a lion dance under a shower of sparks from molten iron during a folk art performance in Pinglu county, China

25/30



24 April 2016

Nepalese people lit candles to create the shape of historic nine-storey Dharara tower and Kasthamandap temple to mark the first anniversary of the 2015 earthquakes at Bashantapur Durbar Square in Kathmandu, Nepal

26/30



24 April 2016

At dusk the blast furnaces are lit up at the now-closed Bethlehem Steel mill in Bethlehem, Pennsylvania. After Bethlehem Steel's blast furnaces went silent 20 years ago, the local economy bounced back as new industrial parks filled with e-commerce companies and white-collar businesses fleeing New York's higher costs

27/30



23 April 2016

Syrian civil defence volunteers evacuate people from a damaged building following a reported airstrike in the rebel-held neighbourhood of Tareeq al-Bab in the northern city of Aleppo

28/30



23 April 2016

A Syrian family run in a forest in Macedonia after illegally crossing Greek-Macedonian border near the city of Gevgelija. Some 50,000 people, many of them fleeing the war in Syria, have been stranded in Greece since the closure of the migrant route through the Balkans in February

29/30



23 April 2016

"Solar Impulse 2", a solar-powered plane piloted by Bertrand Piccard of Switzerland, flies over the Golden Gate bridge in San Francisco, before landing on Moffett Airfield following a 62-hour flight from Hawaii

30/30



23 April 2016

Electric energy generating wind turbines are seen on a wind farm in the San Gorgonio Pass area on Earth Day, near Palm Springs, California. San Gorgonio Pass is one of the largest wind farm areas in the United States
Snow even fell on higher areas in Derbyshire. While the sun is forecast for most of the country in the week ahead, there will still be rain in western parts of Scotland.
UK weather: Sunshine and 24C temperatures heading to Britain after wintry spell – The Independent