Wanna Make Money? Go To Africa – Seeking Alpha
6 months ago Comments Off

on Wanna Make Money? Go To Africa – Seeking Alpha
Introduction
A bear market in precious metals has dragged all related stocks down. Mineral drilling companies, an important part of this industry, have been no exception. After the long slump in their share prices, today a majority of these stocks are trading at a small fraction of their book values. Some people would even say that these stocks are irrationally undervalued. I think that they are right but the question is whether there are any short-term catalysts that could lift these low valuations up. If the answer is "Yes", the second question is "Which companies are the best positioned to take part in the incoming bull market".
Discussion
Those expecting me to paint a rosy picture of an incoming bull market in the mineral drilling sector will be disappointed. First of all – I cannot see any indications of the end of the industry slump. Revenues, drilling prices and margins are still going down across the board. The closer the bottom line, the worse.
However, there are some segments of the drilling sector, where things are going not so badly.
In my opinion, West Africa is a region where drillers perform quite well. Although it is not easy to find comparable data, a few miners report the detailed information about their businesses. Let me show the first chart: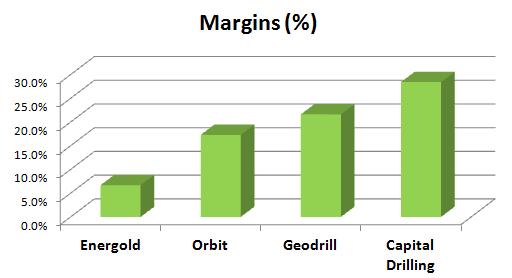 source: Simple Digressions
The chart shows gross margins reported in 2015 by four drilling companies, working mainly for the precious metals companies (miners and explorers). It is easy to spot that the highest gross margins were reported by Geodrill and Capital Drilling – 21.6% and 28.4%, respectively. Both companies are operating mainly in Africa. The first company, Geodrill (OTC:GDLLF),derives 100% of its revenue from its West African customers (located in Burkina Faso, The Ivory Coast and Mali). In the case of Capital Drilling (OTC:CILLF),as much as 97.6% of its revenue ($76.8 million) in 2015 was derived from Africa (Mauritania, Egypt, Botswana and Tanzania).
I am sure that my readers realize that Africa is a sort of a melting point, as far as the precious metals mining is concerned. Most recently a number of mining companies have been announcing their increased activity in Africa. Let me name just a few:
Apart from these hot news, there is a number of other mining companies operating in Africa as, for example, Randgold, Sibanye Gold, AngloGold or Harmony Gold, just to name a few.
All these companies develop their businesses aggressively, which means that drilling services in Africa should be in a strong demand for many years to come.
Next thing, as a rule, big miners do not have their own drilling rigs. Simply put, they focus on mining metals, not drilling. The same thing is with explorers – their strength lies in conducting the successful exploration process. Therefore drilling services are provided by the specialized expert companies, as Geodrill or Capital Drilling. These companies know what kind of a drill should be used, how to drill in the specific rock etc.
Let me list the main customers of Geodrill and Capital Drilling:
Geodrill: Newmont, Kinross, Centamin, Asanko, Endeavour Mining, Perseus, Semafo
Capital Drilling: Kinross, Centamin, AngloGold Ashanti
What is interesting, despite the industry slump, in 2015 Geodrill was able to increase the number of meters drilled: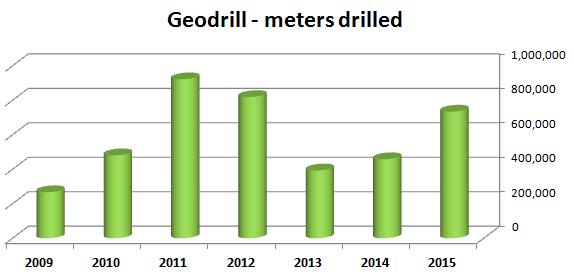 source: Simple Digressions and the company's reports
As the chart shows, since 2013, when a bear market in the precious metals was in its full-blown phase, the company increased the number of meters drilled from 393.3 thousand to 734.6 thousand (an increase of 86.8%). Another driller, Energold (OTCPK:EGDFF),offering its services mainly in safer jurisdictions, reported a decrease in meters drilled from 296.5 thousand in 2013 to 202.8 thousand in 2015.
So it looks like things in Africa are much brighter than anywhere else. Well, not so fast. Unfortunately, the prices obtained by the drillers for their services are still in their downtrends – please, look at the chart below: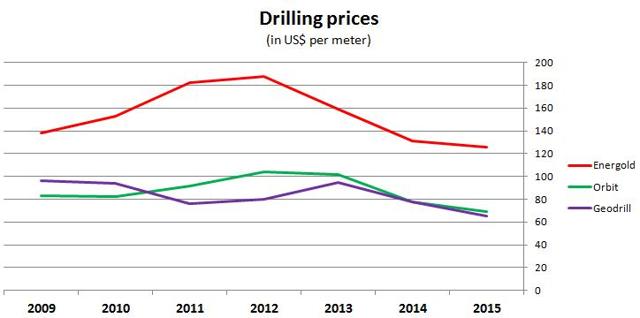 Click to enlarge
source: Simple Digressions
The chart confirms the fact that since 2012 (Energold) or 2013 (Geodrill and Orbit Garant (OTC:OBGRF) – another drilling company, working mainly for gold miners in Canada) the drilling prices went down significantly. And although this slump slowed down a little bit in 2015, the trend is clear – DOWN.
Summary
In my opinion, a downturn in the mineral drilling sector is still intact. Drilling prices are going down and margins are suppressed. However, things are a little bit better in Africa. In 2015 the drilling companies, active in this region, reported higher margins than the drillers working somewhere else. What is more, Geodrill, offering its services only in Africa, was able to increase the number of meters drilled.
Having in mind that Africa, particularly its western part, is a sort of a melting pot for precious metals industry, I am optimistic about the future of mineral drillers working there.
Last but not least, I also believe that precious metals producers and explorers in Africa should report the above-average results in the years to come. Therefore investors, looking for the long-term investment opportunities, should keep their eyes open for that region.
Disclosure:I/we have no positions in any stocks mentioned, and no plans to initiate any positions within the next 72 hours.
I wrote this article myself, and it expresses my own opinions. I am not receiving compensation for it (other than from Seeking Alpha). I have no business relationship with any company whose stock is mentioned in this article.
Editor's Note: This article covers one or more stocks trading at less than $1 per share and/or with less than a $100 million market cap. Please be aware of the risks associated with these stocks.
Wanna Make Money? Go To Africa – Seeking Alpha