iO Tillett Wright was on the phone with
Amber Heard
on Saturday, May 21, when Heard claims that
Johnny Depp
hurled a phone at her.
In court documents obtained by PEOPLE, Heard claims her husband hit her with a cell phone, pulled her hair and screamed at her last Saturday night – and was abusive to her throughout their 15-month marriage. Heard was granted a temporary restraining order against Depp on Friday.
Wright, a friend of Heard and Depp, was called in an attempt to pacify an angry Depp, who was "obsessing about something that was untrue" and became "extremely angry," Heard claimed in the documents.
The 52-year-old actor reportedly "ripped the cell phone from my hand and began screaming profanities and insults at iO," Heard said. "I heard iO yell at me to get out of the house. Johnny then grabbed the cellphone, wound up his arm like a baseball pitcher and threw the cellphone at me striking my cheek and eye with great force."
Cops were called to the scene and investigated the incident, but the LAPD tells PEOPLE they saw no evidence of a crime and Heard refused to file a report.
Heard submitted photos appearing to show a bruised eye as evidence. Depp has not yet directly responded to the abuse allegations but his lawyer responded to the TRO request on Friday, claiming Heard is "attempting to secure a premature financial resolution by alleging abuse."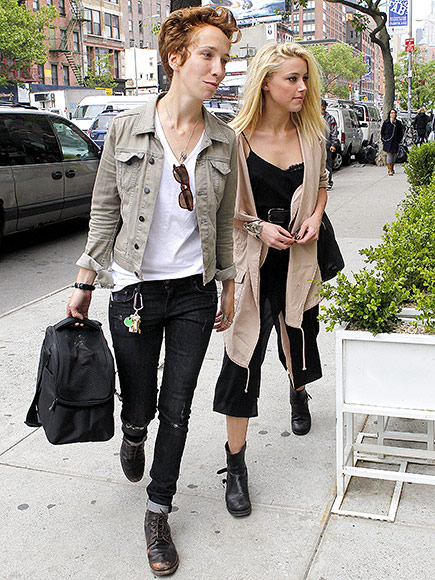 But who is iO Tillett Wright? Get to know the 30-year-old artist, activist and actor:
1. Wright Is a Photographer

Wright has been documenting thousands of people who fall somewhere on the LGBTQ spectrum in the photography campaign the Self Evident Project.
The inspiring project aims to amass pictures of 10,000 Americans who don't define themselves as "100 percent straight."
Wright – who identifies as gender neutral – plans to present the final collection of photographs in a massive art installation in front of the Washington Monument ahead of the next presidential election in 2016, according to the project's website. The goal is to help put an end to discrimination against LGBTQ people and "erase the boundaries" within the community.
As of today, Wright has photographed 9,563 faces so far.
2. Wright Is Close to Lily-Rose Depp
Wright included the 17-year-old daughter of Depp and Vanessa Paradis in the Self Evident Project. Lily-Rose was the 9,958th person to be featured.
The artist shared a photo of the young actress and model to Instagram last summer – holding the teen on Wright's back while posing against a blank black background.
"I'm so proud of my baby girl @lilyrose_depp," Wright captioned the photo. "She decided she wanted to be in @selfevidentproject because she falls somewhere on the vast spectrum, and I couldn't be happier to welcome her to the family."
"She's a tiny gem of a good human. #prouduncle #weareyou," Wright added.
3. Wright Is a MTV Star


Wright costars with Catfish's Nev Schulman in the MTV show Suspect.
The series followed people trying to learn the truth about their family members or loved ones.


"I hope you've all enjoyed our show as much as we enjoyed making it," Wright wrote on Instagram. "You've been a dream."
4. Wright Has Written About Depression and Anxiety


Depression and anxiety affects approximately 14.8 million American adults in the United States – and Wright is one of them.
"People think because I'm super smiley and a relentless hard worker that I'm always fine, but I have been suicidal in my life," Wright wrote in a candid Instagram in celebration of May's Mental Health Awareness Month. "Sometimes I am crippled by the feeling that I'm too sensitive for this world."
Wright was compelled to tell the personal story to reduce the stigma around mental health and "in hopes we can bust down some bulls— stereotypes."
"I had to completely change my life to survive the battle, but I did. Depression and anxiety affect countless people, from every walk of life. There's nothing shameful about it, or asking for help. Your humanity is defined by the fact that you can not be happy a hundred percent of the time. Don't white knuckle it and suffer alone, ask for help. You are too cherished to go anywhere. I'm so glad I didn't," Wright said.
To symbolize the battle with depression and anxiety, Wright got a black and white tattoo of a skull.
"It happens less and less now that, at 30, I've figured out how to deal with it, but as long as I pretended it wasn't a problem, it ate my brain. Just like this image is half eaten."
5. Wright Is an Author


Wright's first book, Darling Days: A Memoir, will hit shelves on Sept. 27 from HarperCollins Publishers. And in it, Wright tells the the story of Wright's rebellion and survival while growing up in New York's Lower East Side during the '80s and '90s while surrounded by "punk, poverty, heroin and art."
"This was a world of self-invented characters, glamorous superstars, and strung out sufferers – the ground zero of drag and performance art," the book's description says.
The "emotionally raw, devastatingly powerful memoir" promises to examine culture and identity by showing how Wright listened closely to Wright's deepest self at an incredibly young age.
"When a group of boys refuse to let 6-year-old iO play ball, Wright instantly adopts a new persona, becoming a boy named Ricky, a choice her (sic) parents support and celebrate," the description explains. "It is the start of a profound exploration of gender and identity through the tenderest years, and the beginning of a life invented and reinvented at every step."
Central to Wright's story is Wright's remarkable relationship with Wright's widowed mother Rhonna – who is described as "iO's fiercest defender and only authority in a world with few boundaries and even fewer indicators of normal life." Their bond is "defined by freedom and control, excess and sacrifice, by heartbreaking deprivation, agonizing rupture and, ultimately, forgiveness."



The book already has one fan in author Tom Robbins, who says "Gender-defying iO Wright mixes such a high-octane cocktail of radiant ink, wild anecdotes, bad behavior, and gritty truths – topped off with an unexpected tonic of transcendence – it could stagger Charles Dickens, electrify Maxim Gorky, and cause Jane Austen to walk around in army boots."